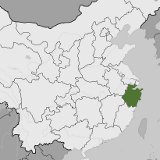 Most Reviewed By:

Zhejiang, China
Wikipedia: Zhejiang | Official Government Website: www.zj.gov.cn/gb/zjnew/index.html
Updated: Oct. 8, 2013
About Zhejiang, China
Zhejiang
(浙江) is a province on the east coast of China, just north of
Fujian
and south of
Jiangsu
.
Most of Zhejiang province is covered with hills and ranges of small mountains. The region has a humid subtropical climate with distinct seasons and a seasonal precipitation pattern. Although the summers receive the most rainfall, following the pattern of the Asian monsoon, the winters also receive considerable rainfall as well. Total annual precipitation is considerably higher than provinces to the northwest.
Zhejiang is one of the most important provinces of China in tea production, both in quantity and quality. Many important styles of green tea originated in Zhejiang, including
dragon well or long jing
,
gunpowder
, and
anji bai cha
.
Hangzhou is the largest city in Zhejiang and the fourth-largest metropolitan area in China; in the tea world, teas produced "in Hangzhou", like dragon well green tea, refer to production in the broader prefecture-level region of Hangzhou, which includes more rural areas.
Tea-Producing Regions of Zhejiang, China
Styles of Tea Produced in Zhejiang, China
This is a selection, not an exhaustive listing, of the styles of tea most commonly produced in Zhejiang, China.
Best Zhejiang Teas
The notion of the "best" Zhejiang teas is subjective, because different people have different tastes. We present the most often-rated and highest-rated teas produced in Zhejiang, China, and allow you to draw your own conclusions.