Da Hong Pao
Wikipedia: Da_Hong_Pao
Last Updated: Feb. 28, 2012
↑About Da Hong Pao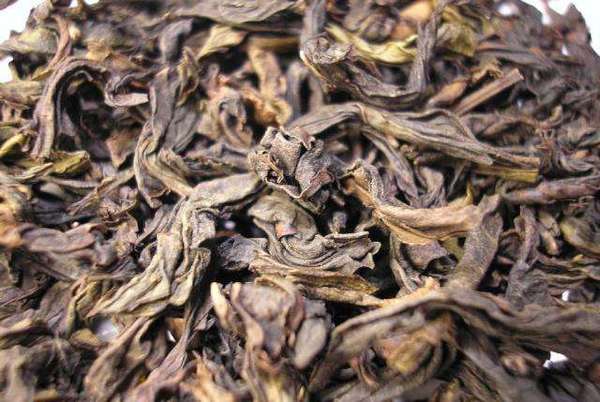 Da Hong Pao (Big Red Robe) Oolong, Closeup of Leaf, Photo ©
Hemanshu (English Wikipedia)
,
CC BY-SA 3.0
.
Da hong pao
(大红袍), meaning
big red robe
(which the tea is sometimes called) is a tea from the
Wuyi mountains
in
Fujian, China
. The tea is sometimes called
red hood
,
large red robe
,
great red cloak
, or other similar variants owing to differences in translation.
This tea is sometimes classified as a
black tea
(in Chinese, called red tea), but is usually classified as an oolong. Regardless of how it is classified, the leaf and brewed tea are both dark in color, and the tea has many characteristics in common with other Wuyi oolongs.
↑Recent Da Hong Pao Reviews — RSS
63 / 100

The tea that I got is packaged in individual packets, each containing six grams (about three US tea bags worth) of relatively large, but broken pieces of tea leaf. It doesn't smell as strongly as most roasted oolongs, but it also doesn't smell overly roasted as inexpensive oolongs often do. Adding water brings out a bi...
Read Full Review
75 / 100

I'll confess I tried this tea after being intrigued at reading the legend of the Big Red Robe. Glad I did. I wonder if a monkey really picked this?

This is my new favorite tea. It has more body and flavor than the more delicate oolong teas. I usually give it a bit more tea and a longer steep than the usual recommen...
Read Full Review
74 / 100

This tea was good, but it just didn't wow me the way I would need a tea in this price range to do in order to want to buy it.

The dry leaf smells exquisite, multifaceted, and hard to describe. Although the color is dark, the smell resembles green teas in some ways. Softly toasty and bready, hinting at floral and s...
Read Full Review
92 / 100

A truly great tea!
I brew this with one teaspoon of tea per cup(about 1.5 grams I think) And I get 3 steepings. The aroma is nice but indescribable, and the taste is almost the same way. It has nutty notes and is very... "minerally". A pretty good value at $17 per 100g but definitely not cheap either.
Read Full Review
100 / 100

Out of all the teas on this planet, oolong, in all its varieties, is my favorite. I received this particular type as part of the monthly deal from this company in a loose leaf form.

This oolong had a nice earthy smell that was slightly stronger compared to other oolongs I have had. Its flavor was smooth all the way ...
Read Full Review
↑Top Reviewers
Review 2 teas to get on this list!
Advertisement
↑Most-Rated Da Hong Pao

1 Rating
↑Top-Rated Da Hong Pao