Kokeicha
Last Updated: Dec. 14, 2011
↑About Kokeicha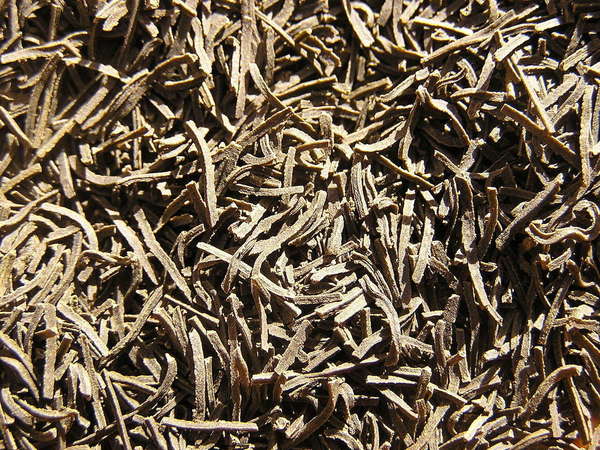 Kokeicha, Japanese "Spaghetti Tea", a Matcha Byproduct, Photo ©
Andrew Butko (Wikimedia Commons)
,
CC BY-SA 3.0
.
Kokeicha
, sometimes called
spaghetti tea
is a type of Japanese green tea that is made out of powdered tea that has been pressed back into a needle-like form. The Japanese name translates to "formed tea", reflecting how this tea is produced. However, in English, the term "formed tea" is more often used to refer to compressed tea, such as
Pu-erh
.
Kokeicha is a byproduct of the manufacture of matcha, yet it is also viewed and appreciated as a style of tea in and of itself. This style is not widely available outside of Japan, but can be purchased from a few specialty tea retailers.
↑Recent Kokeicha Reviews — RSS
53 / 100

I have no idea if I'm doing this right; I may update my review if there are any developments.

The loose tea is visually very interesting. Small dark green "sprinkles" that I believe I'm supposed to put directly into the cup and add hot water. They partly dissolve, making the liquid a lovely murky swamp green.
I am ...
Read Full Review
↑Top Reviewers
Review 2 teas to get on this list!
Advertisement
↑Most-Rated Kokeicha

1 Rating
↑Top-Rated Kokeicha
We need at least 3 ratings for a tea to calculate a percentile ranking. You can help us out by rating more teas of this style.