Rou Gui
Wikipedia: Rou_Gui
Last Updated: Mar. 5, 2012
↑About Rou Gui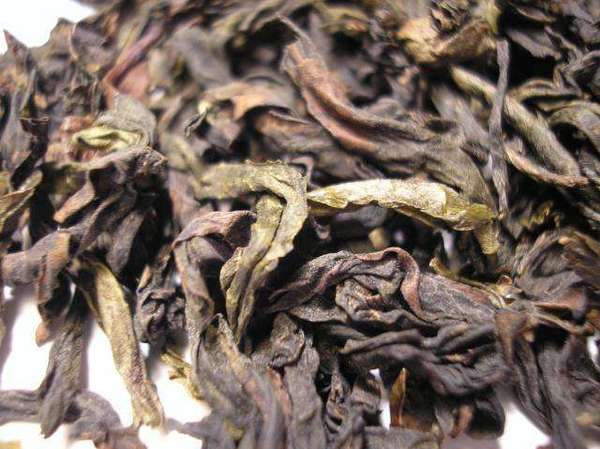 Closeup of rou gui oolong leaves. Photo ©
Iateasquirrel (English Wikipedia)
,
CC BY-SA 3.0
.
Rou gui
(肉桂), meaning
cinnamon
, and also called
Cassia bark oolong
, is a type of
oolong tea
from
Fujian, China
. It tends to be a darker oolong, and is named for its aroma, which suggests cinnamon. Contrary to what its name might suggest, it is a pure tea, and contains no cinnamon flavoring: the cinnamon aroma originates through a combination of growing conditions and years of careful selection of the cultivar used to grow this tea.
Rou gui is cultivated both in the
Wuyi mountains
and in
Anxi county
. Like most oolongs, the Anxi rou gui oolongs tend to have a greener character, whereas the rou gui produced in Wuyi tends to be darker. Wuyi rou gui tends to be more well-known and widely-available than Anxi rou gui. A number of sources claim that rou gui originated in the Wuyi mountains; however,
Jing Tea Shop
claims that this varietal originated in Anxi and was later taken to Wuyi.[1]
↑Recent Rou Gui Reviews — RSS
72 / 100

Overall this was more run-of-the-mill than I expected for such a high-end tea. My favorite thing about it was the smell of the dry leaf, the actual cup was good, but not as interesting.

The dry leaf smells incredibly beautiful...multifaceted too, lightly roasty, very fruity, like baked goods, suggesting sweetness, ...
Read Full Review
↑Top Reviewers
Review 2 teas to get on this list!
Advertisement
↑Most-Rated Rou Gui
↑Top-Rated Rou Gui
We need at least 3 ratings for a tea to calculate a percentile ranking. You can help us out by rating more teas of this style.