Vanilla Black Tea
Last Updated: Mar. 14, 2014
↑About Vanilla Black Tea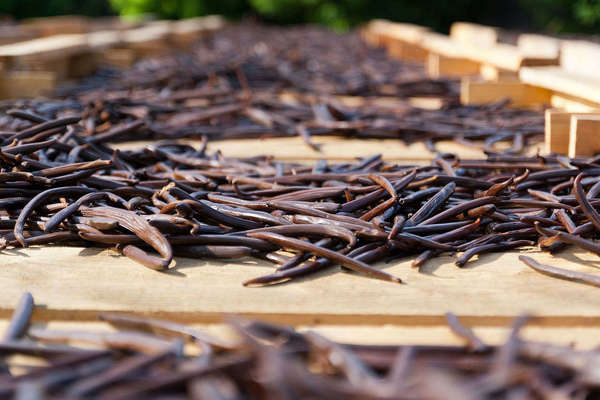 Vanilla pods drying in the sun, Bras-Panon, Réunion Island, Photo ©
Ekrem Canli
,
CC BY-SA 3.0
.
Vanilla black tea
is a common type of flavored
black tea
; it is usually produced with vanilla extract and sometimes with artificial vanilla flavor (synthetic
vanillin
, one of the natural components of vanilla extract). Vanilla flavored black tea typically has a creamy quality, and an aroma that suggests sweetness.
RateTea lists teas in this category that are flavored primarily with vanilla and have few other flavorings. Teas blending black tea with vanilla and spices are classified under
vanilla chai
.
Certain vanilla teas are called
French vanilla
. Such terminology originated in reference to custard-based ice-cream, and is a made-up term, not referring to
France
or anything French.[1] The "French" designation is essentially meaningless in reference to vanilla flavored tea.
↑Recent Vanilla Black Tea Reviews — RSS
61 / 100

I don't see a point in proactively obtaining this tea, especially for money. Here's another offering I got at no cost (the best way), thanks to its being available in a tea box at a meeting, at a Holiday Inn Express. I'll rate "value" based on the prices I usually see for Bigelow teas in-store.

The best part of ...
Read Full Review
30 / 100

Opening the foil pouch releases the scent of vanilla and cream, like custard or eggnog. Adding the water makes the aroma overpowering. This is decaf, so there is probably little tea aroma. Even if there were any, though, it would be completely masked by the flavoring.

The flavoring has a rich sweetness to it, but th...
Read Full Review
84 / 100

I enjoy a lot this tea, it has a very balanced taste. As you can taste the strong flavor of the black tea it also leaves the vanilla scent in your mouth. I think it could have a more aromatic vanilla fragrance. The 2 minutes to prepare it are enough. I also enjoy this tea with milk, it reduces the bitterness if you dis...
Read Full Review
50 / 100

The taste starts out rich with notes of cocoa mixing cocoa butter creaminess and rich dark chocolate, this is accompanied by sweet caramelized sugar. At the beginning there is a hint of rich vanilla that builds around the mid-taste, this explodes into a sweet, creamy crescendo at the end which blends perfectly with the...
Read Full Review
50 / 100

Blargh! One of my office-mates LOVES this stuff - but what does he know? Anyhow - it's OK. Just OK. Smells better than it brews-up. Dark black tea with a hint of sweetness. Just OK. Very inexpensive - thus it is available at many offices - like mine. (Jenna T. Drinker sums it up perfectly.)
Read Full Review
↑Top Reviewers
Review 2 teas to get on this list!
Advertisement
↑Most-Rated Vanilla Black Tea

19
5 Ratings

40
4 Ratings

100
4 Ratings

53
3 Ratings
↑Top-Rated Vanilla Black Tea

100
4 Ratings

53
3 Ratings

40
4 Ratings

19
5 Ratings