Flavored Tea
Wikipedia: Tea_blending_and_additives
Last Updated: Feb. 2, 2016
↑About Flavored Tea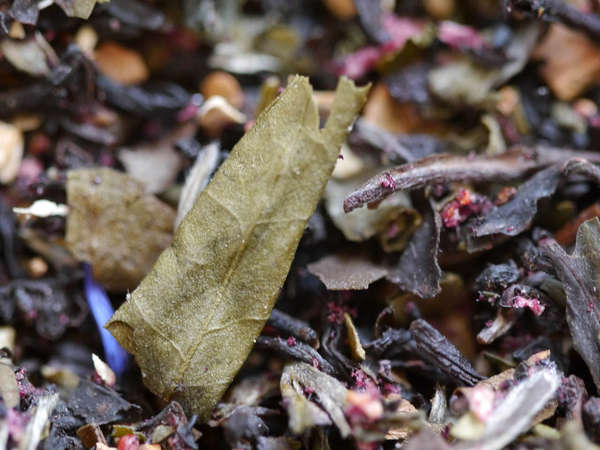 TARDIS Blend, Loose-leaf Flavored Tea, Photo ©
Rebecca Siegel
,
CC BY 2.0
.
Flavored tea
is made by blending leaves of the
tea plant
Camellia sinensis
with some other flavoring, usually herbs, spices, flowers, or fruit.
There are many types of flavored teas, since they can be made out of different varieties of tea and there is no limit to the types of flavoring that can be used. Some of the most well-known flavored teas are
Earl Grey
(usually black tea + bergamot orange), jasmine tea (usually green tea + jasmine blossoms), and moroccan mint tea (usually
green tea + mint leaves
).
Fruits are also common blending ingredients. Commonly used fruits include lychee, orange, berries, or various tropical fruits. Herbs and spices commonly combined with tea include mint, ginger, ginseng, cinnamon, cardamon, clove, and fennel.
Flavored teas can be mixed up into a blend which is packaged and sold as-is, or they can be made up at the time of brewing.
Scented teas
When the tea is flavored only with flowers, especially when the flavoring is carried out through a process of layering the leaves with flowers and then removing the flowers, the resulting tea is sometimes called
scented tea
.
Jasmine tea
is produced by this method, and slightly less commonly, osmanthus. Flowers with a very strong aroma, such as rose, often just have their petals mixed in with the leaf, and this yields a strong enough aroma.
Extracts and artificial flavorings vs whole ingredients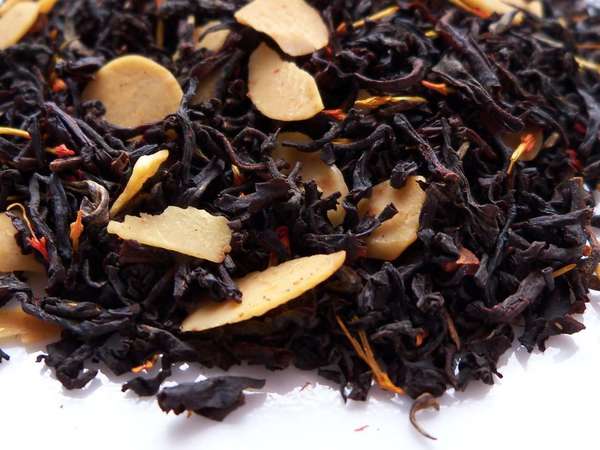 Photo by A Girl With Tea, Photo ©
A Girl With Tea
,
CC BY 2.0
.
Many flavored teas are produced by adding extracts or essential oils, or less commonly, artificial flavorings, to a base tea. This method is inexpensive and often yields a more consistent flavor, and sometimes can yield more potent flavors than blending with whole ingredients. However, it can yield blends that are flat or unnatural tasting, lacking the complexity attained by blending tea with whole ingredients.
When this method is used, essential oils and natural extracts are preferable, and tend to produce better results, than artificial flavorings. In the U.S. the legal definition of "natural flavors" is broad, including any flavoring obtained from a natural source, including both essential oils and more processed substances such as distillates or flavorings extracted by enzymolysis or heating. When reading ingredient lists, seeing the term "natural flavors" thus provides little information about what you can expect from the quality of the blend.
Many companies use both extracts with whole ingredients in their flavored teas. In some cases the whole ingredients do impart significant flavor and aroma, but in other cases they are mainly for show, being present in too small a quantity to influence how the tea tastes and smells.
↑Recent Flavored Tea Reviews — RSS
58 / 100

Back to traveling with motel stays again this year, and back to finding their teas I haven't rated yet! As always, I'll bring an extra bag home to try in my well water for consistency in rating, so that bad local water doesn't affect a tea's rating unduly.

The concept behind "Green Tea with Lemon" left me with a s...
Read Full Review
70 / 100

Several better Earl Greys exist in bags, but for the price (around $2.50/20 ct.), it's hard to beat. Dry-bag scent was firm and plain, but pleasant and strong, more so than most bagged Earl Greys. Closer inspection revealed likely why. Even though all the tea was settled at the bag's bottom, each bag itself so far h...
Read Full Review
84 / 100

The aroma is nice and spicy. I like the flavor as well. It was definitely present but not as intense as "ultra" might imply. I didn't sweeten it, but I think it could do well both sweetened or unsweetened depending on one's mood. Overall, this is a solid bagged tea!
Read Full Review
68 / 100

One-litre pot at home, made from a mixture of dark green, curly dried oolong leaves and what looks (and smells) like pieces of apple and lemon peel, and rose petals, sprinkled with elderberry aroma. Pours clear lightish straw (against white china) with negligible sediment. Clear aroma of oolong leaves, with notes of le...
Read Full Review
72 / 100

One-litre pot at home, made from a mixture of Assam leaves and pieces of dried lemon peel, all sprinkled with lime flavouring. Pours clear darkish copper brown (against white china) with no sediment. Intense aroma of lime and lemon, with mild malty and leafy touches and fruity hints. Bitter flavour of black tea leaves,...
Read Full Review
↑Top Reviewers
Review 81 teas to get on this list!
Advertisement
↑Most-Rated Flavored Tea

31
42 Ratings

21
22 Ratings

17
22 Ratings

17
12 Ratings

33
12 Ratings
↑Top-Rated Flavored Tea

100
4 Ratings

99
3 Ratings

98
4 Ratings

94
4 Ratings
↑Varieties, Kinds, or Types of Flavored Tea