Flavored Tea
Wikipedia: Tea_blending_and_additives
Last Updated: Feb. 2, 2016
↑About Flavored Tea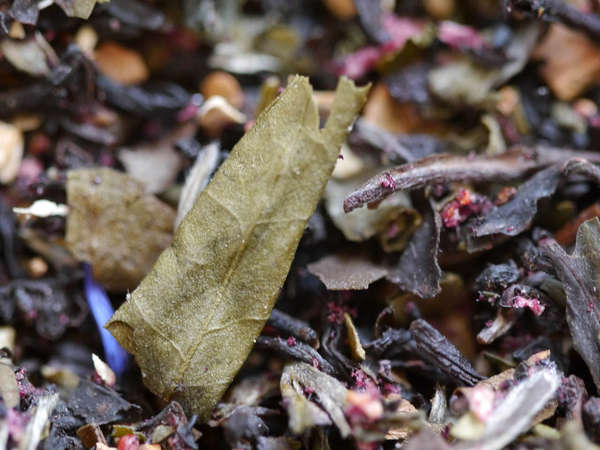 TARDIS Blend, Loose-leaf Flavored Tea, Photo ©
Rebecca Siegel
,
CC BY 2.0
.
Flavored tea
is made by blending leaves of the
tea plant
Camellia sinensis
with some other flavoring, usually herbs, spices, flowers, or fruit.
There are many types of flavored teas, since they can be made out of different varieties of tea and there is no limit to the types of flavoring that can be used. Some of the most well-known flavored teas are
Earl Grey
(usually black tea + bergamot orange), jasmine tea (usually green tea + jasmine blossoms), and moroccan mint tea (usually
green tea + mint leaves
).
Fruits are also common blending ingredients. Commonly used fruits include lychee, orange, berries, or various tropical fruits. Herbs and spices commonly combined with tea include mint, ginger, ginseng, cinnamon, cardamon, clove, and fennel.
Flavored teas can be mixed up into a blend which is packaged and sold as-is, or they can be made up at the time of brewing.
Scented teas
When the tea is flavored only with flowers, especially when the flavoring is carried out through a process of layering the leaves with flowers and then removing the flowers, the resulting tea is sometimes called
scented tea
.
Jasmine tea
is produced by this method, and slightly less commonly, osmanthus. Flowers with a very strong aroma, such as rose, often just have their petals mixed in with the leaf, and this yields a strong enough aroma.
Extracts and artificial flavorings vs whole ingredients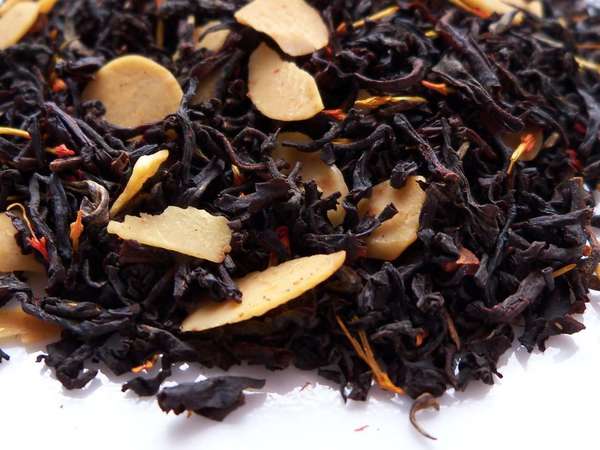 Photo by A Girl With Tea, Photo ©
A Girl With Tea
,
CC BY 2.0
.
Many flavored teas are produced by adding extracts or essential oils, or less commonly, artificial flavorings, to a base tea. This method is inexpensive and often yields a more consistent flavor, and sometimes can yield more potent flavors than blending with whole ingredients. However, it can yield blends that are flat or unnatural tasting, lacking the complexity attained by blending tea with whole ingredients.
When this method is used, essential oils and natural extracts are preferable, and tend to produce better results, than artificial flavorings. In the U.S. the legal definition of "natural flavors" is broad, including any flavoring obtained from a natural source, including both essential oils and more processed substances such as distillates or flavorings extracted by enzymolysis or heating. When reading ingredient lists, seeing the term "natural flavors" thus provides little information about what you can expect from the quality of the blend.
Many companies use both extracts with whole ingredients in their flavored teas. In some cases the whole ingredients do impart significant flavor and aroma, but in other cases they are mainly for show, being present in too small a quantity to influence how the tea tastes and smells.
↑Recent Flavored Tea Reviews — RSS
88 / 100

We gleefully had sniffed demo leaves of Murchie's Earl Grey in their Victoria store before, but since had brought home and ordered only the tea bags of the cream version (Earl Grey Cream). My wife is a bigtime EG drinker—probably half her total tea consumption—and wanted some loose-leaf tea as part of our annual f...
Read Full Review
90 / 100

Are you a big fan of Candy Cane Lane? If so, you'll probably love this offering too. It's basically the same, but with one major and two minor changes to the ingredients list that don't modify the aroma or flavor much:
1. Caffeinated black tea (no type/origin specified) is subbed for CCL's decaf green,
2. A littl...
Read Full Review
63 / 100

The dry teabag smells like a spiced cake, like carrot cake or gingerbread. The spice is predominantly cinnamon (mellow "Ceylon" cinnamon rather than the hotter cassia), but there's something else there, too, like nutmeg or ginger.

Interestingly, the instructions say to only steep for two minutes. I'm ignoring their ...
Read Full Review
59 / 100

I'm not entirely sure how to understand Chinese branding, but "Fujian Tea Import & Export Co., Ltd.," itself a subsidiary of "China Tea Co., Ltd." seems to be a state-run company that handles international trade for a number of smaller Chinese tea companies in the Fujian province. This jasmine tea is further branded wi...
Read Full Review
81 / 100

This was among the better bagged, fruit-flavored black teas I've had. Raspberry teas are uncommon in my experience, so I figured to try some that I saw on a hotel tray in Gillette, Wyoming. Their water ain't the greatest, so I drank one there and also took a bag home. Upon ripping open the foil-lined pouch (s.o.p. f...
Read Full Review
↑Top Reviewers
Review 72 teas to get on this list!
Advertisement
↑Most-Rated Flavored Tea

37
38 Ratings

40
21 Ratings

37
21 Ratings

17
12 Ratings
↑Top-Rated Flavored Tea

100
4 Ratings

99
3 Ratings

98
4 Ratings

94
4 Ratings

93
4 Ratings
↑Varieties, Kinds, or Types of Flavored Tea