France
Wikipedia: France | Official Government Website: www.gouvernement.fr
Updated: Apr. 23, 2018
About France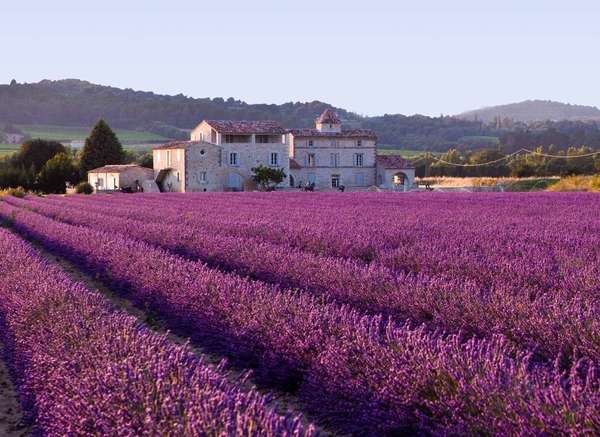 Field of Lavender, Provence, France. Public Domain photo.
France
is a country in Western Europe, located on the mainland just northeast of the Iberian peninsula, just south of England. France borders
Germany
to the northeast and
Spain
to the southwest.
The climate of France is diverse relative to its size, varying over different geographic regions. The west and northwest have a temperate maritime climate similar to the United Kingdom, whereas the southeastern coast of the country has a Mediterranean climate. France also contains part of the Alps, as well as the Pyrenees, both of which have a cold snowy climate at the higher altitudes. The eastern portion of the country has a climate closer to a continental climate, more variable than the coast.
As a producer of herbal teas
France does not grow tea, but it grows a number of herbs used in tea, including chamomile, lavender, lemon verbena, linden, and mint. Parts of France may be suitable for growing the tea plant, especially a narrow stretch along the Atlantic coast in the southwest, including
French Basque Country
and a bit north.
Although it is less known for its tea culture than the UK, France has a rich and active tea culture, and there are a number of prominent French tea companies. French tea culture mostly centers around blends and flavored teas, often combining locally-grown herbs with imported teas.
Styles of Tea Produced in France
This is a selection, not an exhaustive listing, of the styles of tea most commonly produced in France.
Best French Teas
The notion of the "best" French teas is subjective, because different people have different tastes. We present the most often-rated and highest-rated teas produced in France, and allow you to draw your own conclusions.
Most Often-Rated Teas

1 Rating

1 Rating

1 Rating
Top-Rated French Teas
We need at least 3 ratings for a tea to calculate a percentile ranking. You can help us out by rating more teas of this style.