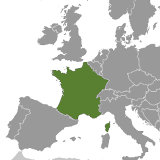 France
Wikipedia: France | Official Government Website: www.gouvernement.fr
Updated: Mar. 17, 2014
About France
France
is a country in Europe.
The climate of France is diverse, varying over different geographic regions. The north and northwest have a temperate maritime climate similar to the United Kingdom, whereas the southeastern part of the country has a Mediterranean climate. France also contains part of the Alps, with cold, a snowy climate at the higher altitudes. The interior country has a climate closer to a continental climate, more variable than the coast.
France does not grow tea, but it grows a number of herbs used in tea. Parts of France may be suitable for growing the tea plant, as tea is commercially grown in the United Kingdom, farther north, and France has regions with a similar climate, and some even considerably more moderate.
Although it is less known for its tea culture than the UK, France has a rich and active tea culture, and there are a number of prominent French tea companies.
Styles of Tea Produced in France
This is a selection, not an exhaustive listing, of the styles of tea most commonly produced in France.