Organic Tender Tip Country Green (Organic Chunmee Green) - Organic
This tea's info last updated: Mar. 22, 2013
Commercial Description
This classic "eyebrow" shaped tea is comprised of fine, twisted leaves that produce a green tea with heft and substance. The Organic Tender Tip Country Green is a straightforward green for those who like a hint of astringency. This tea is USDA and BCS Germany Certified Organic.
Ratings & Reviews
Page 1 of 1 page with 2 reviews

Link to This Review

73
Aroma: 6/10 Flavor: 4/5 Value: 5/5
E. Alex Gerster
(
66 reviews
) on
Oct. 18th, 2013
This was my first loose tea from Foojoy, and I was rather pleased. A good solid green that is both inexpensive and has good flavor. Although I had seen Foojoy loose teas in their tins at my local Asian market, I had never tried any since I was not ready to take a chance on about $9.50 for 8 ounces; a very good price, but me loathe to spend without tasting! So, many thanks to Alex Z. for sharing a sample with me!

My first steeping was a generous teaspoon of leaves, with about 8 ounces of water at 185 degrees F. Two minutes yielded a crisp, lightly refreshing brew with a fruity tartness and hint of smokiness. A second steeping at 3 minutes brought out a more herbaceous flavor with mineral (somewhat umami) tones, ending with a light bitterness, reminding me of some Japanese sencha teas.

This is one of those teas that is both time and temperature sensitive. Longer or hotter brews will make it bitter and twisted...

Overall, a good quality tea for a great price. Looking forward to trying other Foojoy loose teas.
---
---

Link to This Review

70
Aroma: 6/10 Flavor: 4/5 Value: 5/5
Alex Zorach
(
1448 reviews
) on
Mar. 22nd, 2013
This struck me as an average-quality chun mee (precious eyebrows) green tea for a very low price. Not the best tea of its type that I've sampled, but certainly the best at this price point.

I bought this tea in a Square tin for the pretty low price of $8 for 8 ounces, which seemed outright cheap to me.

The cup is pretty aromatic, and has floral nuances. Flavor is crisp and tangy; there's quite a lot of astringency. It's important to take care in brewing; if the water is too hot, this can get harsh tasting. When brewed properly, I find this tea has a cool, refreshing quality.

A good and inexpensive everyday tea, but I would prefer spending a bit more to get something a step or two up. Among Foojoy's loose-leaf offerings I prefer their Triple Cup Extra Green, probably their closest tea to this one that is superior in quality. My favorite chun mee is Upton Tea Import's Chun Mee Dao Ming, a little pricier (still cheap) but with a much more complex aroma.
Page 1 of 1 page with 2 reviews
More Green Tea from China from Foojoy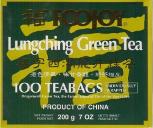 83
4 Ratings

2 Ratings

1 Rating