Chun Mee
Wikipedia: Chun_Mee_tea | Teaviews: chun-mee-tea
Last Updated: Mar. 12, 2014
↑About Chun Mee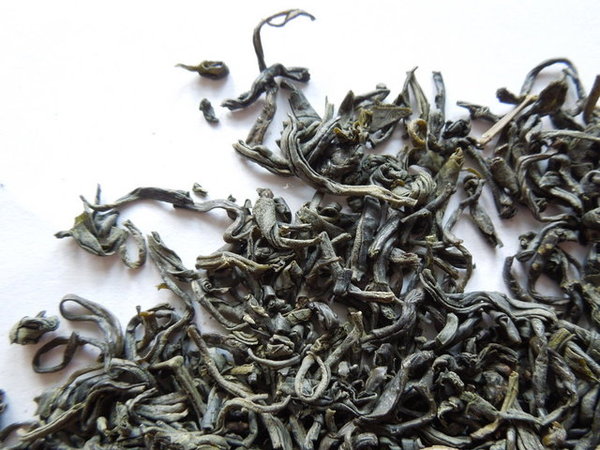 Loose leaf chun mee, showing the typical curved shape, suggestive of eyebrows.
Chun mee
(珍眉), also spelled
zhen mei
or sometimes
chun mei
, meaning
precious eyebrows
, is a style of Chinese
green tea
. Chun mee is the highest grade of
young hyson
green tea, but still tends to be relative inexpensive.
Chun mee tends to have a brisk flavor, sour and not very sweet. Many, but not all examples of this tea have a light to moderate smokiness, much less than most
gunpowder green tea
. High-quality chun mee can exhibit fruity or floral tones in their aroma.
Chun mee is pan-fired like most Chinese green teas. The leaf tends to have a grayish color and a lightly-curved shape, suggestive of eyebrows, hence the tea's name.
This variety is grown in many provinces of China, including
Jiangxi
,
Zhejiang
, and others; it is also produced outside of China, including in
Darjeeling, India
.
Preparation and Brewing
Chun mee is more easily oversteeped than some types of green tea. As with many green teas, but more noticeably with this type, it is especially important to make sure that the temperature of the water is not too hot, and the steeping time is not too long. Even high quality Chun mee tea can become acidic and
astringent
to the point of being undrinkable if it is brewed with water that is too hot.
Chun mee can be a good tea to choose as a base for blending with mint, to prepare Moroccan mint tea or a similar blend.
↑Recent Chun Mee Reviews — RSS
80 / 100

This has a pleasant, grassy aroma that comes thru clearly. The dominant flavor is herbal bitterness, but it does not become overbearing when brewed according to the directions. The price could not be better for an organic product. This is a good choice for an everyday green tea.
Read Full Review
69 / 100

Enjoyable but not amazing, not really standing out much among this style of tea. Smoother and less acidic than the norm for chun mee, but also perhaps a bit more boring too.

The dry leaf has a dusty vegetal aroma, slightly smoky, with a few sweet notes, kind of what I'd expect from this type of tea.

Brewed, this...
Read Full Review
73 / 100

This was my first loose tea from Foojoy, and I was rather pleased. A good solid green that is both inexpensive and has good flavor. Although I had seen Foojoy loose teas in their tins at my local Asian market, I had never tried any since I was not ready to take a chance on about $9.50 for 8 ounces; a very good price, b...
Read Full Review
67 / 100

A classic chun mee, pretty much what I'd expect for this type of tea.

Somewhat broken leaf, with a strong refreshing aroma, brews a dark cup. Dry leaf is very aromatic, smelling herbaceous and almost minty.

Aroma of the brewed cup is suggestive of gingerbread and fresh herbs. This tea is tangy, but it's not the...
Read Full Review
70 / 100

This struck me as an average-quality chun mee (precious eyebrows) green tea for a very low price. Not the best tea of its type that I've sampled, but certainly the best at this price point.

I bought this tea in a Square tin for the pretty low price of $8 for 8 ounces, which seemed outright cheap to me.

The cup i...
Read Full Review
↑Top Reviewers
Review 2 teas to get on this list!
Advertisement
↑Most-Rated Chun Mee

2 Ratings

1 Rating

1 Rating
↑Top-Rated Chun Mee