Chun Mee
Wikipedia: Chun_Mee_tea | Teaviews: chun-mee-tea
Updated: Mar. 12, 2014
About Chun Mee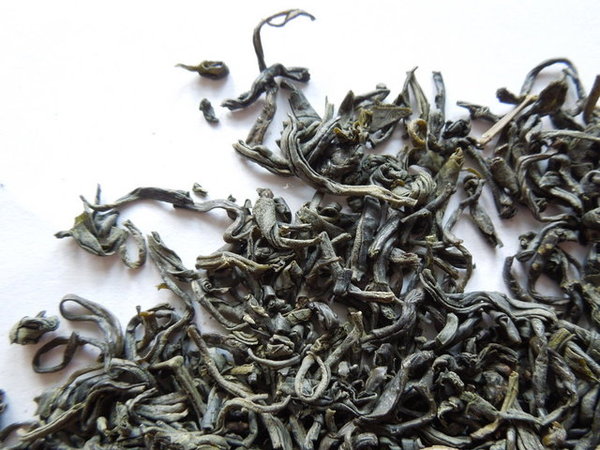 Loose leaf chun mee, showing the typical curved shape, suggestive of eyebrows.
Chun mee
(珍眉), also spelled
zhen mei
or sometimes
chun mei
, meaning
precious eyebrows
, is a style of Chinese
green tea
. Chun mee is the highest grade of
young hyson
green tea, but still tends to be relative inexpensive.
Chun mee tends to have a brisk flavor, sour and not very sweet. Many, but not all examples of this tea have a light to moderate smokiness, much less than most
gunpowder green tea
. High-quality chun mee can exhibit fruity or floral tones in their aroma.
Chun mee is pan-fired like most Chinese green teas. The leaf tends to have a grayish color and a lightly-curved shape, suggestive of eyebrows, hence the tea's name.
This variety is grown in many provinces of China, including
Jiangxi
,
Zhejiang
, and others; it is also produced outside of China, including in
Darjeeling, India
.
Preparation and Brewing
Chun mee is more easily oversteeped than some types of green tea. As with many green teas, but more noticeably with this type, it is especially important to make sure that the temperature of the water is not too hot, and the steeping time is not too long. Even high quality Chun mee tea can become acidic and
astringent
to the point of being undrinkable if it is brewed with water that is too hot.
Chun mee can be a good tea to choose as a base for blending with mint, to prepare Moroccan mint tea or a similar blend.
Best Chun Mee
The notion of the "best" Chun Mee is subjective, because different people have different tastes. We present the most often-rated and highest-rated teas in this category, and allow you to draw your own conclusions.
Most Often-Rated Teas
Top-Rated Teas