Dragon Well (Long Jing)
Wikipedia: Longjing_tea | Teaviews: dragonwell-tea
Updated: Mar. 12, 2014
About Dragon Well (Long Jing)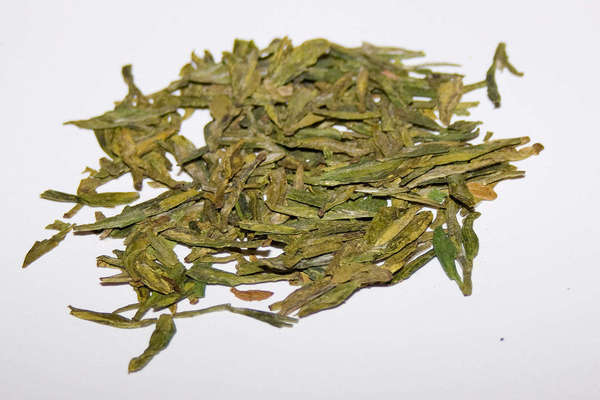 Loose-leaf Dragon Well (Long Jing) Green Tea, Photo ©
Chah Ltd.
,
CC BY-SA 3.0
.
Dragon well tea
, Chinese
long jing
(龙井/龍井) or
lung ching
, is a type of pan-fired green tea from China. It originated in
Zhejiang province
, near Hangzhou, where it is still produced.
Teas in the style of dragon well are now also produced elsewhere in Zhejiang, and in other provinces, including
Anhui
and
Shandong
, and even in other countries, such as
Taiwan
. Sometimes these teas are labelled and sold as
dragon well
or
long jing
, whereas other times they are not.
Dragon well is characterized by its unusual shape and characteristics of the dry leaves--long, flat, and very light weight.
Long jing is available in many different grades with widely variable prices. Some of the higher-quality dragon well teas are considered highly desirable and can be very expensive.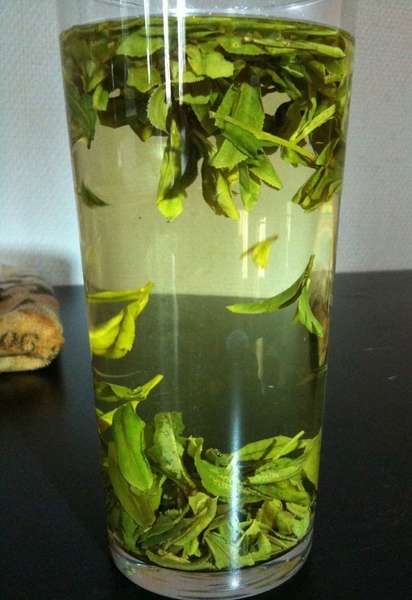 Steeping the leaves directly in a glass mug or tall glass is a popular method for brewing long jing. Take care to use heat-resistant glass if using this method. Public domain photo.
Brewing dragon well / long jing
Long jing can be brewed similar to most other Chinese green teas. When measuring out the tea, keep in mind that the flat nature of the tea leaf can make the same amount of tea occupy less space than other loose-leaf green teas.
In her post
Brewing Long Jing (dragonwell)
, Gingko Seto of
Life in Teacup
recommends brewing this type of tea using water that is 185°-195°F (85°-90°C), a little hotter than for some green teas. Stephane of
Tea Masters
goes into a little more depth in his posts
Dragon Well - Long Jin - facts and experiments
and
3 brewing methods for Lung Jing tea
, explaining that most tea shops recommend cooler temperatures (140°-160°F or 60°-70°C), but that higher temperatures are better for extracting flavor, and that high-quality long jing will usually not taste too bitter even when the water temperature is high.
Another tea called "dragon well"
A
Yunnan
green tea which is also called
Bao Hong Tea
(宝洪茶), is called
Yi Liang Long Jing
(宜良龙井), meaning
Yi Liang Dragon Well
. This tea does resemble the traditional dragon well in processing and appearance, but less in taste.[1]
Best Dragon Well (Long Jing)
The notion of the "best" Dragon Well (Long Jing) is subjective, because different people have different tastes. We present the most often-rated and highest-rated teas in this category, and allow you to draw your own conclusions.
Most Often-Rated Teas
Top-Rated Teas