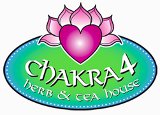 (602) 254-0129
Chakra 4



Web: www.chakra4herbs.com
Last Updated: Dec. 13, 2016
The Chakra 4 Herb and Tea House is an herb and tea shop located in Phoenix, Arizona.

Chakra 4 sells both herbs and loose-leaf tea, and it sells tea through its website in addition to in its store. The shop sells culinary herbs, but also sells a number of medicinal herbs used in different traditional medicine systems, and also sells essential oils and tinctures.
Most Often-Rated Teas

1 Rating

1 Rating
Top-Rated Teas
We need at least 3 ratings for a tea to calculate a percentile ranking. You can help us out by rating more teas from this brand.
Teas From Chakra 4
The following is a selection of the 5 teas from Chakra 4 in our database.
You can also add a new tea. Please search or browse this company's teas first, to avoid adding duplicates.