Darjeeling Black Tea
Wikipedia: Darjeeling_tea | Teaviews: darjeeling-tea
Last Updated: Mar. 12, 2014
↑About Darjeeling Black Tea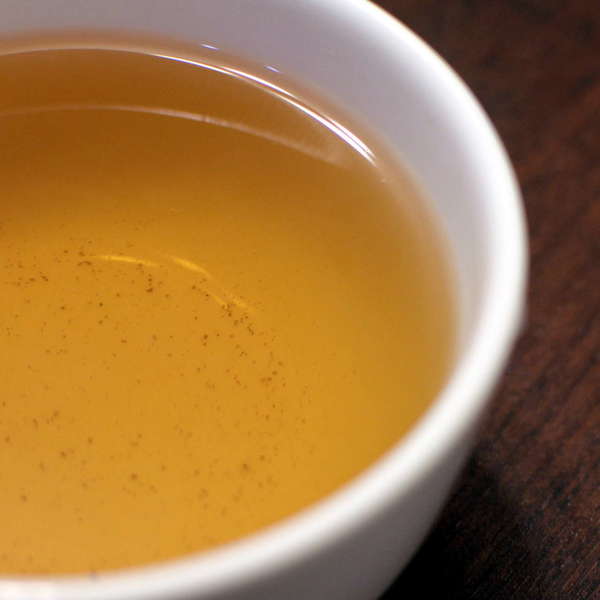 Darjeeling black tea, especially first flush tea like pictured here, can be much lighter in color and overall character than other black teas. Photo ©
Yoppy (Flickr)
,
CC BY 2.0
.
Darjeeling black tea
, usually just called
Darjeeling
is one of the most well-known and highly-regarded varieties of black tea, produced in the
Darjeeling district
of
India
, located in the northeast of India on the border with Nepal. Darjeeling black tea is often categorized by
flush
, the time of year at which the tea leaves are harvested. Darjeeling tea is produced by different tea gardens, and the higher-quality teas from this region are often sold as single-estate teas, marked as originating from a particular estate.
Darjeeling tends to be lighter than other black teas, although teas from this region are diverse. For this reason, Darjeeling is often a favorite for afternoon tea, either on its own, or as an ingredient in lighter afternoon blends, in British tea culture. Some Darjeelings have an aroma that resembles muscatel grapes, a variety of grape sometimes used for wine. These Darjeelings share this quality with some
bai hao oolong
, a Chinese oolong tea that also often resembles muscatel grapes.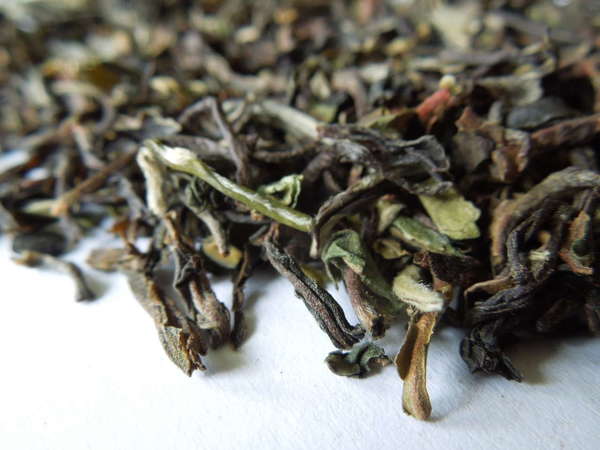 This Darjeeling, produced by Makaibari estate, shows a mix of ranges of oxidation, reflected in the leaf color ranging from silvery and pale green (low oxidation), through reddish and olive (mid oxidation), to dark brown and black (higher oxidation).
Unlike most black teas, Darjeeling teas often have a substantial portion of greener (
less oxidized
) leaves mixed in, which gives the dry leaves a diversity of colors. In some cases, such as with some high-grown first flush Darjeelings, the leaf is entirely green in color. Brewed Darjeeling tea has a wide range of color; many Darjeelings are an amber color, lighter in hue than most other black teas. Some Darjeelings, especially the highly-desired first flush teas, are less oxidized and are more like
oolongs
than black teas, although these teas are distinct from proper
Darjeeling oolongs
.
Teas similar to Darjeeling:
Other regions of India, such as
Sikkim
, and nearby regions outside of India, such as Nepal, produce teas in a similar style to Darjeeling tea. Teas from these regions are not referred to as Darjeeling, but are often categorized by the same system of flushes. These areas together form the
Himalayan region
of tea production.
↑Recent Darjeeling Reviews — RSS
84 / 100
A tricky-to-brew tea that reminded me a lot of green oolongs from Taiwan, and required a lower water temperature to brew to satisfaction.

The dry leaf, quite broken, is an intense green color, like a lot of good Darjeeling first flush. It looks exactly like pictured in the company photo (I appreciate honest photogra...
Read Full Review
88 / 100
With the most prominent notes being pineapple, cranberry, and lemongrass, this tea is almost like drinking tart fruit juice. I love it because of that, but I can see others disliking it for the same reason. I taste a bit of honey as well. First flush is stereotyped as floral, but I don't get a lot of that here. There a...
Read Full Review
75 / 100

This actually tastes like Darjeeling: the fruity, woody notes are similar to the loose leaf Darjeeling teas I've had, and it even has that smooth muscatel flavor (or at least the flavor I taste in most Darjeeling tea that I associate with the word "muscatel"). I guess this shouldn't have surprised me as much as it did...
Read Full Review
72 / 100

Lipton Darjeeling Tea used to be known as "Lipton Green Label" and is packaged for sale in India. I buy this tea as a gray market item at a local Indian convenience store.

This tea is better quality than one might expect from Lipton and is overall a medium-quality Darjeeling. The tea appears to be mostly whole, smal...
Read Full Review
70 / 100

The tea is made up of large, but broken pieces of leaf. The description says that the tea is graded TGFOP (Tippy Golden Flowery Orange Pekoe), though, which should be mostly whole leaves. There is a reasonable proportion of tips, so it is decent quality tea, but not as good as I expected from the description or the pri...
Read Full Review
↑Top Reviewers
Review 8 teas to get on this list!
Advertisement
↑Most-Rated Darjeeling

16
9 Ratings

67
5 Ratings

9
5 Ratings

38
4 Ratings

7
4 Ratings
↑Top-Rated Darjeeling

67
5 Ratings

47
4 Ratings

40
3 Ratings
↑Varieties, Kinds, or Types of Darjeeling Black Tea