Darjeeling Black Tea
Wikipedia: Darjeeling_tea | Teaviews: darjeeling-tea
Last Updated: Mar. 12, 2014
↑About Darjeeling Black Tea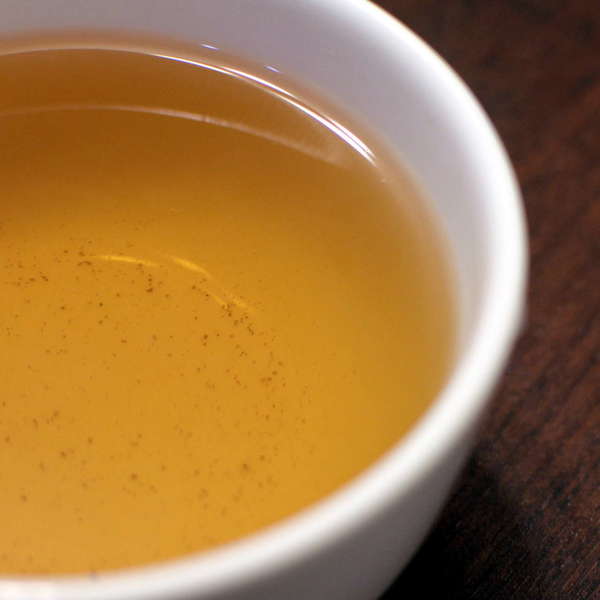 Darjeeling black tea, especially first flush tea like pictured here, can be much lighter in color and overall character than other black teas. Photo ©
Yoppy (Flickr)
,
CC BY 2.0
.
Darjeeling black tea
, usually just called
Darjeeling
is one of the most well-known and highly-regarded varieties of black tea, produced in the
Darjeeling district
of
India
, located in the northeast of India on the border with Nepal. Darjeeling black tea is often categorized by
flush
, the time of year at which the tea leaves are harvested. Darjeeling tea is produced by different tea gardens, and the higher-quality teas from this region are often sold as single-estate teas, marked as originating from a particular estate.
Darjeeling tends to be lighter than other black teas, although teas from this region are diverse. For this reason, Darjeeling is often a favorite for afternoon tea, either on its own, or as an ingredient in lighter afternoon blends, in British tea culture. Some Darjeelings have an aroma that resembles muscatel grapes, a variety of grape sometimes used for wine. These Darjeelings share this quality with some
bai hao oolong
, a Chinese oolong tea that also often resembles muscatel grapes.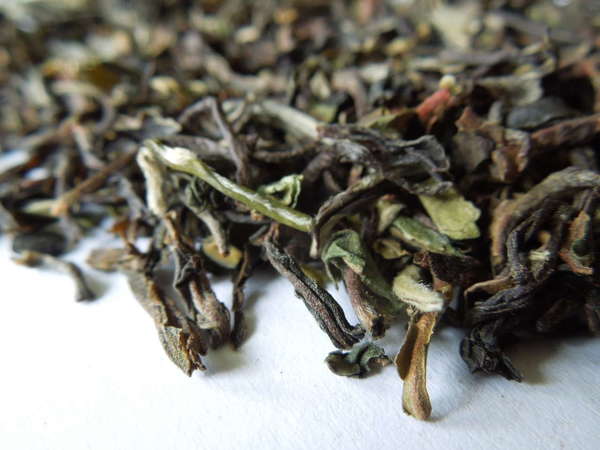 This Darjeeling, produced by Makaibari estate, shows a mix of ranges of oxidation, reflected in the leaf color ranging from silvery and pale green (low oxidation), through reddish and olive (mid oxidation), to dark brown and black (higher oxidation).
Unlike most black teas, Darjeeling teas often have a substantial portion of greener (
less oxidized
) leaves mixed in, which gives the dry leaves a diversity of colors. In some cases, such as with some high-grown first flush Darjeelings, the leaf is entirely green in color. Brewed Darjeeling tea has a wide range of color; many Darjeelings are an amber color, lighter in hue than most other black teas. Some Darjeelings, especially the highly-desired first flush teas, are less oxidized and are more like
oolongs
than black teas, although these teas are distinct from proper
Darjeeling oolongs
.
Teas similar to Darjeeling:
Other regions of India, such as
Sikkim
, and nearby regions outside of India, such as Nepal, produce teas in a similar style to Darjeeling tea. Teas from these regions are not referred to as Darjeeling, but are often categorized by the same system of flushes. These areas together form the
Himalayan region
of tea production.
↑Recent Darjeeling Reviews — RSS
75 / 100

Part of Upton's Great Tea Race Collection, this Darjeeling crosses the finish line with a fine aroma and impressive flavor. There are notes of caramel, fresh leaves, and mild tannins. It is very expensive however - it costs 3 times the price of an ordinary Darjeeling, but does not offer 3 times the quality imo. Nice...
Read Full Review
80 / 100

Half-litre pot at home, made from a sample included in the tea company's Advent Tea Calendar (2020) and consisting of fine Darjeeling leaves in all shades of green and some brown ones, too. Pours clear lightish amber (against white china) with no sediment. Clear aroma of Darjeeling tea leaves, leafy and a little malty....
Read Full Review
85 / 100

Half-litre cup at home, made from fine small green, brown and yellow leaves. Pours clear peach yellow (against white china) with no sediment. Very mild aroma of fresh leaves, much faintier than the loose leaves themselves emit. Mild, leafy but fresh and pure flavour of black tea, with floral touches. A delicate palate,...
Read Full Review
0 / 100

I suspected something was wrong with the quality (or lack thereof) of this tea when I opened up the tin and there was no scent. (Side note: The best by date isn't for about 2 years, so that's not the issue.) Some teas have a very, very light scent, though. So, I tried to suspend judgment and brewed a cup as the packagi...
Read Full Review
64 / 100

The dry tea is chopped up quite fine. It looks like a typical Darjeeling, having a range of colors from light green to a dark brown, indicating a range of oxidations. Taylor's puts 2.5 grams of tea in their bags, splitting the difference between the typical American 2 grams and the 3 grams of many English bagged teas.
...
Read Full Review
↑Top Reviewers
Review 8 teas to get on this list!
Advertisement
↑Most-Rated Darjeeling

36
10 Ratings

36
6 Ratings

83
5 Ratings

37
4 Ratings
↑Top-Rated Darjeeling

88
4 Ratings

83
5 Ratings
↑Varieties, Kinds, or Types of Darjeeling Black Tea