Earl Grey Tea
Wikipedia: Earl_Grey_tea | Teaviews: earl-grey-tea
Last Updated: Sep. 17, 2015
↑About Earl Grey Tea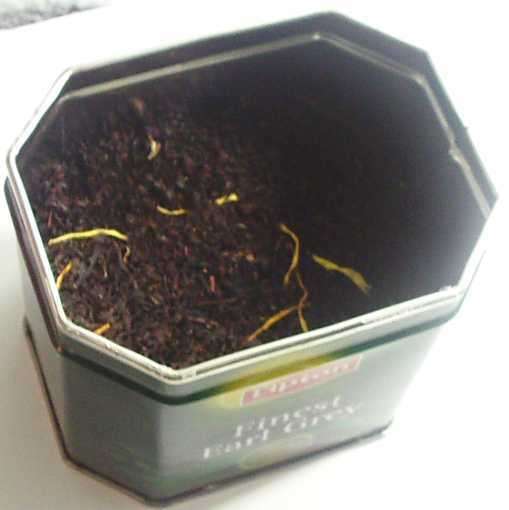 Loose-leaf Earl grey tea from Lipton. Public domain photo by Chamaeleon, Wikimedia Commons.
Earl Grey tea
is a
black tea
flavored with oil from the peel of the bergamot orange (
Citrus bergamia
). The tea is named after
Charles Grey
, a prime minister of the UK who was a member of the Whig party.
Most Earl Grey tea is made, as it was historically, with black tea, typically a
Ceylon
. Recently, as green and black teas have increased in popularity,
green
and white varieties have also become available. This style has even inspired
Earl Grey rooibos
, a caffeine-free herbal blend produced by substituting
rooibos
for tea.
Earl Grey tea has a strong and distinctive aroma that renders it easily recognizable as its own style, regardless of what variety of tea is used as a base. Many different varieties of black tea are used as the base for this tea. The amount of bergamot oil used also varies widely, ranging from blends where bergamot dominates the aroma to teas with only a hint of bergamot.
Earl Grey tea is a favorite of
Captain Jean Luc Picard
in Star Trek: The Next Generation.
The bergamot orange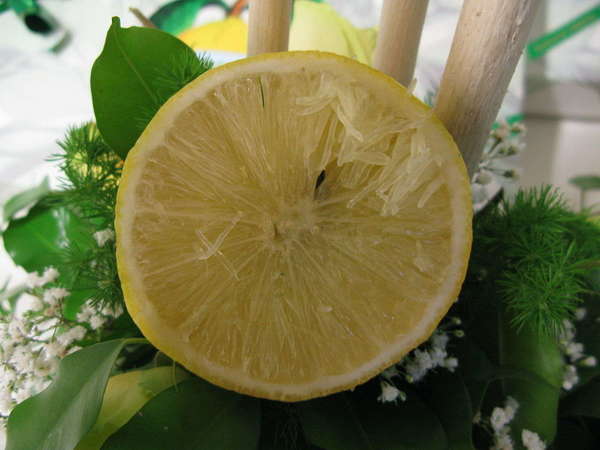 Cross-Section of a Bergamot Orange, © Jacopo Werther,
CC BY-SA 3.0
.
Although tea enthusiasts generally know that Earl Grey is flavored with the
Bergamot orange
, deeper knowledge of this variety of orange is not common in the world of tea. The Bergamot orange is likely a hybrid of
Citrus limetta
(Mediterranean sweet lemon) and
Citrus × aurantium
(Bitter orange), which is itself a hybrid.[1]
This orange is mostly cultivated in south
Italy
, mostly concentrated in a very small stretch of land in
Reggio Calabria
. Other regions of production include Ivory Coast, southern France, and Antalya Province of
Turkey
. For Earl Grey tea production, the peel of the orange is pressed and the essential oil extracted; this oil is then used to flavor tea.
The fruit flesh itself is used in marmalade, and the juice is used for medicinal purposes, but not drunk as a beverage.
"Wild bergamot", Monarda sp.
Monarda sp.
), "wild bergamot", "Oswego tea", or "bee balm", which are all native to North America and in the mint family. These plants, however, have a very similar aroma, and make excellent herbal teas.
These herbs can also be blended with black tea to yield a flavored tea closely resembling Earl Grey tea. The variety on the right,
Monarda didyma
, is sometimes called
Scarlet Bergamot
for its scarlet blooms. This species was used as a substitute for black tea following the Boston Tea Party.[2]
Health benefits and concerns unique to Earl Grey tea
Earl Grey is a black tea and thus has similar effects on health to other black teas. However, oil of bergamot also has other bioactive properties and may have other health benefits. Although it has not been extensively studied, some preliminary research shows that it may have neuroprotective effects, protecting the brain against damage caused by a chemical known to damage neurons.[3] Like other citrus though, it may cause photosensitivity. Bergamot also contains one of the compounds responsible for grapefruit drug interactions, so it may also cause similar interactions.
References:
1. C.T. Federici, M.L. Roose, R.W. Scora, RFLP Analysis of the Origin of Citrus bergamia, Citrus jambhiri, and Citrus limonia, Acta Horticulturae (ISHS), 535, pp. 55-64, 2000.
2. Foster S, and Johnson R, Desk Reference to Nature's Medicine, National Geographic, Washington, DC, 2006. (p. 34-35).
3. M.T. Corasaniti et. al., Cell signaling pathways in the mechanisms of neuroprotection afforded by bergamot essential oil against NMDA-induced cell death in vitro, British Journal of Pharmacology, Vol. 151, No. 4, pp. 518-529, June 2007.
↑Recent Earl Grey Reviews — RSS
54 / 100

When you have lemons, make lemonade? That seems to have happened here. While not overpowering, the distinct aroma of lemon wafted rather aggressively out of the pouch when I tore it open, and that scent stayed in the dry bag strongly until pouring the hot water through it. The in-cup smell was more balanced, but the...
Read Full Review
55 / 100

A weakly-flavored, not very aromatic tea experience. If you're looking for a very mild, decaffeinated tea that's easy on the stomach, this is a good choice, but if you were hoping for intense flavors, maybe try something else.
Read Full Review
55 / 100

As far as breakfast teas go, I've always been a fan of Earl Grey. That said, I do have my favorites and many companies don't seem to do Earl Grey justice. While this isn't my favorite, it is an excellent option. It's smooth but with a smoky/sweet flavor, not unexpected from a Darjeeling tea. This particular tea gets al...
Read Full Review
84 / 100

Admittedly I haven't been up to the Urban Teahouse location in OKC as of this writing, but drinking this at a Norman breakfast restaurant, and getting a sample to take home and chug, makes me want to pay a dangerous visit next time I'm up in that part of "The Big Town". Why dangerous? Because of what that visit woul...
Read Full Review
69 / 100

Like the other standard tea bags from H&S, the tea is chopped very fine. Dry, it smells strongly of the bergamot oil, but there's also a maltiness from the tea. It's not strong, but it's a step up from many Earl Grey teas.

Adding the water unexpectedly mutes the aroma. The citrus fades to the background and the tea...
Read Full Review
↑Top Reviewers
Review 9 teas to get on this list!
Advertisement
↑Most-Rated Earl Grey

30
36 Ratings

14
20 Ratings

28
7 Ratings

30
6 Ratings
↑Top-Rated Earl Grey

60
3 Ratings

56
3 Ratings
↑Varieties, Kinds, or Types of Earl Grey Tea