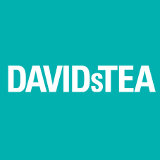 (888) 873-0006
Most Reviewed By:

DAVIDsTEA







Web: www.davidstea.com
Last Updated: Apr. 23, 2012
DAVIDsTEA is a Canadian tea company, founded by David Segal in 2008, which focuses on loose leaf tea. DAVIDsTEA has a number of locations throughout Canada; the first location was in Toronto. DAVIDsTEA recently expanded into the US, opening its first stores.

The company also sells tea online through their website.

DAVIDsTEA sells primarily flavored teas and blends, including flavored herbal blends, and a large number of teas we classify under miscellaneous blends, although they also sell some pure teas. More so than most companies, we often classify the offerings of DAVIDsTEA differently from how the company classifies them: we do so based on ingredients, and in such a way to remain consistent with listings from other companies, but this may not be consistent with the marketing or categories provided by DAVIDsTEA.
Physical Locations
Showing only 5 of 49 locations. List all locations.
Most Often-Rated Teas
Top-Rated Teas
We need at least 3 ratings for a tea to calculate a percentile ranking. You can help us out by rating more teas from this brand.
You can also add a new tea. Please search or browse this company's teas first, to avoid adding duplicates.