Earl Grey Cream
Last Updated: Oct. 17, 2017
↑About Earl Grey Cream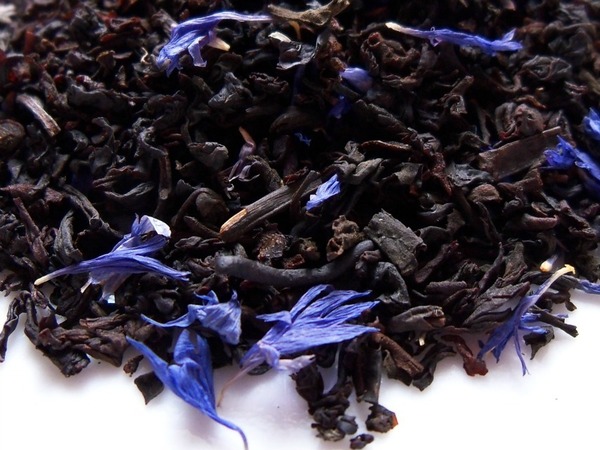 Earl Grey Creme, Loose-Leaf, from Art of Tea, Photo © A Girl With Tea,
CC BY 2.0
.
Earl Grey Cream
, often spelled
Earl Grey Creme
, is a widespread style of flavored black tea that adds additional flavorings, usually vanilla and often flowers and other ingredients, to a base of black tea and bergamot oil and other citrus. Sometimes these blends are marketed as
Vanilla Earl Grey
.
Most tea companies explicitly label these blends as "Earl Grey Cream" or with some other terminology that makes clear that additional flavorings have been added, but a small portion of companies will label such blends only as "Earl Grey". We look at the ingredient list of a tea when choosing which category to place it in, so that unsuspecting tea drinkers do not have unwanted ingredients forced on them.
↑Recent Earl Grey Cream Reviews — RSS
72 / 100

Here's another in Celestial's fairly recent run of new black-tea blends. For a mass-marketed brand commonly available in retail stores, this rendition holds its own, but better quality can be had.

The dry aroma (especially when opening the sack or pouch in which the bags are packaged) may be the best part. This is...
Read Full Review
87 / 100

This is my favorite Earl Grey Cream tea yet, and that's not a knock on Murchie's excellent rendition, which is a better value but just a notch below Teavana in richness.

Teavana has undergone a remaking of its marketing and strategy under the Starbucks banner: no more stand-alone tea shops, just 15-sachet plastic t...
Read Full Review
75 / 100

Given the ingredients list, here was a tea that caught both my eye and a few bucks of my credit-card balance, while stocking up at a Dallas Trader Joe's on some things I don't get in nearby Oklahoma markets.

Overall, it's not quite as high-quality as the other Earl Grey Creme tea I've tried (the bagged version from ...
Read Full Review
40 / 100

This tea looks and smells wonderful. However, the flavour of "cream" (to me it tastes like fake vanilla flavouring) is overpowering and bergamot gets lost.This seems to be a fan favourite, but I dislike it. Would not buy again.
Read Full Review
80 / 100

This is a wonderful tea. I have nothing more to say.
Read Full Review
↑Top Reviewers
Review 2 teas to get on this list!
Advertisement
↑Most-Rated Earl Grey Cream

85
4 Ratings

2 Ratings
↑Top-Rated Earl Grey Cream

85
4 Ratings