Earl Grey Cream
Last Updated: Oct. 17, 2017
↑About Earl Grey Cream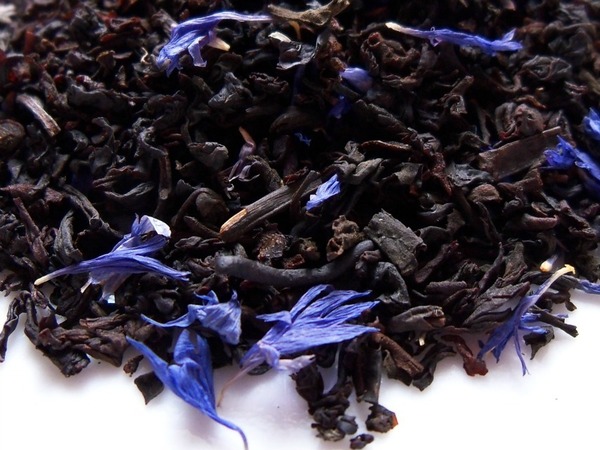 Earl Grey Creme, Loose-Leaf, from Art of Tea, Photo © A Girl With Tea,
CC BY 2.0
.
Earl Grey Cream
, often spelled
Earl Grey Creme
, is a widespread style of flavored black tea that adds additional flavorings, usually vanilla and often flowers and other ingredients, to a base of black tea and bergamot oil and other citrus. Sometimes these blends are marketed as
Vanilla Earl Grey
.
Most tea companies explicitly label these blends as "Earl Grey Cream" or with some other terminology that makes clear that additional flavorings have been added, but a small portion of companies will label such blends only as "Earl Grey". We look at the ingredient list of a tea when choosing which category to place it in, so that unsuspecting tea drinkers do not have unwanted ingredients forced on them.
↑Recent Earl Grey Cream Reviews — RSS
40 / 100

This tea looks and smells wonderful. However, the flavour of "cream" (to me it tastes like fake vanilla flavouring) is overpowering and bergamot gets lost.This seems to be a fan favourite, but I dislike it. Would not buy again.
Read Full Review
80 / 100

This is a wonderful tea. I have nothing more to say.
Read Full Review
75 / 100

This was my first experience with an Earl Grey cream, and I had a hard time discerning the various blended flavors besides bergamot. For example, the vanilla doesn't jump out at you; instead it turns the traditional Earl Grey taste toward something a bit more toasty or woody. I had worried that it might be cloying, b...
Read Full Review
80 / 100

Looking at the teabag boxes in-store, I wasn't sure if this would be a worthy purchase or not. I never had tried vanilla-flavored EG black tea before. With a combination of:
1) The really sweet, pleasant smell of the loose-leaf sampler as I crushed some between fingers and
2) The favorable Canadian/U.S. dollar e...
Read Full Review
90 / 100

One of the first teas that I've ever had. Its aroma is of a light earl grey with a hint of citrus (not as much as a lady grey) and sweetness. I don't taste the citrus in the brew, but the creaminess comes through and creates a smooth, refreshing liquor that does not need milk or sugar to enjoy. Definitely a favorite an...
Read Full Review
↑Top Reviewers
Review 2 teas to get on this list!
Advertisement
↑Most-Rated Earl Grey Cream

90
4 Ratings

2 Ratings
↑Top-Rated Earl Grey Cream

90
4 Ratings