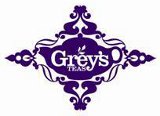 Most Reviewed By:
No one has reviewed any teas from this company yet!
Search Grey's Teas's teas:
Grey's Teas



Web: www.greysteas.co.uk
Last Updated: Feb. 28, 2014
Grey's Teas is a UK-based tea company, founded in 2000 by Richard Grey, and located in Warwick, in Warwickshire, England. Grey's teas sells exclusively loose-leaf tea, including a considerable selection of single origin teas. The company ships to the UK and Europe, offering free shipping for sufficiently large UK orders.

According to Grey's Teas website, Richard Grey is descended from the first Earl Grey, who is unrelated to the tea of the same name. Earl Grey tea is named for the second Earl Grey, the son of the first Earl Grey.

Grey's Teas sells some organic and fair-trade certified teas, as well as some teas sourced by members of the Ethical Tea Partnership.
Teas From Grey's Teas
The following is a selection of the 15 teas from Grey's Teas in our database.
You can also add a new tea. Please search or browse this company's teas first, to avoid adding duplicates.