Silver Needle
Wikipedia: Bai_Hao_Yinzhen_tea
Last Updated: Mar. 12, 2014
↑About Silver Needle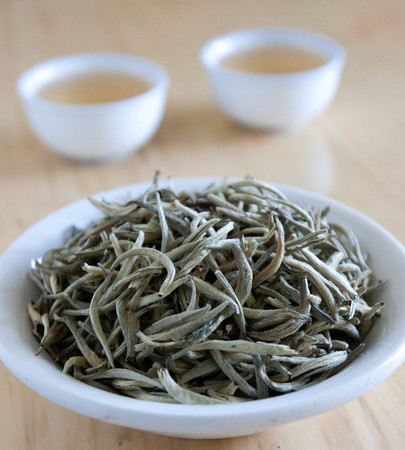 Silver needle white tea consists exclusively out of tips, giving it a silvery-white appearance to the leaf, and a pale yellow color to the cup. Photo © BoulderTeaCo,
CC BY-SA 4.0
.
Silver needle tea
, also known as
bai hao yinzhen
(白毫银针) or sometimes just
yinzhen
, is a style of
white tea
. It is produced mostly in
Fujian, China
, with small amounts of production in other regions. Silver needle tends to be among the most expensive of white teas. It is made exclusively of leaf buds at the tips of the tea plant's branches, and contains no fully-formed leaves. On RateTea, we classify white teas produced in the style of silver needle in this category, regardless of whether or not they are labelled as such, or are of Fujian or Chinese origin.
This tea is usually light in color, its aroma is subtle, and it can be quite thin. Tea drinkers preferring stronger teas can be disappointed by its delicate flavor.
As buds are highest in caffeine among the parts of the tea plant, this tea tends to be high in caffeine. Some retailers mistakenly claim that this tea is low in caffeine because it is a white tea. White teas are not necessarily lower in caffeine and no generalizations can be made about
caffeine content of a tea
based on whether it is green, white, or black.
Another tea,
Junshan yinzhen
, is also referred to as "silver needle". Junshan yinzhen is a
yellow tea
that is similar in many respects to bai hao yinzhen.
References:
1. The Harney & Sons Guide to Tea, Penguin Press, 2008, p. 20-22.
↑Recent Silver Needle Reviews — RSS
35 / 100
This is a nice tea to look at, but the flavor is weak and bland. A little nutty taste. No plans to get more of this.
Read Full Review
96 / 100

This tea was served at Copper Cup coffee shop in Lancaster, PA. Prior to that, I hadn't even heard of Passenger Coffee, and this tea really blew me away; I thought it exceptional.

I tend not to like silver needle white teas because they're often a bit too subtle (or, put less diplomatically, bland or weak) for me, ...
Read Full Review
60 / 100

I think I let this steep a little too long, or perhaps the barista used too hot of water, because there was a light almost-bitterness to this tea for me. It's not bad, but I have a hard time finding white teas that I really like. Also, I think I felt a slight tickle or ache at the back of my throat in response to this ...
Read Full Review
63 / 100

If you like white teas (so pale - must steep longer.) this is a safe choice and has not only a light grassy note but I got "flowers" - or maybe even honey if that's not reaching too far.

I let it steep forever - over 5 minutes and it was still so pale, but it is, after all, a white tea.

Rich in antioxidants. Lik...
Read Full Review
67 / 100

I am a huge fan of silver needle tea, but this one was sadly disappointing. The aroma of the dry leaves is wonderfully sweet and floral. The aroma of the steeped tea, however, is almost nonexistent. The taste of the tea is as expected for a silver needle. There are notes of flowers, sweet grass, and honey. However, I f...
Read Full Review
↑Top Reviewers
Review 2 teas to get on this list!
Advertisement
↑Most-Rated Silver Needle

48
3 Ratings

24
3 Ratings

2 Ratings

2 Ratings
↑Top-Rated Silver Needle

48
3 Ratings

24
3 Ratings