Silver Needle
Wikipedia: Bai_Hao_Yinzhen_tea
Updated: Mar. 12, 2014
About Silver Needle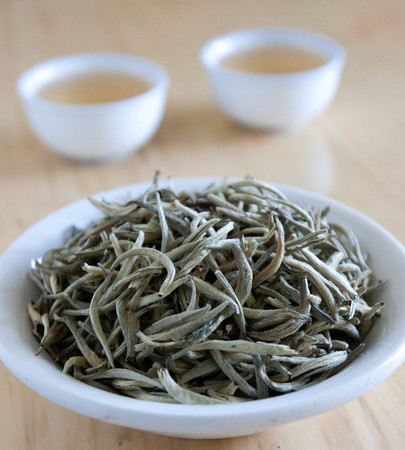 Silver needle white tea consists exclusively out of tips, giving it a silvery-white appearance to the leaf, and a pale yellow color to the cup. Photo © BoulderTeaCo,
CC BY-SA 4.0
.
Silver needle tea
, also known as
bai hao yinzhen
(白毫银针) or sometimes just
yinzhen
, is a style of
white tea
. It is produced mostly in
Fujian, China
, with small amounts of production in other regions. Silver needle tends to be among the most expensive of white teas. It is made exclusively of leaf buds at the tips of the tea plant's branches, and contains no fully-formed leaves. On RateTea, we classify white teas produced in the style of silver needle in this category, regardless of whether or not they are labelled as such, or are of Fujian or Chinese origin.
This tea is usually light in color, its aroma is subtle, and it can be quite thin. Tea drinkers preferring stronger teas can be disappointed by its delicate flavor.
As buds are highest in caffeine among the parts of the tea plant, this tea tends to be high in caffeine. Some retailers mistakenly claim that this tea is low in caffeine because it is a white tea. White teas are not necessarily lower in caffeine and no generalizations can be made about
caffeine content of a tea
based on whether it is green, white, or black.
Another tea,
Junshan yinzhen
, is also referred to as "silver needle". Junshan yinzhen is a
yellow tea
that is similar in many respects to bai hao yinzhen.
References:
1. The Harney & Sons Guide to Tea, Penguin Press, 2008, p. 20-22.
Best Silver Needle
The notion of the "best" Silver Needle is subjective, because different people have different tastes. We present the most often-rated and highest-rated teas in this category, and allow you to draw your own conclusions.
Most Often-Rated Teas
Top-Rated Teas

78
3 Ratings

22
3 Ratings