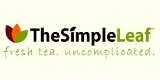 Most Reviewed By:
No one has reviewed any teas from this company yet!
Search The Simple Leaf Tea's teas:
The Simple Leaf Tea – CLOSED

Last Updated: Sep. 25, 2017
The Simple Leaf Tea
was a family-owned tea company based in Chicago, IL, and founded in 2006. The company is now closed. The Simple Leaf carried only fourteen teas, and sourced its teas directly from growers in India and Nepal. All of the teas were single-origin; Simple Leaf's website identified the source of each tea and provided some information on the growers.
The Simple Leaf Tea is distinct from and not connected with
Simple Loose Leaf
, which is a newer tea company that did not overlap in terms of dates being open.
Some of the teas previously sold by The Simple Leaf included rare and unusual selections that are hard to obtain and virtually unheard of in the mainstream tea world, including white, green, and oolong Darjeeling teas, and single-estate Indian teas from the less-well-known regions of
Arunchal Pradesh
and
Himachal Pradesh
, and a Nepalese oolong tea.
Simple Leaf Tea carried a few organic teas, and hoped to eventually have more of their teas organic-certified.
Teas From The Simple Leaf Tea
The following is a selection of the 14 teas from The Simple Leaf Tea in our database.
You can also add a new tea. Please search or browse this company's teas first, to avoid adding duplicates.