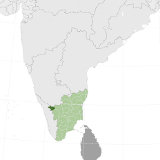 Most Reviewed By:

Nilgiri, India
Wikipedia: The_Nilgiris_District | Official Government Website: nilgiris.nic.in
Updated: Mar. 11, 2014
About Nilgiri, India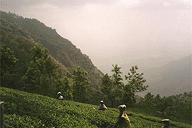 Workers harvesting tea in Nilgiri
Nilgiri
is a district in southern
India
in the state of
Tamil Nadu
. It is an important tea-producing region, probably the next most well-known in India after
Darjeeling
and
Assam
. The region is mountainous, and teas are grown at high altitudes giving them a high-grown character. The term "Nilgiri" also refers to a range of mountains that runs into the bordering state of
Kerala
. Some tea is also grown in Kerala, in the region bordering Nilgiri.
Like most of India, Nilgiri is best known for its
black teas
, although it also produces
green teas
. Upton Tea Imports describes Nilgiri teas as being similar to
Ceylon tea
, yet with a distinctive character.[1]
References:
1. Upton Tea Quarterly, Vol. 18, No. 3, Summer, 2009, pp. 17.
Styles of Tea Produced in Nilgiri, India
This is a selection, not an exhaustive listing, of the styles of tea most commonly produced in Nilgiri, India.
Best Nilgiri Teas
The notion of the "best" Nilgiri teas is subjective, because different people have different tastes. We present the most often-rated and highest-rated teas produced in Nilgiri, India, and allow you to draw your own conclusions.
Most Often-Rated Teas