Mint Tea
Wikipedia: Peppermint_tea | Teaviews: mint-tea
Last Updated: Feb. 2, 2016
↑About Mint Tea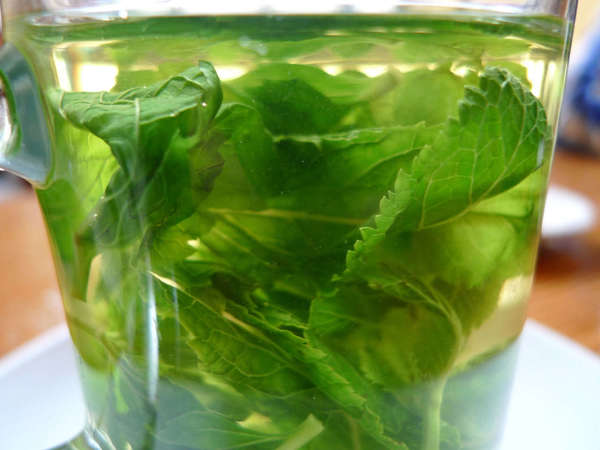 Spearmint tea brewed from fresh mint leaves. Photo ©
Thomas Cloer
,
CC BY-SA 2.0
.
Mint tea
is one of the most popular and widely consumed types of
herbal tea
. It is used as tea on its own, in herbal tea blends, or mixed with
green
or
black teas
.
Mint is not a single species of plant, but rather, a diverse plant family,
Lamiaceae
or
Labiatae
, that contains many plants called by the name of "mint" as well as many culinary herbs, medicinal plants, and a broad variety of other plants, including many plants important in herbal teas, such as lemon balm and wild bergamot. Most true mints (and plants with the characteristic "minty" aroma) belong to the
metha
genus, but a few plants in other genera also have minty aroma and bear the name "mint" as well.
Commercially available mint teas are almost exclusively either peppermint or spearmint, but there are numerous other mint varieties that are widely cultivated and sold in garden centers. Some other types of mint used in tea by home gardeners include apple mint or wooly mint, and peppermint cultivars like orange mint or chocolate mint.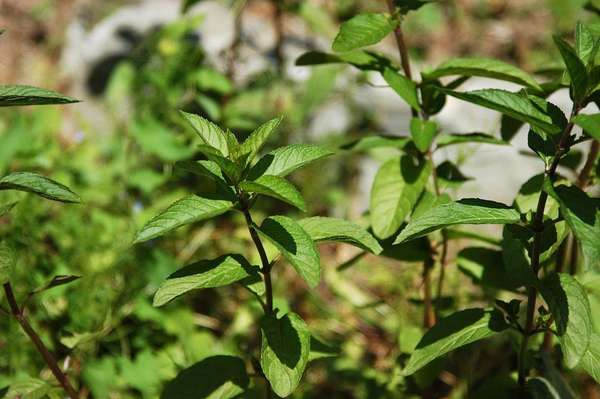 Peppermint, pictured here, is a hybrid of two species: spearmint and water mint. Photo ©
Simon Eugster
,
CC BY-SA 3.0
.
Some cultivated mints are individual species that occur in the wild—e.g. spearmint is
Mentha spicata
, whereas others, such as Peppermint, are hybrids of different species. Usually when the term "mint" is used alone, it refers to
spearmint
, although for herbal teas, peppermint is more common. Most of the commercially available mint in the U.S. is either spearmint or peppermint.
Apple mint
, also called
woolly mint
or
fuzzy mint
, is particularly important in tea culture, as it is traditionally used for blending with green tea in Morocco.
Mint tea can be made out of fresh or dried leaves. It is typically brewed with boiling water. The amount of leaf used typically varies by the species. Peppermint can have an overwhelmingly strong aroma, requiring less leaf to be used, whereas spearmint and other mints require more leaf. Mint teas make particularly good iced teas, as mint is often described as having a cool or refreshing quality.
Heath effects
Many mints have numerous health benefits. Spearmint has significant
antioxidant properties
which have been shown to aid in the preservation of meat.[1] Mint tea has also been shown to enhance iron absorption.[2] Peppermint, spearmint, and Japanese mint have been shown to inhibit and kill a number of strains of harmful bacteria, including antibiotic-resistant strains such as MSRA.[3] Spearmint has also been shown to inhibit the growth of a variety of harmful fungi.[4]
While most mints are generally safe for consumption in food or beverages,
some species of mint are toxic in large doses
. Pennyroyal (
Mentha pulegium
), which has a pleasant minty aroma and makes a delicious tea, can cause liver damage and can even be lethal in a high enough dose, and is an ongoing source of poisoning.[5]
References:
↑Recent Mint Reviews — RSS
56 / 100

Finally, after three decidedly lame ones in a row, I try a new peppermint tea that rates (barely) above the speed Sammy Hagar can't drive. I hope this upward trend continues with future peppermint teas, as this is an herb I dearly love.

Opening the wrapper released a pleasant puff of peppermint aroma, more than eve...
Read Full Review
38 / 100

This is my third consecutive "no bueno" on trying a new peppermint tea. It's about time to return to some old standbys, in order to re-familiarize with what peppermint should be!

The dry-leaf photo from their website is a little misleading, in that the sachet contained considerably more stem pieces—some quite l...
Read Full Review
28 / 100

This is the worst peppermint tea I've had, and that's soon after trying my next-lowest rated peppermint, from another store brand. Guess I'm on a roll...around the bowl and down the hole! That's where the rest of this cup is going.

Out of the wrapper, the dry bag had only about 1/4 of its volume, maybe less, occup...
Read Full Review
50 / 100

I'm still looking for what I'd consider a perfect peppermint tea, but of the Stash mint varieties I've tried, I will say that this was the best. The aroma doesn't quite fit, it seems a bit on the weak side, but the flavor is definitely peppermint. It's not overpowering, maybe not even full-bodied, but definitely pepper...
Read Full Review
60 / 100

This tea has a wonderful minty aroma, not overpowering, but definitely mint. It's not an overpowering flavor either, but not too subtle. Definitely minty, but I disagree with the other reviewer who indicated it was like you just brushed your teeth... to me, that would be too much; this is just enough mint.
Read Full Review
↑Top Reviewers
Review 5 teas to get on this list!
Advertisement
↑Most-Rated Mint

38
10 Ratings

32
8 Ratings

4
5 Ratings

16
4 Ratings

2
3 Ratings
↑Top-Rated Mint

38
10 Ratings

33
3 Ratings

32
8 Ratings

16
3 Ratings

16
4 Ratings
↑Varieties, Kinds, or Types of Mint Tea