Malawi
Wikipedia: Malawi | Official Government Website: www.malawi.gov.mw
Updated: Mar. 17, 2014
About Malawi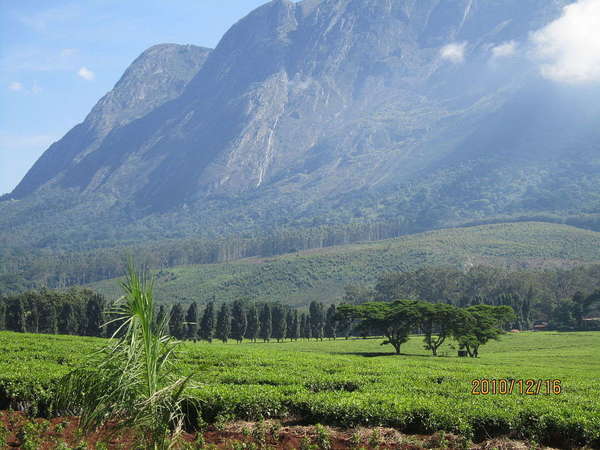 Photo by Stanford Muyila Malawi, © Stanford Muyila Malawi,
CC BY-SA 3.0
.
Malawi
is a small landlocked country in Africa surrounded by Mozambique and also bordered by Zambia and
Tanzania
. In 2008, Malawi was the world's 12th largest tea producer, making it the second largest producer of tea in Africa, trailing only
Kenya
. Its total amount of tea produced was a little under 1% of global production.[1]
In addition to producing a large volume of tea which is sold in bulk and used in blending, Malawi also produces some artisan teas, including
white tea
, which is a relative newcomer to the tea production scene in regions outside of China and Southeast Asia.
Malawi's climate is tropical but varies with elevation, being hot in the low-lying areas and more moderate at higher altitudes. Rainfall is strongly seasonal, with a number of months with almost no rain in many regions, and a number of months with heavy rain. Only the wetter regions of the country are suitable for growing the tea plant.
Pictured to the right is a tea plantation at the base of Mulanje mountain; this region is home to the
Mulanje Mountain Forest Reserve
, run by a conservation trust, and home to a number of endangered endemic species of plants and animals.
Styles of Tea Produced in Malawi
This is a selection, not an exhaustive listing, of the styles of tea most commonly produced in Malawi.
Best Malawian Teas
The notion of the "best" Malawian teas is subjective, because different people have different tastes. We present the most often-rated and highest-rated teas produced in Malawi, and allow you to draw your own conclusions.
Most Often-Rated Teas
Top-Rated Malawian Teas
We need at least 3 ratings for a tea to calculate a percentile ranking. You can help us out by rating more teas of this style.