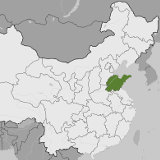 Most Reviewed By:

Shandong, China
Wikipedia: Shandong | Official Government Website: www.sd.gov.cn
Updated: Mar. 8, 2012
About Shandong, China
Shandong
(山东), meaning
east of the mountains
, is a province on the east coast of
China
. Shandong borders
Jiangsu
to the south along the coast, and also barely touches
Anhui
.
Although Shandong is a major agricultural region, it is farther north and thus colder than most of China's tea-growing provinces, and is not well-known for tea production. However, several regions of Shandong produce tea, including the five peaks mountain (Wufeng Shan) area, and areas near Jimo City and Qingdong City.
Styles of Tea Produced in Shandong, China
This is a selection, not an exhaustive listing, of the styles of tea most commonly produced in Shandong, China.
Best Shandong Teas
The notion of the "best" Shandong teas is subjective, because different people have different tastes. We present the most often-rated and highest-rated teas produced in Shandong, China, and allow you to draw your own conclusions.
Most Often-Rated Teas
Top-Rated Shandong Teas

95
4 Ratings