Genmaicha
Wikipedia: Genmaicha | Teaviews: genmaicha-tea
Updated: Mar. 13, 2014
About Genmaicha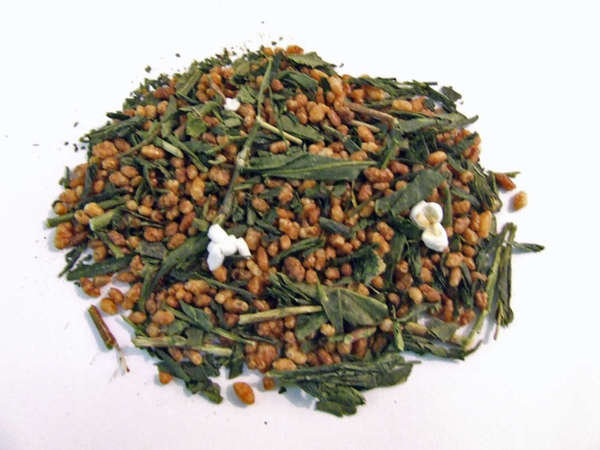 Loose-leaf Genmaicha, Japanese Green Tea With Toasted Rice by Assumed Kyd, Wikimedia Commons, Public Domain.
Genmaicha
(玄米茶) or
genmai cha
, often called
brown rice tea
, is a Japanese tea made by mixing
green tea
, usually
bancha
or
sencha
, with toasted rice. The rice and corn impart a toasty and nutty quality to the aroma. When the rice is toasted, sometimes grains of rice pop, much like popcorn. In some genmaicha, only intact grains of rice are included; other blends include these popped grains.
Genmaicha is also frequently blended with
matcha
, a powdered green tea that is normally brewed differently from most loose tea. The resulting blend is called
Matcha-iri genmaicha
(抹茶入り玄米茶), and is brewed like regular green tea, although the matcha imparts a unique quality to the resulting cup.
Genmaicha tends to be lower in caffeine, especially when bancha is used as the base tea, but its caffeine content varies widely; it can be higher when made using sencha, or when matcha as added, and because it has a mild flavor, it can also be brewed fairly strongly.
Genmaicha has recently achieved great popularity and is produced and widely available in many countries.
Best Genmaicha
The notion of the "best" Genmaicha is subjective, because different people have different tastes. We present the most often-rated and highest-rated teas in this category, and allow you to draw your own conclusions.
Most Often-Rated Teas
Top-Rated Teas
50
3 Ratings

12
3 Ratings