Genmaicha
Wikipedia: Genmaicha | Teaviews: genmaicha-tea
Last Updated: Mar. 13, 2014
↑About Genmaicha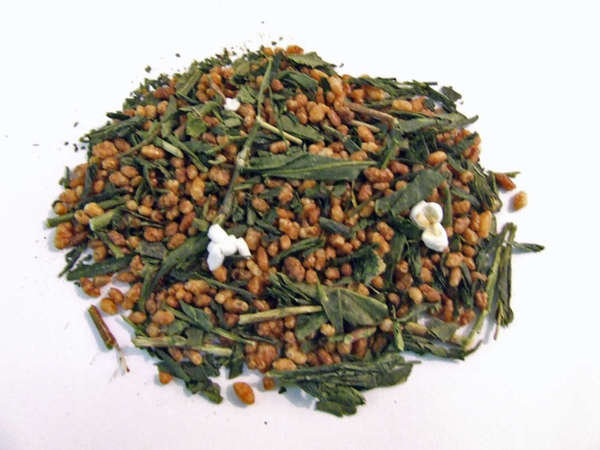 Loose-leaf Genmaicha, Japanese Green Tea With Toasted Rice by Assumed Kyd, Wikimedia Commons, Public Domain.
Genmaicha
(玄米茶) or
genmai cha
, often called
brown rice tea
, is a Japanese tea made by mixing
green tea
, usually
bancha
or
sencha
, with toasted rice. The rice and corn impart a toasty and nutty quality to the aroma. When the rice is toasted, sometimes grains of rice pop, much like popcorn. In some genmaicha, only intact grains of rice are included; other blends include these popped grains.
Genmaicha is also frequently blended with
matcha
, a powdered green tea that is normally brewed differently from most loose tea. The resulting blend is called
Matcha-iri genmaicha
(抹茶入り玄米茶), and is brewed like regular green tea, although the matcha imparts a unique quality to the resulting cup.
Genmaicha tends to be lower in caffeine, especially when bancha is used as the base tea, but its caffeine content varies widely; it can be higher when made using sencha, or when matcha as added, and because it has a mild flavor, it can also be brewed fairly strongly.
Genmaicha has recently achieved great popularity and is produced and widely available in many countries.
↑Recent Genmaicha Reviews — RSS
76 / 100

An enjoyable, but not super interesting tea that struck me as a little pricey. One of my favorite genmaichas yet. Thank you to Upton, for throwing this in as a free sample with my order!

Dry leaf looks a dusty bright yellow color, much more yellowish than most Matcha. Aroma is very mild, mostly of the toasted rice.
...
Read Full Review
78 / 100

I should really stop posting first impressions. I often end up rewriting the whole review. This tea took some time to get used to. I disliked the toasted rice at first and wished it was just bancha and matcha, but then I realized that it's the combination of everything that makes this tea work: the bancha provides a ni...
Read Full Review
65 / 100

It is sencha with toasted brown rice - I wonder who thought that up? This provides a little heft and cracker-like flavor to this green tea. I'm rating it in 2018, but I liked it a little more in some prior years.
Read Full Review
74 / 100

Didn't particularly smell nice at all. It smelled of a salty seaweed with a nuttiness to it. The flavor was much better though and mostly got rid of the seaweed saltiness. Overall, what you'd expect from a genmaicha tea. Price isn't as much of a steal as I thought, because if you use the recommended amount(10g), it cos...
Read Full Review
80 / 100

A good example of this style of tea. Dry leaf's aroma is a little weaker than the brewed tea, but it has good, toasty flavor and a round, smooth mouthfeel. Does tend to become a little astringent if brewed for too long — I set my timer for 2:45 so I can be sure I get my infuser out before three minutes.
Read Full Review
↑Top Reviewers
Review 3 teas to get on this list!
Advertisement
↑Most-Rated Genmaicha

55
3 Ratings
45
3 Ratings

2 Ratings
↑Top-Rated Genmaicha

55
3 Ratings
45
3 Ratings