Genmaicha
Wikipedia: Genmaicha | Teaviews: genmaicha-tea
Last Updated: Mar. 13, 2014
↑About Genmaicha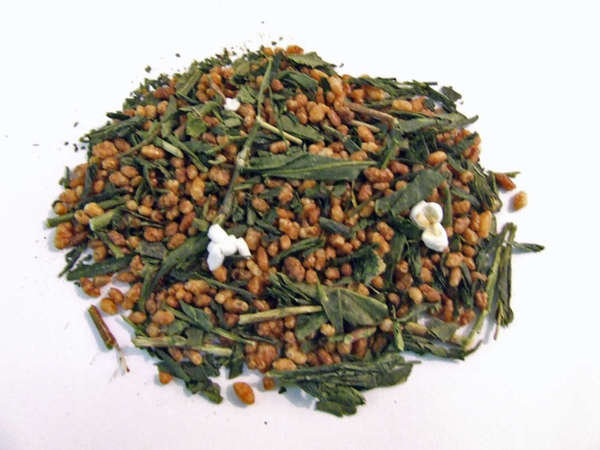 Loose-leaf Genmaicha, Japanese Green Tea With Toasted Rice by Assumed Kyd, Wikimedia Commons, Public Domain.
Genmaicha
(玄米茶) or
genmai cha
, often called
brown rice tea
, is a Japanese tea made by mixing
green tea
, usually
bancha
or
sencha
, with toasted rice. The rice and corn impart a toasty and nutty quality to the aroma. When the rice is toasted, sometimes grains of rice pop, much like popcorn. In some genmaicha, only intact grains of rice are included; other blends include these popped grains.
Genmaicha is also frequently blended with
matcha
, a powdered green tea that is normally brewed differently from most loose tea. The resulting blend is called
Matcha-iri genmaicha
(抹茶入り玄米茶), and is brewed like regular green tea, although the matcha imparts a unique quality to the resulting cup.
Genmaicha tends to be lower in caffeine, especially when bancha is used as the base tea, but its caffeine content varies widely; it can be higher when made using sencha, or when matcha as added, and because it has a mild flavor, it can also be brewed fairly strongly.
Genmaicha has recently achieved great popularity and is produced and widely available in many countries.
↑Recent Genmaicha Reviews — RSS
59 / 100

My experience with genmaicha is very limited, and it's not my favorite tea type, so take this for what it's worth in that context. If the dry smell alone were the basis for evaluating a tea, I would have launched this stuff into the compost heap, untasted, with prejudice. Maybe I'm just not well-adapted to genmaicha ...
Read Full Review
100 / 100

Best tea ever!! At least for me, since I love grain based teas like barley and buckwheat. This tea is green tea mixed with toasted brown rice and it really does give the tea this amazing malty, nutty flavor that I love! The tea is very warming and cozy and not astringent at all. The price is great as well! definitely r...
Read Full Review
55 / 100

I really wasn't impressed with this. I was hopeful because the reviews I found elsewhere were good. But, this tea lacks taste and body. There's nothing to it. I even contacted Maeda-en because I thought there might be an issue with the product. It's not what I've come to expect from their brand. Their teas are usually ...
Read Full Review
78 / 100

I really like this genmaicha. Aside from tea in Asian restaurants, this is the only genmaicha that I've ever tasted. The kind that I have (I'm not sure if they've changed the recipe or not) has sorghum in addition to rice. It has a great, nutty, roasted flavor. There isn't much caffeine to it. I'm amazed that this tea ...
Read Full Review
76 / 100

An enjoyable, but not super interesting tea that struck me as a little pricey. One of my favorite genmaichas yet. Thank you to Upton, for throwing this in as a free sample with my order!

Dry leaf looks a dusty bright yellow color, much more yellowish than most Matcha. Aroma is very mild, mostly of the toasted rice.
...
Read Full Review
↑Top Reviewers
Review 3 teas to get on this list!
Advertisement
↑Most-Rated Genmaicha
45
3 Ratings

55
3 Ratings

2 Ratings
↑Top-Rated Genmaicha

55
3 Ratings
45
3 Ratings