Bi Luo Chun
Wikipedia: Bi_Luo_Chun_tea
Last Updated: Aug. 27, 2013
↑About Bi Luo Chun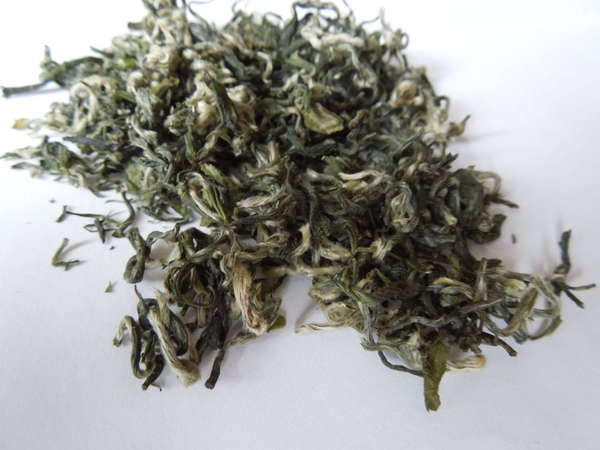 Bi luo chun leaf has a distinctive curled shape, resembling small snails.
Bi luo chun
(碧螺春), sometimes written
pi lo chun
, and meaning
green snail spring
, is a popular and ancient[1]
green tea
from
China
. The name originates from the fact that it is a green tea made from leaves picked in spring, and the leaves are rolled into a spiral shape resembling a snail.
It originated in
Jiangsu province
, in the Dongting region near Tai lake[1], but teas bearing this name are also grown elsewhere. Some retailers claim that teas produced outside of Jiangsu province and labeled as bi luo chun are "fake" teas. However, tea in the style of bi luo chun is not necessarily intended as a counterfeit product. One region producing this tea is San Xia,
Taipei County, Taiwan
, where, according to
Hou De Asian Art & Fine Tea
, tea makers migrated to find a safe haven during the end of WWII. These teas are mostly sold domestically within Taiwan rather than exported, because of greater demand.[2]
↑Recent Bi Luo Chun Reviews — RSS
90 / 100

Lovely seaweedy and nutty flavour. The tea leaves are very delicate and when steeped they show a nice vibrant green colour. Due to the small leaves the flavour releases quickly. I steeped 5 grams of this tea in a gaiwan for 10 seconds for the first 3 steeps and afterwards I increased it gradually. Could enjoy around 12...
Read Full Review
93 / 100

This is the most complex green tea I've ever tasted. It has a very fresh nutty and floral aroma and bright, slightly tangy (but not sour like some cheap gunpowder and chun mee) taste with notes of nuts, fresh herbs, citrus fruit, and hints of vegetables.

It resteeps well, brewing at least three good cups as long as ...
Read Full Review
60 / 100

This tea was quite expensive and it doesn't smell all that good. Especially the used leaves smell pretty bad. I still haven't figured out how to make this, but I use relatively little leaf and don't steep it for long. The result tastes all right, though. The colour of the infusion isn't very bright, a slightly dirty ye...
Read Full Review
75 / 100

This is presumably the same tea that the previous reviewers tasted, but it's packaged in individual 6g pouches (24 packets totalling 150g). At $10, I paid a little more than the previous reviewers did, as well.

That said, this is now one of my favorite green teas. I find it best with a long steep in cooler water (4-...
Read Full Review
90 / 100

This was my first experience of this variety of tea, and I was very pleased! The aroma is wonderful—very fruity and sweet. The taste was also very sweet and delicate. There is strong floral and fruity notes while still having a hint of vegetation. Nothing too strong, just very mellow and smooth. It is almost like a c...
Read Full Review
↑Top Reviewers
Review 2 teas to get on this list!
Advertisement
↑Most-Rated Bi Luo Chun

1 Rating

1 Rating

1 Rating
↑Top-Rated Bi Luo Chun