Bi Luo Chun
Wikipedia: Bi_Luo_Chun_tea
Updated: Aug. 27, 2013
About Bi Luo Chun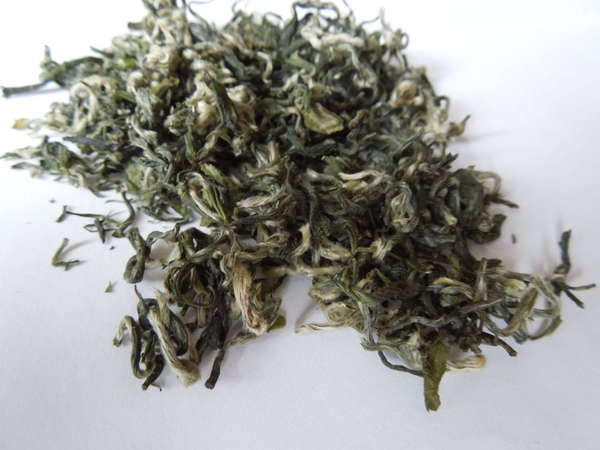 Bi luo chun leaf has a distinctive curled shape, resembling small snails.
Bi luo chun
(碧螺春), sometimes written
pi lo chun
, and meaning
green snail spring
, is a popular and ancient[1]
green tea
from
China
. The name originates from the fact that it is a green tea made from leaves picked in spring, and the leaves are rolled into a spiral shape resembling a snail.
It originated in
Jiangsu province
, in the Dongting region near Tai lake[1], but teas bearing this name are also grown elsewhere. Some retailers claim that teas produced outside of Jiangsu province and labeled as bi luo chun are "fake" teas. However, tea in the style of bi luo chun is not necessarily intended as a counterfeit product. One region producing this tea is San Xia,
Taipei County, Taiwan
, where, according to
Hou De Asian Art & Fine Tea
, tea makers migrated to find a safe haven during the end of WWII. These teas are mostly sold domestically within Taiwan rather than exported, because of greater demand.[2]
Best Bi Luo Chun
The notion of the "best" Bi Luo Chun is subjective, because different people have different tastes. We present the most often-rated and highest-rated teas in this category, and allow you to draw your own conclusions.
Most Often-Rated Teas