Darjeeling Second Flush
Last Updated: Mar. 18, 2014
↑About Darjeeling Second Flush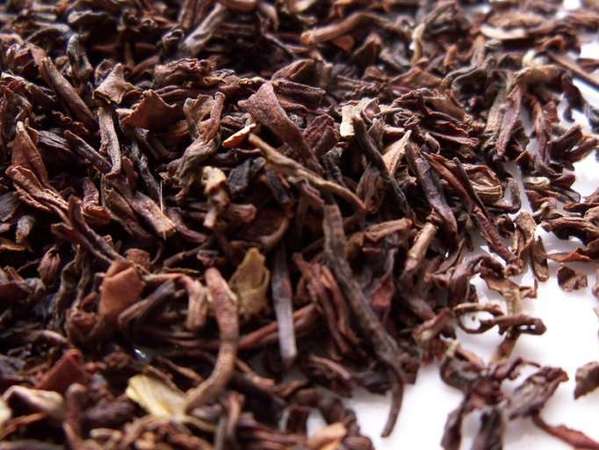 Photo of Leaf of Darjeeling Sungma Summer (Darjeeling #22) from Adagio Teas by A Girl With Tea, Photo © A Girl With Tea,
CC BY 2.0
.
Darjeeling second flush
or
second flush Darjeeling
tea designates
Darjeeling tea
that has been harvested at a specific time, in the summer, well after the
first flush
. This tea is also called
Darjeeling summer tea
or
Darjeeling summer flush
. The harvest time for second flush tea comes at a period of greater rainfall than the first flush, but well before the peak of the monsoon season. Tea harvested during the monsoon season is called
monsoon tea
or
rains tea
and is not the same as second flush, and is usually considered inferior quality.
Compared to first flush, second flush Darjeeling has a darker color and is richer in flavor. Many of these teas, however, have a light color and can still be much milder than most black teas.
Second flush Darjeeling, like first flush, is considered a highly desireable tea, and can be very expensive. It is hard to generalize about price or quality; although first flush is often considered more expensive and desireable, some second flush teas exceed some first flush teas in price, and some tea drinkers prefer second flush teas for their bolder flavor.
↑Recent Second Flush Reviews — RSS
75 / 100

Part of Upton's Great Tea Race Collection, this Darjeeling crosses the finish line with a fine aroma and impressive flavor. There are notes of caramel, fresh leaves, and mild tannins. It is very expensive however - it costs 3 times the price of an ordinary Darjeeling, but does not offer 3 times the quality imo. Nice...
Read Full Review
0 / 100

I suspected something was wrong with the quality (or lack thereof) of this tea when I opened up the tin and there was no scent. (Side note: The best by date isn't for about 2 years, so that's not the issue.) Some teas have a very, very light scent, though. So, I tried to suspend judgment and brewed a cup as the packagi...
Read Full Review
100 / 100

Loved it. Smoother than a standard black darjeeling, but same iconic after taste.
Read Full Review
78 / 100

I thought this was an excellent second flush Darjeeling, with a fresher and cooler aroma than average, and surprising strength that allowed the leaf to stretch very far. A tea that I like to savor very slowly, not something for if you're in a hurry.

Thank you to Mighty Leaf for this generous sample!

I love the s...
Read Full Review
77 / 100

Every now and then I encounter a Darjeeling that only seems to shine when paired with the right foods, and this was one. The first couple times I drank it, it was easy to overlook, but when I paired it with a spicy coconut curry soup I made, it seemed to take on a completely different character.

Dry leaf is brown a...
Read Full Review
↑Top Reviewers
Review 2 teas to get on this list!
Advertisement
↑Most-Rated Second Flush
↑Top-Rated Second Flush