Darjeeling Second Flush
Updated: Mar. 18, 2014
About Darjeeling Second Flush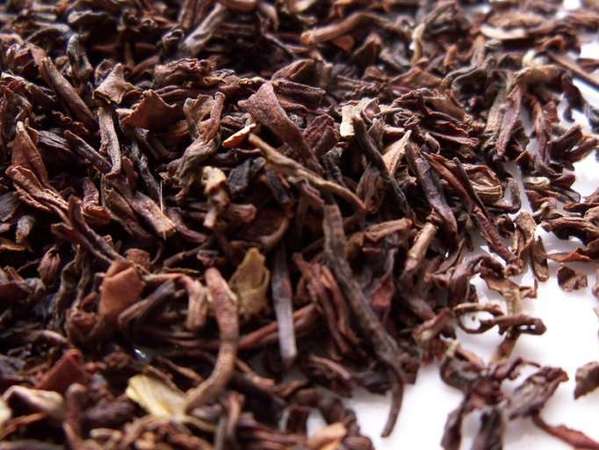 Photo of Leaf of Darjeeling Sungma Summer (Darjeeling #22) from Adagio Teas by A Girl With Tea, Photo © A Girl With Tea,
CC BY 2.0
.
Darjeeling second flush
or
second flush Darjeeling
tea designates
Darjeeling tea
that has been harvested at a specific time, in the summer, well after the
first flush
. This tea is also called
Darjeeling summer tea
or
Darjeeling summer flush
. The harvest time for second flush tea comes at a period of greater rainfall than the first flush, but well before the peak of the monsoon season. Tea harvested during the monsoon season is called
monsoon tea
or
rains tea
and is not the same as second flush, and is usually considered inferior quality.
Compared to first flush, second flush Darjeeling has a darker color and is richer in flavor. Many of these teas, however, have a light color and can still be much milder than most black teas.
Second flush Darjeeling, like first flush, is considered a highly desireable tea, and can be very expensive. It is hard to generalize about price or quality; although first flush is often considered more expensive and desireable, some second flush teas exceed some first flush teas in price, and some tea drinkers prefer second flush teas for their bolder flavor.
Best Darjeeling Second Flush
The notion of the "best" Darjeeling Second Flush is subjective, because different people have different tastes. We present the most often-rated and highest-rated teas in this category, and allow you to draw your own conclusions.
Most Often-Rated Teas
Top-Rated Teas

73
3 Ratings