Fo Shou Oolong
Wikipedia: Fo_Shou_tea
Last Updated: Aug. 3, 2017
↑About Fo Shou Oolong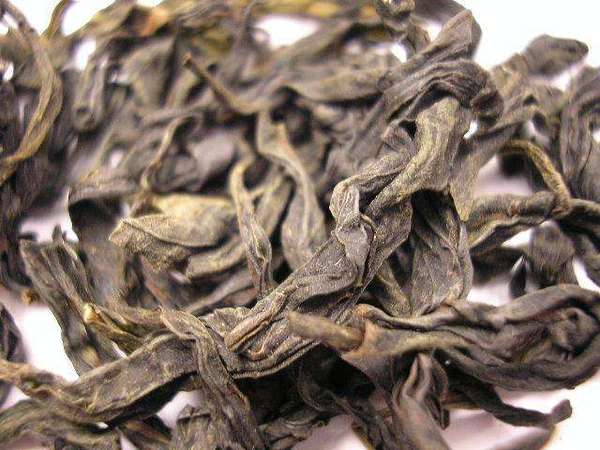 Fo Shou (Buddha's Palm) Oolong Tea, Loose-Leaf, © Iateasquirrel (Wikipedia),
CC BY-SA 3.0
.
Fo Shou
(佛手), meaning
Buddha's hand
, and often translated
Buddha's palm
, is a type of
se chung oolong
from
Fujian province
of China. This style is sometimes called
bergamot oolong
, referencing a slight resemblence of its aroma to bergamot, although it is not scented with bergamot oil like Earl Grey tea.
Rarely, the plants used to make this oolong have also been used to produce a black tea, in nearby Anxi county.
Fo shou is distinct from Jin Fo(金佛) or
golden Buddha
, a different (and newer) variety of oolong tea from the Wuyi mountains in Fujian.
↑Recent Fo Shou Oolong Reviews — RSS
43 / 100

The aroma is potent, a little too potent for my liking. Like old orchids mixed with malt and a touch of smoke. Once steeped the aroma is like tobacco and pine mixed with smoke.

The taste is like a humidor, bitter and piney with too much tobacco taste. On a second steep the taste is better with more sweetness and le...
Read Full Review
88 / 100

The dry leaf is strongly aromatic and has a strange, different aroma--considerably sharper than most greener oolongs.

After brewing the first cup, I notice a mildly soapy aroma, but this completely vanishes upon drinking it. The aroma is very complex, with spicy, herbaceous tones, reminiscent of a weedy thicket in ...
Read Full Review
↑Top Reviewers
Review 2 teas to get on this list!
Advertisement
↑Most-Rated Fo Shou Oolong
↑Top-Rated Fo Shou Oolong
We need at least 3 ratings for a tea to calculate a percentile ranking. You can help us out by rating more teas of this style.