Gunpowder Green Tea
Wikipedia: Gunpowder_tea | Teaviews: gunpowder-tea
Last Updated: Mar. 12, 2014
↑About Gunpowder Green Tea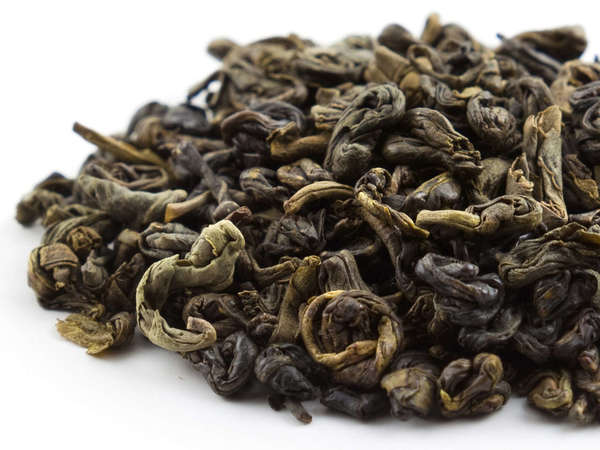 Loose-Leaf Gunpowder Green Tea, Photo © André Helbig,
CC BY-SA 3.0
.
Gunpowder tea
, Chinese
zhu cha
(珠茶) usually refers to a style of green tea rolled into small round pellets; the name references the fact that the pellets resemble gunpowder pellets. Gunpowder tea often has a strongly smoky aroma, although some varieties of this tea have little or no smokiness in the aroma.
Gunpowder tea is also produced in Taiwan, where it is sometimes called
Formosa gunpowder
, and in Sri Lanka, where it can be called
Ceylon gunpowder
.
Occasionally, other teas are rolled into pellets in a similar way.
Black gunpowder
is one such style of tea, although it is much less common. Generally "gunpowder tea" refers to the smokey green tea. Many oolong teas are also rolled into pellets similarly, although they rarely bear the name "gunpowder".
Gunpowder tea originated in
Zhejiang
province in China, but it is now produced elsewhere as well. Gunpowder tea is generally inexpensive, and even many of the high-quality gunpowder teas tend to be very reasonably priced.
↑Recent Gunpowder Green Tea Reviews — RSS
40 / 100

Fairly bland Chinese dark green tea. Being organic is not always enough, apparently.
Read Full Review
75 / 100

A good inexpensive Chinese green. Fairly sharp and peppery on the palate. The earthy, leafy aroma is quite nice. You could certainly do worse at this price.
Read Full Review
82 / 100
This tea has a mild roasty and vegetal aroma which I enjoy. The flavor is pretty good and also has a kind of roasted quality to it. I enjoy this green tea because it is very smooth and is definitely less astringent than many other green teas I've had. It still does have a slight astringent aftertaste in my throat but...
Read Full Review
44 / 100

This is one of the cheapest loose leaf teas I've ever seen, so I'm trying not to judge it to harshly, but it's just not very good. It's smoky, of course, but not too much if the temperature isn't too high. The overall flavor is vegetal, tasting like cooked carrots and green beans to me. It's pretty sour and astringent,...
Read Full Review
70 / 100

Gunpowder isn't my favorite tea, so my rating may not be entirely fair. That said, I like this tea. It's smoky and a little vegetal. Full-bodied and smooth. I wouldn't drink it every day, but it's a nice change of pace. If you like strong and smoky green teas, you might like it better.

I can't compare...
Read Full Review
↑Top Reviewers
Review 3 teas to get on this list!
Advertisement
↑Most-Rated Gunpowder Green Tea

2 Ratings
↑Top-Rated Gunpowder Green Tea