Gunpowder Green Tea
Wikipedia: Gunpowder_tea | Teaviews: gunpowder-tea
Updated: Mar. 12, 2014
About Gunpowder Green Tea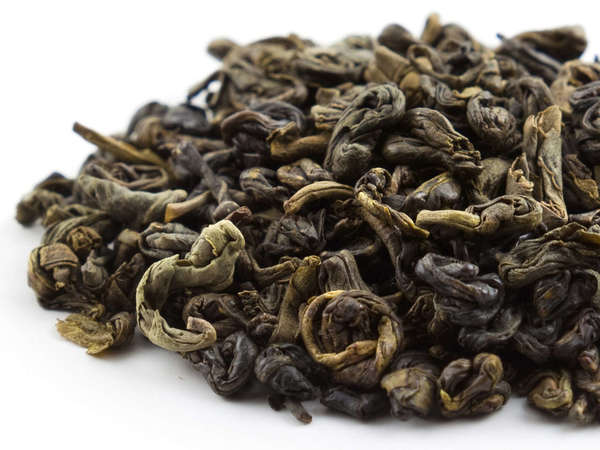 Loose-Leaf Gunpowder Green Tea, Photo © André Helbig,
CC BY-SA 3.0
.
Gunpowder tea
, Chinese
zhu cha
(珠茶) usually refers to a style of green tea rolled into small round pellets; the name references the fact that the pellets resemble gunpowder pellets. Gunpowder tea often has a strongly smoky aroma, although some varieties of this tea have little or no smokiness in the aroma.
Gunpowder tea is also produced in Taiwan, where it is sometimes called
Formosa gunpowder
, and in Sri Lanka, where it can be called
Ceylon gunpowder
.
Occasionally, other teas are rolled into pellets in a similar way.
Black gunpowder
is one such style of tea, although it is much less common. Generally "gunpowder tea" refers to the smokey green tea. Many oolong teas are also rolled into pellets similarly, although they rarely bear the name "gunpowder".
Gunpowder tea originated in
Zhejiang
province in China, but it is now produced elsewhere as well. Gunpowder tea is generally inexpensive, and even many of the high-quality gunpowder teas tend to be very reasonably priced.
Best Gunpowder Green Tea
The notion of the "best" Gunpowder Green Tea is subjective, because different people have different tastes. We present the most often-rated and highest-rated teas in this category, and allow you to draw your own conclusions.
Most Often-Rated Teas
Top-Rated Teas