Guricha / Tamaryokucha
Wikipedia: Tamaryokucha
Updated: Sep. 19, 2017
About Guricha / Tamaryokucha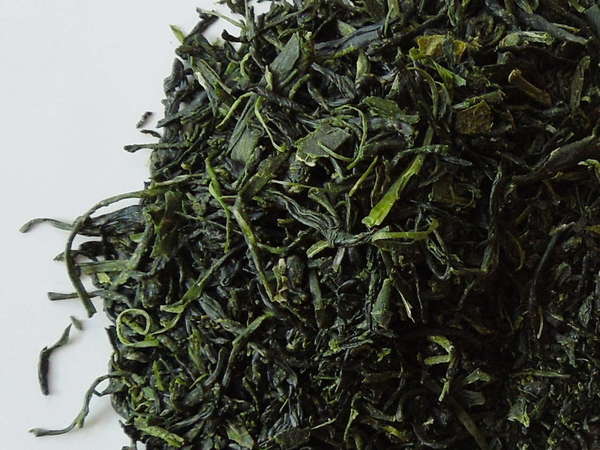 Loose-leaf guricha or tamaryokucha, showing the curved shape of the leaves. Pictured here is the steamed variety.
Guricha
, also called
tamaryokucha
(玉緑茶), is a type of Japanese green tea which has a more curved shape to its leaves. Some guricha is pan-fired, more like Chinese green teas, and less common among other Japanese green teas.
The pan-fired version of guricha is called
kama-guri
,
kama-iri-cha
, or
kama-iri-sei-cha tamaryoku
. This tea is much more similar in character to Chinese pan-fired green teas. It originated as an export product in the 1930's, sold primarily to Muslim countries, which historically consume Chinese-type green teas.
The steamed version is called
mushi-guri
or
mushi-sei-cha tamaryoku
, and is similar in overall character to sencha; it was developed by skipping a step in the production process of sencha, leading to a similar-looking curved appearance to the finished leaf.[1] The steamed version is more widely available in Western countries, but is not common there. It tends to be a premium-priced product.
Guricha tends to be produced on Kyushu island, such as in
Saga prefecture
. Mushi-guricha is also produced in
Shizuoka
. Small amounts have also recently begun to be produced in
China
.
Best Guricha / Tamaryokucha
The notion of the "best" Guricha / Tamaryokucha is subjective, because different people have different tastes. We present the most often-rated and highest-rated teas in this category, and allow you to draw your own conclusions.
Most Often-Rated Teas

25
8 Ratings

51
4 Ratings
Top-Rated Teas

51
4 Ratings

25
8 Ratings
Examples of Guricha / Tamaryokucha
The following are examples of the 6 selections of Guricha / Tamaryokucha in our database.
| | |
| --- | --- |
| 25 | |
| | |