Jasmine Silver Needle
This tea's info last updated: Jul. 6, 2017
Commercial Description
Young and elegant tea leaf buds with a whisper of jasmine aura. All the appeal and softly sweet nuances of a classic Silver Needle tea, enhanced with the aroma of night-blooming jasmine flowers. The quiet nature of this tea ensures it will make a gentle companion for your special moments.
Ratings & Reviews
Page 1 of 1 page with 1 review

Link to This Review

63
Aroma: 7/10 Flavor: 4/5 Value: 2/5
spaflam
(
179 reviews
) on
May. 13th, 2013
I love Jasmine - but this Silver needle is not quite as good as Ito-En's. Adagio teas I usually get online and they are pricey plus you have to pay for shipping. That said, I love this tea - and its floral whisper-soft grassy green-ness. Best served hot (IMHO) and without sweeteners or embellishments.
Page 1 of 1 page with 1 review
More Flavored Tea from Adagio Teas

1 Rating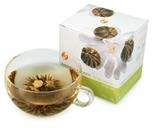 1 Rating

46
7 Ratings