Jasmine Phoenix Pearls (Jasmine #12)
This tea's info last updated: Mar. 1, 2015
Commercial Description
...Each pearl combines two delicate leaves and an unopened bud. When added to water, the pearls majestically unfurl, releasing their delicate scent and flavor...
Ratings & Reviews
Page 1 of 1 page with 2 reviews

Link to This Review

85
Aroma: 9/10 Flavor: 5/5 Value: 4/5
Lexi
(
5 reviews
) on
Apr. 19th, 2020
This tea has a beautiful jasmine smell and taste. You have to really love jasmine to like this tea; as the other reviewer mentioned, the jasmine aroma and taste is very overpowering, even with minimal steep time. I really enjoy this tea. It reminds me a great deal of Republic of Tea's Twilight Rose, which is a chamomile tea. I like that this green tea offers some caffeine while providing a relaxing experience. The jasmine pearls were absolutely beautiful. I purchased a sampler and will probably repurchase this tea.
---
---

Link to This Review

83
Aroma: 10/10 Flavor: 3/5 Value: 4/5
kieblera5
(
6 reviews
) on
Feb. 28th, 2015
Now sold as "Jasmine Phoenix Pearls," this tea is light and floral. The pearls were nicely wound and were generally free of flaws. The aroma of the leaves is strong with the scent of jasmine. The liquor is light and is, again, strongly scented with jasmine. The taste is a light green tea with a strong jasmine taste - actually too strong, which is why it gets lower marks for flavor. Even with minimal steeping, the tea gets overly bitter from the overuse of jasmine; however, the flavor gets better with subsequent steeps.

Tasting notes:
Steep 1: 1.5tsp/8oz, 165 degrees, 45-60 seconds
Steep 2: 175 degrees, 70 seconds
Steep 3: 175 degrees, 90 seconds
Page 1 of 1 page with 2 reviews
More Flavored Tea from Fujian, China from Adagio Teas

1 Rating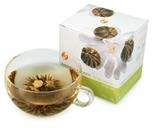 1 Rating

5
4 Ratings