Jasmine Silver Needle
Last Updated: Jul. 19, 2017
↑About Jasmine Silver Needle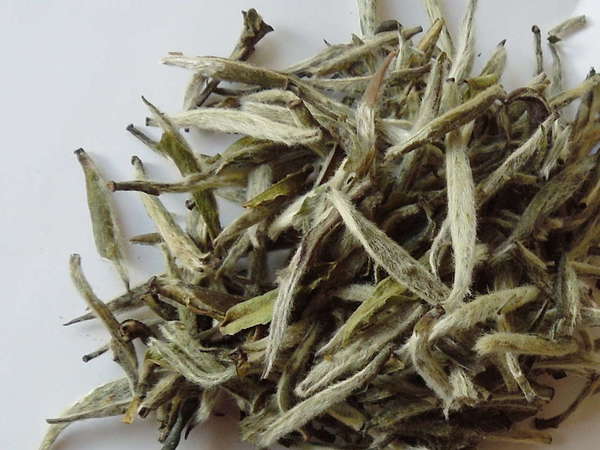 Silver needle, used for the base of this type of jasmine tea, consists exclusively of tips, with a downy white appearance.
Jasmine Silver Needle
is jasmine tea that has been made using
silver needle white tea (bai hao yinzhen)
as the base. Because silver needle naturally has a mild flavor and a floral scent, this scented tea has a mild flavor and an intense floral fragrance. In contrast to green teas, where the base tea's character is more distinctly evident, the floral qualities of the base tea often tend to blend with the scenting in this style of jasmine tea.
Like the base tea, this style of tea can be deceptively strongly caffeinated, relative to its smooth, mild flavor. Although white teas are widely perceived as being low in caffeine,
this is a myth
. Silver needle tea, consisting exclusively of
tips
, is highest in caffeine among white teas.
↑Recent Jasmine Silver Needle Reviews — RSS
53 / 100

strong jasmine scent...4 minute steep...nothing special about this tea...mediocre taste and when the high cost is involved it isn't worth it in my opinion ...strong jasmine taste but that's all
Read Full Review
80 / 100

I was really impressed with the scent and flavor of this tea, this is probably one of the best jasmine teas I've had. Good job, Wegmans!

Read Full Review
73 / 100

This one was surprisingly different from the pure, unscented silver needles from Wegmans. I liked it much more. Compared to other jasmine silver needles I tried in the past but did not review, this one was much more aromatic.

The dry leaf smells very strongly like wintergreen, almost suggestive of bubblegum. I fo...
Read Full Review
63 / 100

I love Jasmine - but this Silver needle is not quite as good as Ito-En's. Adagio teas I usually get online and they are pricey plus you have to pay for shipping. That said, I love this tea - and its floral whisper-soft grassy green-ness. Best served hot (IMHO) and without sweeteners or embellishments.
Read Full Review
70 / 100

I love Jasmine-style teas and Ito En's is no exception. Brewed loose-leaf in a diffuser or tea ball is best served hot - not sweetener or lemon required. Grassy, floral and light bodies. Easy to drink. Harder to find outside of NYC and LA.(and of course, Japan).
Read Full Review
↑Top Reviewers
Review 2 teas to get on this list!
Advertisement
↑Most-Rated Jasmine Silver Needle

63
3 Ratings

1 Rating

1 Rating
↑Top-Rated Jasmine Silver Needle

63
3 Ratings