Lung Ching Dragonwell
This tea has been retired/discontinued.
This tea's info last updated: Dec. 19, 2013
Commercial Description
The long, flat leaves yield a light emerald cup with a rich, slightly nutty taste.
Ratings & Reviews
Page 1 of 1 page with 1 review

Link to This Review

87
Aroma: 9/10 Flavor: 5/5 Value: 3/5
Bethany
(
12 reviews
) on
May. 17th, 2010
If I could drink only one green tea, it would be this one, with its flat, olive-green leaves and irresistible buttery finish. It's very smooth, not bitter or pungent at all, with a deeper, richer flavor than some greens. It does have a vegetal quality, but I'd say the aroma is more like asparagus than grass. I like asparagus a lot too, so I mean that as a compliment.
Page 1 of 1 page with 1 review
More Dragon Well (Long Jing) from China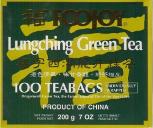 83
4 Ratings