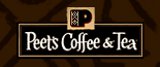 (800) 999-2132
Most Reviewed By:

Search this brand's teas:
Peet's Coffee and Tea (Peets) – CLOSED



Web: www.peets.com
Last Updated: Mar. 10, 2016
Peet's Coffee and Tea is a company best-known as a coffee roaster. Peet's was founded in 1966 by Alfred Peet in Berkeley, CA, and has since grown into a national chain, although most of their locations are still in California. After a 2001 IPO, Peet's became a publicly traded corporation (PEET on the NASDAQ).

Peet's used to sell teas, both loose and in teabags under their own brand name, until some time in 2015. Their teas covered a fairly wide range of styles. Peet's carried a few organic teas as well as a few rare and single-estate teas. In addition to being available in their coffee shops and a few other retail stores, Peet's teas were available by mail-order through the company website.

In 2014, Peet's acquired Mighty Leaf, a brand of tea. Some time in 2015, Peet's discontinued their own brand of tea and began selling the mighty leaf brand exclusively. We list the old teas and review of them for archive purposes.
Most Often-Rated Teas
Top-Rated Teas
We need at least 3 ratings for a tea to calculate a percentile ranking. You can help us out by rating more teas from this brand.
You can also add a new tea. Please search or browse this company's teas first, to avoid adding duplicates.