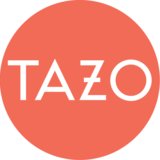 (888) 436-2673
Most Reviewed By:

Tazo Tea




Web: www.tazo.com
Last Updated: Mar. 16, 2018
Tazo Tea is a brand of tea now owned by Unilever. Tazo was originally best known for being stocked in Starbucks coffee shops. In 2004, Tazo was a wholly-owned subsidiary of the Starbucks Corporation.[1] In November of 2017, Starbucks announced it was selling the brand to Unilever.[3]

Tazo sells teabag teas, loose teas, and bottled teas. In 2009, Tazo began moving away from traditional tea bags and towards pyramid sachets, and began using more whole tea leaves in these sachets.[2] Tazo uses a non-standard terminology in their marketing and on their website; traditional tea bags are called filterbags and the sachets are labelled full leaf tea or full leaf sachets.

Online, Tazo teas used to be able to be purchased through the Starbucks Store, before it was discontinued.
The online selection included exclusive blends, such as Tazo English Breakfast, which was available through this online store and not in Starbucks or other shops.

Tazo is a member of the Ethical Tea Partnership.


References:
1. Tazo, Kraft Foods Announce Licensing Deal, Beverage Aisle, May. 15, 2004.
2. Melissa Allison, Starbucks converts Tazo tea bags to full-leaf tea sachets, Seattle Times, Dec. 24, 2009.

3. Ronald Holden, Starbucks Unloads Tazo, Will Concentrate On Teavana, Forbes, Nov. 2, 2017.
Most Often-Rated Teas
Top-Rated Teas
You can also add a new tea. Please search or browse this company's teas first, to avoid adding duplicates.