RateTea.net Celebrates First Anniversary
Saturday, September 18th, 2010
RateTea.net
celebrates its first anniversary today! We were launched exactly one year ago today, on September 18th, 2009. Since then we have grown considerably, both in features and in extent. We now have a total of 711 reviews from 143 reviewers, and our database of teas and brands of teas continues to grow.
In our past newsletters we highlighted new interactive features, but
many of the biggest improvements over the past year have been to the written content of the site
and may have gone unnoticed by most users. We'd like to draw attention to some of them in this newsletter.
Did you know?• Anxi County, in Fujian province of China is most famous for Tie Guan Yin, or Iron Goddess of Mercy, a type of oolong tea. But there are many other Anxi oolongs; together these oolongs are called se chung oolongs.

• Darjeeling black tea is broken into the different flushes, first flush, second flush, autumnal flush, etc., based on when it is harvested.

• Chamomile, a popular herbal tea, has a number of medicinal uses and health benefits; there is even some evidence it may be useful for treating diabetes.

These are only a few examples of the new material we have added since our launch! If you have not explored our site in a number of months, you may be surprised by what you find!
New Material & Articles:
One of the goals and purposes of RateTea.net is to provide accurate, impartial information and to help tea enthusiasts learn more about where their tea comes from.

Huang Jin Gui
is among
the new styles added.
We have added a considerable level of detail to the pages on styles and varieties of tea. We now classify teas in 150 different styles. We have also added Chinese and Japanese characters to most Chinese and Japanese teas, respectively. In a few cases, we have added Thai and Korean names as well. These other languages will allow people to more easily locate and research the more esoteric teas online.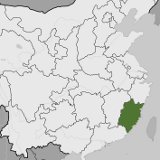 We have added maps
for Chinese provinces.
We have also added detail for regions: we have started to identify the sources of some teas down to the level of individual counties in China, and to prefectures (like states) in
Japan
; there are now a total of 90 regions and sub-regions listed. We've included some climate information on many of the regions, and are beginning to add discussion of how various regions are affected by climate change and other environmental issues.
The articles section of the website, which we did not have when we launched, now has 19 articles on tea-related topics. Our page on
caffeine in tea
sets out to dispel some widely-circulating myths about how much caffeine is in various types of tea. We continue to expand our offerings pertaining to
sustainability
, and we now have both a guide on
how to brew tea
as well as a page on making
multiple infusions
from the same set of tea leaves (which includes gong fu brewing).
Let us know what you want:
Are there topics that you would like to see us devote more energy to covering? Do you have something valuable to contribute, such as a new perspective, a new source, a correction, or a new piece of information that could enrich one of our articles? Please contact us so we can continue to improve the informational aspects of the site!