Golden Osmanthus
Wikipedia: Huangjin_Gui
Last Updated: Apr. 14, 2015
↑About Golden Osmanthus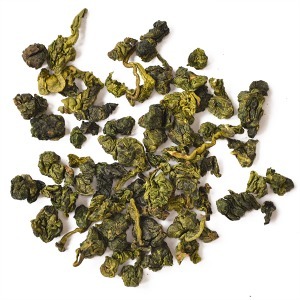 Huang Jin Gui
from Spice Trekkers, © Épices de Cru Teas
CC BY-SA 4.0
Huang jin gui
(黃金桂), meaning
golden osmanthus
, is a variety of
se chung oolong
originating in
Anxi county
of Fujian province, China, from a particular cultivar. Although most of these teas are produced in Anxi, this variety is also grown in Taiwan.
Its name originates from the golden color of its dry leaf and brewed cup, and the fact that its aroma is suggestive of osmanthus flowers.
Although any cultivar can be processed in different ways, Huang Jin Gui tends to be processed with a very light roast and low oxidation, bringing out floral and vegetal characteristics in the aroma. There tends to be much much less variation in processing style (level of oxidation and roast) in this oolong than in Tie Guan Yin.
No osmanthus flowers used
This tea is not the same as
osmanthus tea
, which is a scented tea, produced by blending tea with actual osmanthus flowers in a manner similar to jasmine or rose teas. No osmanthus flowers are used in the production of huang jin gui.
↑Recent Golden Osmanthus Reviews — RSS
94 / 100

This is my absolute favorite go-to green oolong tea. The aroma is pleasant and not very strong. But the aroma is the least of my worries when buying tea. The flavor is amazing, and I have trouble describing it. It lasts me 4 western style infusions and is an amazing value at 2.5 cents per cup when buying in pounds(or 1...
Read Full Review
77 / 100

Huang Jin Gui or Golden Osmanthus is one of my favorite types of oolong.

I only had the opportunity to sample this once, briefly, at World Tea East, so I can't comment on experimenting with brewing it in different ways, but I thought it a typical and high-quality example of this type of oolong.

Aroma is predomina...
Read Full Review
87 / 100

Served Gong Fu style by Evan. Golden-green dry leaf is pleasingly aromatic.

I liked this tea very much. Predominately floral aroma, yet bold and complex, with skunky (which I liked) and herbaceous undertones. There's a faint soapy quality evident in each infusion, but it did not detract from the overall experienc...
Read Full Review
83 / 100

I am still feeling my way with Oolongs, so I followed Directions and brewed this at about 205 for about 2 minutes. There was a light flowery scent that flowed right into a soft flowery taste, that just skims over your tongue. I want to experiment with different times and temps to see how that might change.
Read Full Review
63 / 100
After being really impressed by Life in Teacup's Huang Jin Gui traditional style, this one was a disappointment. I experimented a little bit with brewing, but, regardless of how I brewed, compared to that other tea, the aroma of this one is weaker and less pleasant overall.

I also find this tea to have less depth. ...
Read Full Review
↑Top Reviewers
Review 2 teas to get on this list!
Advertisement
↑Most-Rated Golden Osmanthus

1 Rating

1 Rating
↑Top-Rated Golden Osmanthus
We need at least 3 ratings for a tea to calculate a percentile ranking. You can help us out by rating more teas of this style.