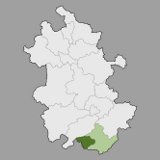 Most Reviewed By:

Qimen, Anhui, China
Wikipedia: Qimen_County | Official Government Website: www.ahqimen.gov.cn
Updated: Mar. 23, 2012
About Qimen, Anhui, China
Qimen
(祁门) is a county located in the southernmost part of
China
's
Anhui province
, bordering Jingxi Province. Qimen is located within Huangshan(黄山), a prefecture-level city, shown in light green on the map. Qimen is west of the Huangshan (Yellow mountain) mountain range, and is home to a large nature preserve,
Guniujiang Nature Reserve
.
Qimen is famous for being the origin of
Keemun black tea
. Keemun is simply an alternate romanization of the word Qimen. Qimen is also the origin of Qi Men cui mei(祁門翠眉) green tea, meaning
Keemun emerald brow
.
Styles of Tea Produced in Qimen, Anhui, China
This is a selection, not an exhaustive listing, of the styles of tea most commonly produced in Qimen, Anhui, China.
Best Qimen Teas
The notion of the "best" Qimen teas is subjective, because different people have different tastes. We present the most often-rated and highest-rated teas produced in Qimen, Anhui, China, and allow you to draw your own conclusions.
Most Often-Rated Teas
Top-Rated Qimen Teas

66
3 Ratings