Keemun
Wikipedia: Keemun_tea | Teaviews: keemun-tea
Last Updated: Dec. 15, 2014
↑About Keemun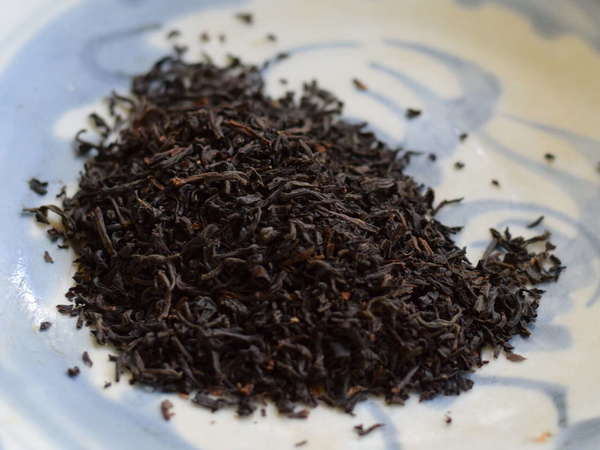 A relatively inexpensive, low-grade Keemun tea.
Keemun
(祁门), also spelled
Qi Men
is a well-known variety of Chinese
black tea
; it is sometimes described as the "Burgundy" of Chinese teas. Keemun originated in and is named after
Qi Men
county of
Anhui province
; it is still produced primarily in Anhui, both in Qi Men and other counties. It is also produced in bordering
Hubei
, and more recently has also been produced in
Taiwan
and
Fujian
. Keemun is a relatively new tea, in contrast to both green teas which have a longer history in Anhui, and black teas which have a longer history in other regions.
Keemun comes in many grades and styles; two of the most desirable and expensive grades are Hao Ya "A" and "B", with the A grade being the more expensive.
Keemun mao feng
is another highly desirable grade of Keemun, known for its leaves which have a distinctive long, flat, curved shape.
Some Keemun, like
pu-erh
, can improve in character as it ages, assuming it is stored properly.[1]
References:
1. Ron Rubin, Stuart Avery Gold, Tea Chings: The Tea and Herb Companion: Appreciating the Varietals and Virtues of Fine Tea and Herbs, Newmarket Press, 2002.
↑Recent Keemun Reviews — RSS
90 / 100
This is a very nice tea. Small black leaves with some gold strands. It brews up light color, brown/black, very clear. It has a nice peppery taste with a decent caffeine kick. Very nice in the afternoon.
Read Full Review
84 / 100

Wonderful example of a Keemun tea! Keemun isn't my favorite type of tea which is why I rated it a bit lower but out of all the ones I've tried this one is my favorite. The aroma is nice and complex and the taste is smooth. The value is amazing too, its really cheap!
Read Full Review
85 / 100

The aroma is just a classic bready black tea smell which is very nice however it lacks complexity and was very one-noted. The taste on the other hand was incredibly smooth and was one of the least astringent teas I've ever had (which is a good thing for me). The taste wasn't extremely complex but the flavors it did hav...
Read Full Review
92 / 100

I continue to branch out into black teas from provinces other than Yunnan, sold by Yunnan Sourcing. This was a pleasant surprise: an exceptionally smooth tea, easy to brew and easy to drink, among the sweetest Keemuns I've tried.

The dry leaf is very fine and curly, so much it is shaped more like Bi Luo Chun than li...
Read Full Review
70 / 100

One-litre pot at home, made from fine very dark brown and black leaves of organic Keemun. Pours nearly clear copper brown (against white china), with no sediment. Clear aroma of black tea leaves, with malty touches. Bitterish flavour of black tea, with leafy and malty notes and touches of smoke. Mildly bitter, leafy af...
Read Full Review
↑Top Reviewers
Review 4 teas to get on this list!
Advertisement
↑Most-Rated Keemun

96
4 Ratings

3
4 Ratings

66
3 Ratings

2 Ratings
↑Top-Rated Keemun

96
4 Ratings

66
3 Ratings

3
4 Ratings
↑Varieties, Kinds, or Types of Keemun