Keemun
Wikipedia: Keemun_tea | Teaviews: keemun-tea
Last Updated: Dec. 15, 2014
↑About Keemun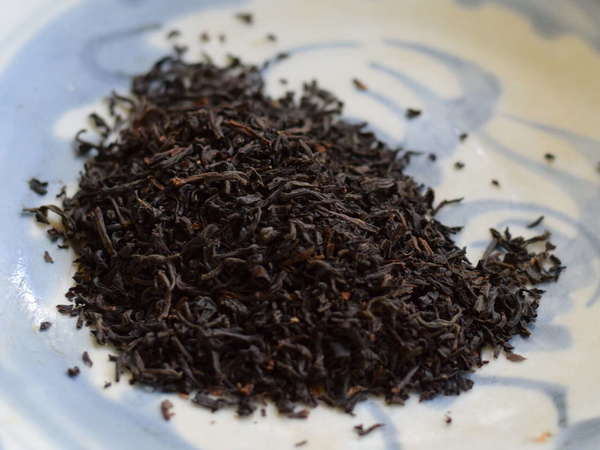 A relatively inexpensive, low-grade Keemun tea.
Keemun
(祁门), also spelled
Qi Men
is a well-known variety of Chinese
black tea
; it is sometimes described as the "Burgundy" of Chinese teas. Keemun originated in and is named after
Qi Men
county of
Anhui province
; it is still produced primarily in Anhui, both in Qi Men and other counties. It is also produced in bordering
Hubei
, and more recently has also been produced in
Taiwan
and
Fujian
. Keemun is a relatively new tea, in contrast to both green teas which have a longer history in Anhui, and black teas which have a longer history in other regions.
Keemun comes in many grades and styles; two of the most desirable and expensive grades are Hao Ya "A" and "B", with the A grade being the more expensive.
Keemun mao feng
is another highly desirable grade of Keemun, known for its leaves which have a distinctive long, flat, curved shape.
Some Keemun, like
pu-erh
, can improve in character as it ages, assuming it is stored properly.[1]
References:
1. Ron Rubin, Stuart Avery Gold, Tea Chings: The Tea and Herb Companion: Appreciating the Varietals and Virtues of Fine Tea and Herbs, Newmarket Press, 2002.
↑Recent Keemun Reviews — RSS
70 / 100

One-litre pot at home, made from fine very dark brown and black leaves of organic Keemun. Pours nearly clear copper brown (against white china), with no sediment. Clear aroma of black tea leaves, with malty touches. Bitterish flavour of black tea, with leafy and malty notes and touches of smoke. Mildly bitter, leafy af...
Read Full Review
75 / 100

This is a well rounded tea - it is mellow and smooth, but has a good amount of earthy flavor too. The aroma is quite pleasant and it is offered at a good price.
Read Full Review
75 / 100

This is a pretty mellow but still flavorful Chinese black tea. A little nutty and smoky, and offered at a good price. It has more than a little pipe tobacco flavor to it also. As Alex points out, the aroma is interesting and has some earthy, barnyard notes. I am not always in the mood for a keemun, but this is a goo...
Read Full Review
88 / 100

Finally, a good Keemun! The dry tea has an aroma of aged wood, with a smoky scent that's more like the smokiness of a smoked cheese than the harsh smokiness of lower quality Keemun. I brewed it in a French press with water that hadn't reached boiling yet. The brewed tea has a similar aroma to the dry leaves, but this a...
Read Full Review
60 / 100

I'm having a hard time rating this tea. It smelled pretty bad to me, like burnt pine. I guess that's the smokiness. The flavor was nicely earthy and slightly chocolaty with the occasional subtle fruit note. I enjoyed the flavor, but hated the aroma. I always knew it was done brewing and would taste the way I liked it w...
Read Full Review
↑Top Reviewers
Review 3 teas to get on this list!
Advertisement
↑Most-Rated Keemun

96
4 Ratings

3
4 Ratings

66
3 Ratings

2 Ratings
↑Top-Rated Keemun

96
4 Ratings

66
3 Ratings

3
4 Ratings
↑Varieties, Kinds, or Types of Keemun