Keemun
Wikipedia: Keemun_tea | Teaviews: keemun-tea
Last Updated: Dec. 15, 2014
↑About Keemun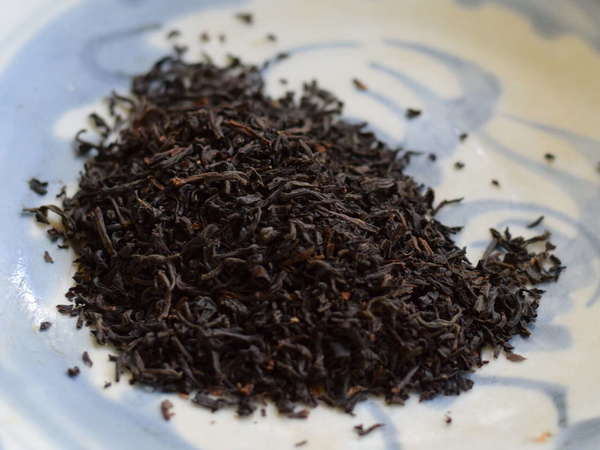 A relatively inexpensive, low-grade Keemun tea.
Keemun
(祁门), also spelled
Qi Men
is a well-known variety of Chinese
black tea
; it is sometimes described as the "Burgundy" of Chinese teas. Keemun originated in and is named after
Qi Men
county of
Anhui province
; it is still produced primarily in Anhui, both in Qi Men and other counties. It is also produced in bordering
Hubei
, and more recently has also been produced in
Taiwan
and
Fujian
. Keemun is a relatively new tea, in contrast to both green teas which have a longer history in Anhui, and black teas which have a longer history in other regions.
Keemun comes in many grades and styles; two of the most desirable and expensive grades are Hao Ya "A" and "B", with the A grade being the more expensive.
Keemun mao feng
is another highly desirable grade of Keemun, known for its leaves which have a distinctive long, flat, curved shape.
Some Keemun, like
pu-erh
, can improve in character as it ages, assuming it is stored properly.[1]
References:
1. Ron Rubin, Stuart Avery Gold, Tea Chings: The Tea and Herb Companion: Appreciating the Varietals and Virtues of Fine Tea and Herbs, Newmarket Press, 2002.
↑Recent Keemun Reviews — RSS
75 / 100

This is a well rounded tea - it is mellow and smooth, but has a good amount of earthy flavor too. The aroma is quite pleasant and it is offered at a good price.
Read Full Review
65 / 100

This is a pretty mellow but still flavorful Chinese black tea. A little nutty and smoky, and offered at a good price.
Read Full Review
88 / 100

Finally, a good Keemun! The dry tea has an aroma of aged wood, with a smoky scent that's more like the smokiness of a smoked cheese than the harsh smokiness of lower quality Keemun. I brewed it in a French press with water that hadn't reached boiling yet. The brewed tea has a similar aroma to the dry leaves, but this a...
Read Full Review
60 / 100

I'm having a hard time rating this tea. It smelled pretty bad to me, like burnt pine. I guess that's the smokiness. The flavor was nicely earthy and slightly chocolaty with the occasional subtle fruit note. I enjoyed the flavor, but hated the aroma. I always knew it was done brewing and would taste the way I liked it w...
Read Full Review
56 / 100

Based on my experiences with black gunpowder, I was not surprised that this doesn't taste like Mao Feng at all. It's more like other Chinese black teas I've had. It's got just a tiny little bit of sweetness but it's hardly there. It's pleasantly almost-bitter (but I did make it pretty strong).
Resteeps quite decently...
Read Full Review
↑Top Reviewers
Review 3 teas to get on this list!
Advertisement
↑Most-Rated Keemun

40
4 Ratings

96
4 Ratings

66
3 Ratings
↑Top-Rated Keemun

96
4 Ratings

66
3 Ratings

40
4 Ratings
↑Varieties, Kinds, or Types of Keemun