Keemun Hao Ya B
Last Updated: Sep. 5, 2017
↑About Keemun Hao Ya B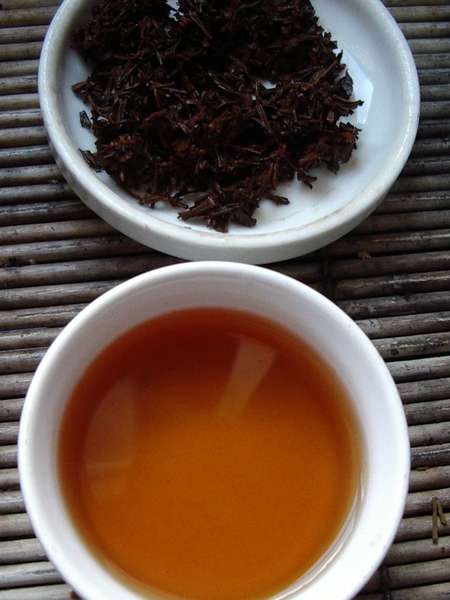 Keemun hao ya, brewed cup and spent leaves , Photo © Laubrau (Wikimedia Commons),
CC BY-SA 3.0
.
Keemun Hao Ya B
is a high grade of
Keemun black tea
.
It is produced similarly to the "A" grade, but harvested slightly later. Although usually considered a lower grade than Hao Ya A, and slightly less expensive, the differences between the two grades are subtle, and preference between them is a matter of personal taste. The variation in quality from one batch or one year to the next can be greater than the difference between the A and B grades from the same source.
Sometimes, this tea will be sold under the name "Hao Ya" without specification of A or B. If the letter is not specified, we classify teas in this category.
Like A, Keemun Hao Ya B tends to have wiry, thin, slightly curved leaves with a very dark color, almost black, sometimes slightly silvery. It is a
tippy tea
, making it more strongly caffeinated than lower grades.
The overall character is similar to other Keemuns. The aroma is slightly smoky, but this tea is often described as having a floral scent suggestive of orchid.
↑Recent Hao Ya B Reviews — RSS
98 / 100

I thought this was an exceptional tea and was my favorite traditional Keemun ever sapmled.

Dry leaf is fine and dark in color, pleasantly aromatic, and the aroma is quite complex, it suggests fruit, spice, and dried flowers, a little like potpourri, with vegetal and chocolatey notes. The smell reminds me of Christm...
Read Full Review
93 / 100

This is the only Keemun I've ever tried that didn't smell like perfume. It's got a natural but slight sweetness to it, but it's not overwhelming. Honestly, the only reason I haven't ordered giant tins of this stuff is because it's quite pricey. Well worth it as a once in a while treat, though!
Read Full Review
67 / 100

This tea has a mild flavor, but it's good. I added cream and sugar.
Read Full Review
70 / 100

I was surprised to find that I strongly preferred the slightly less expensive Keemun Grade 1 from TeaVivre to this offering. While this was a very good tea, it did not wow me as being outstanding, or even higher quality than a typical Keemun. It was just different. I was surprised at the strength of the cup, the dar...
Read Full Review
↑Top Reviewers
Review 2 teas to get on this list!
Advertisement
↑Most-Rated Hao Ya B
↑Top-Rated Hao Ya B
We need at least 3 ratings for a tea to calculate a percentile ranking. You can help us out by rating more teas of this style.