Keemun Hao Ya B
Updated: Sep. 5, 2017
About Keemun Hao Ya B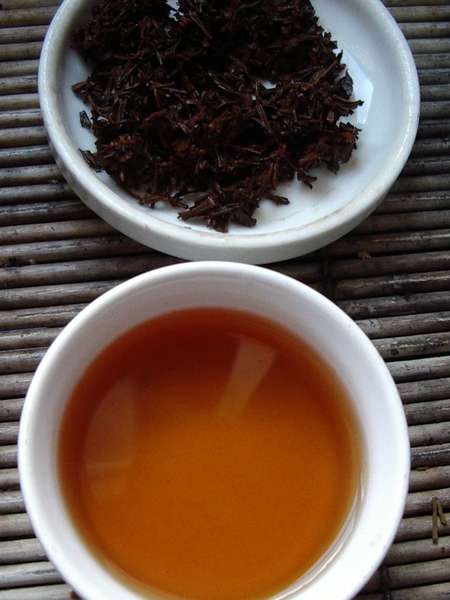 Keemun hao ya, brewed cup and spent leaves , Photo © Laubrau (Wikimedia Commons),
CC BY-SA 3.0
.
Keemun Hao Ya B
is a high grade of
Keemun black tea
.
It is produced similarly to the "A" grade, but harvested slightly later. Although usually considered a lower grade than Hao Ya A, and slightly less expensive, the differences between the two grades are subtle, and preference between them is a matter of personal taste. The variation in quality from one batch or one year to the next can be greater than the difference between the A and B grades from the same source.
Sometimes, this tea will be sold under the name "Hao Ya" without specification of A or B. If the letter is not specified, we classify teas in this category.
Like A, Keemun Hao Ya B tends to have wiry, thin, slightly curved leaves with a very dark color, almost black, sometimes slightly silvery. It is a
tippy tea
, making it more strongly caffeinated than lower grades.
The overall character is similar to other Keemuns. The aroma is slightly smoky, but this tea is often described as having a floral scent suggestive of orchid.
Best Keemun Hao Ya B
The notion of the "best" Keemun Hao Ya B is subjective, because different people have different tastes. We present the most often-rated and highest-rated teas in this category, and allow you to draw your own conclusions.
Most Often-Rated Teas

1 Rating
1 Rating
Top-Rated Teas
We need at least 3 ratings for a tea to calculate a percentile ranking. You can help us out by rating more teas of this style.
Examples of Keemun Hao Ya B
The following are examples of the 9 selections of Keemun Hao Ya B in our database.