Keemun Mao Feng
Last Updated: Jan. 4, 2018
↑About Keemun Mao Feng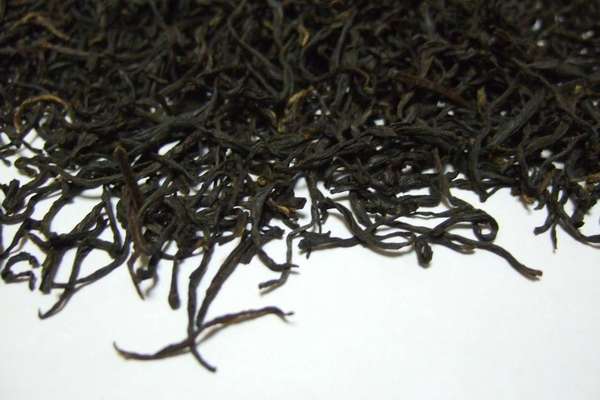 Keemun mao feng has a characteristic long, wiry, and slightly curved shape like in this photo. Photo © Whiteness (Wikimedia Commons),
CC BY-SA 4.0
.
Keemun mao feng
(祁門毛峰), also spelled
Qi Men mao feng
is a special type of
Keemun black tea
, usually more expensive than generic or lower grades, but not as pricey as Hao Ya A and B.
Like other Keemun, Keemun Mao Feng tends to have notes of wine, cocoa, and dried fruit. It is not intensely smoky, but usually has a slight smoky or toasty quality to the aroma. Its flavor and mouthfeel may range from very smooth to slightly sharp with a peppery finish.
Although not related to
mao feng green tea
(such as huang shan mao feng), both teas have similarly shaped leaves (long, flat, and slightly curved), and are considered high grades of tea.
Keemun Mao Feng is one of the styles of Keemun that has been produced outside its region of origin in Qimen county. In Anhui, it is also produced in
Xiuning county
, and outside of the province, in
Hubei
.
↑Recent Mao Feng Reviews — RSS
85 / 100

The aroma is just a classic bready black tea smell which is very nice however it lacks complexity and was very one-noted. The taste on the other hand was incredibly smooth and was one of the least astringent teas I've ever had (which is a good thing for me). The taste wasn't extremely complex but the flavors it did hav...
Read Full Review
92 / 100

I continue to branch out into black teas from provinces other than Yunnan, sold by Yunnan Sourcing. This was a pleasant surprise: an exceptionally smooth tea, easy to brew and easy to drink, among the sweetest Keemuns I've tried.

The dry leaf is very fine and curly, so much it is shaped more like Bi Luo Chun than li...
Read Full Review
88 / 100

Finally, a good Keemun! The dry tea has an aroma of aged wood, with a smoky scent that's more like the smokiness of a smoked cheese than the harsh smokiness of lower quality Keemun. I brewed it in a French press with water that hadn't reached boiling yet. The brewed tea has a similar aroma to the dry leaves, but this a...
Read Full Review
60 / 100

I'm having a hard time rating this tea. It smelled pretty bad to me, like burnt pine. I guess that's the smokiness. The flavor was nicely earthy and slightly chocolaty with the occasional subtle fruit note. I enjoyed the flavor, but hated the aroma. I always knew it was done brewing and would taste the way I liked it w...
Read Full Review
56 / 100

Based on my experiences with black gunpowder, I was not surprised that this doesn't taste like Mao Feng at all. It's more like other Chinese black teas I've had. It's got just a tiny little bit of sweetness but it's hardly there. It's pleasantly almost-bitter (but I did make it pretty strong).
Resteeps quite decently...
Read Full Review
↑Top Reviewers
Review 2 teas to get on this list!
Advertisement
↑Most-Rated Mao Feng

2 Ratings
↑Top-Rated Mao Feng
We need at least 3 ratings for a tea to calculate a percentile ranking. You can help us out by rating more teas of this style.