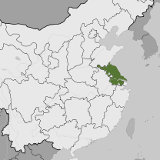 Most Reviewed By:

Jiangsu, China
Wikipedia: Jiangsu | Official Government Website: www.jiangsu.gov.cn
Updated: Mar. 8, 2012
About Jiangsu, China
Jiangsu
(江苏) is a province on the east coast of China, bordered by
Shandong
to the north,
Anhui
to the south, and
Zhejiang
to the south. Jiangsu is named after two of its major cities: "Jiang" comes from Jiangning (江宁), a Qing Dynasty name for Nanjing, and Su from Suzhou (苏州).
Jiangsu is the origin of
bi luo chun
, a famous green tea, and also of other styles of green tea.
Yixing(宜兴) is located in Jiangsu province; Yixing is famous for being the origin of Yixing teapots, which are made out of Yixing clay. These teapots are frequently used in
gongfu brewing
.
Styles of Tea Produced in Jiangsu, China
This is a selection, not an exhaustive listing, of the styles of tea most commonly produced in Jiangsu, China.
Best Jiangsu Teas
The notion of the "best" Jiangsu teas is subjective, because different people have different tastes. We present the most often-rated and highest-rated teas produced in Jiangsu, China, and allow you to draw your own conclusions.
Most Often-Rated Teas

71
3 Ratings
Top-Rated Jiangsu Teas

71
3 Ratings