Green Rooibos
Last Updated: Apr. 4, 2012
↑About Green Rooibos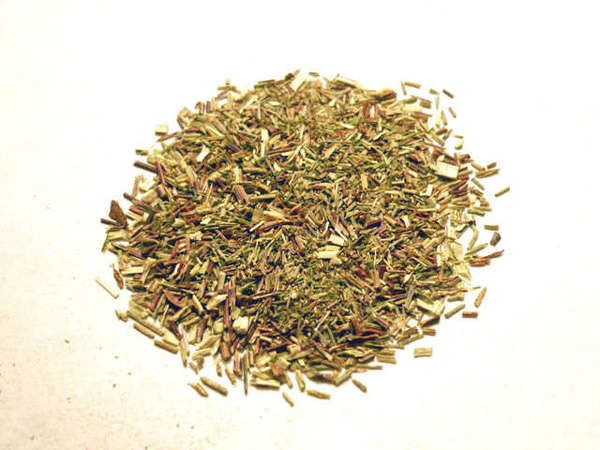 Loos-leaf green rooibos. Photo ©
Badagnani, Wikimedia Commons
,
CC BY 3.0
.
Green rooibos
, sometimes called
green bush
, is
rooibos
that has been processed similarly to green tea, so as to stop the
oxidation
that would lead to its turning into red rooibos. Because the process used to make red rooibos is so simple (unlike the processes used to make black tea), and the process used in making green rooibos is more complex, green rooibos tends to be more expensive than red.
Green rooibos has a light, straw-like color and an aroma that is often described as being "fresher" than red rooibos. Green rooibos is a recent invention that arose when people who had knowledge of methods of producing green tea began producing rooibos; traditionally all rooibos was red.
Typically, green rooibos ends up with some pieces of red leaf and stem mixed in. Depending on how much red is mixed in, the cup will brew a color ranging from golden to a deep orange, but always lighter than the dark red of red rooibos.
Supposed health benefits
Green rooibos is frequently promoted as having more antioxidants than red rooibos, much in the same way green tea is promoted as having more
antioxidants
than black tea. While the antioxidant activity of rooibos is well-established,
there is not enough evidence to back the claim that green rooibos has more antioxidants
, nor is there evidence that rooibos has more antioxidants than tea.
While there have not been many studies comparing green to red rooibos, one study found roughly comparable activity between green and red, with green showing more activity by one measure and red showing more by a different measure.[1] It is also worth noting that there is no solid evidence that green tea is universally more beneficial to your health than black tea or other types of tea.[2]
References:
1. A. Von Gadow, E. Joubert, C. F. Hansmann, Comparison of the antioxidant activity of rooibos tea (Aspalathus linearis) with green, oolong and black tea, Food Chemistry, Vol. 60, No. 1, Sep. 1997, pp. 73-77.
2. Zorach, Alex, Health Benefits of Tea - How These Effects Vary Among Different Types of Tea, EzineArticles.com, Nov. 1, 2009.
↑Recent Green Rooibos Reviews — RSS
70 / 100

Interesting tea--herbaceous in a way that reminds me of some tulsi teas, though this has no tulsi in it. I haven't had green rooibos before--this one being pretty good means I should probably try other varieties of it.

Grassy, but not in the same way as green teas, is how I'd describe this tea's aroma, flavor, and m...
Read Full Review
70 / 100
The aroma of the little leaves is very clean and reminiscent of standing in a hay field. I also notice hints of strawberry which was nice. Once brewed the aroma becomes much sweeter and takes on floral notes.

The taste is good! Not as sweet as the oxidized version but still sweet, no floral tastes but the fruit make...
Read Full Review
92 / 100

Upon sampling the green rooibos from Mountain Rose Herbs, this became a new favorite for me, and my new preferred source of green rooibos.

Although the dry leaf is light green in color, I found that the flavor of this was more similar to red rooibos than other green rooibos samples. Brews a light orange color.

I...
Read Full Review
73 / 100

I thought I'd try something new when I saw this box of tea at my local health food store and remember seeing Rooibos on the list of teas on this site, so I bought a box.

I wasn't sure of how it smelled until I got home as the box was sealed as were the bags, but it has a nice sweet "grassy" scent.

The green rooib...
Read Full Review
90 / 100

I really like this! It's astonishingly different from the other green Rooibos I've tried, from Upton. This one has a bit of red leaf/stem mixed in and brews a bright orange color.

I recommend a very long steeping time; after 3 minutes the aroma hasn't fully developed. The aroma is fresh, light, and clean, with a ...
Read Full Review
↑Top Reviewers
Review 2 teas to get on this list!
Advertisement
↑Most-Rated Green Rooibos
2 Ratings

1 Rating

1 Rating

1 Rating

1 Rating
↑Top-Rated Green Rooibos
We need at least 3 ratings for a tea to calculate a percentile ranking. You can help us out by rating more teas of this style.