Honeybush
Wikipedia: Cyclopia_(genus) | Teaviews: honeybush-tea
Last Updated: Nov. 18, 2014
↑About Honeybush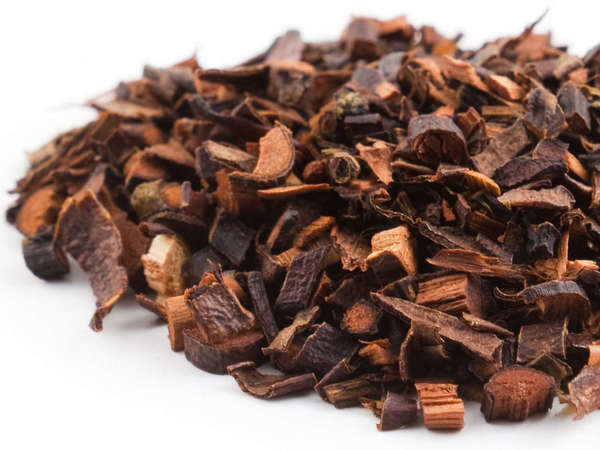 Loose-leaf honeybush, Photo © André Helbig,
CC BY-SA 3.0
.
Honeybush
, sometimes called
honeybush tea
is a type of herbal tea produced in
South Africa
. Honeybush tea is made out of a number of different species in the
Cyclopia
genus, which are all legumes, all endemic to a small region in the south of South Africa.
Some types of honeybush are gathered in the wild, whereas others are cultivated. Species used in herbal tea include
C. intermedia
,
C. genistoides
,
C. maculata
,
C. sessiflora
, and
C. subternata
.
Honeybush is similar to (and often confused with)
rooibos
, another herbal tea from an overlapping region of South Africa, also made from a legume. Like rooibos, honeybush is traditionally produced through an
oxidation
process much like
black tea
, but
green honeybush
, pictured on the left, has recently started being produced, using processes similar to those used to produce
green tea
and
green rooibos
.
Oxidized honeybush is traditionally processed through bruising of the leaves followed by sun-drying, but some industrial processes now use heated tanks and air-drying.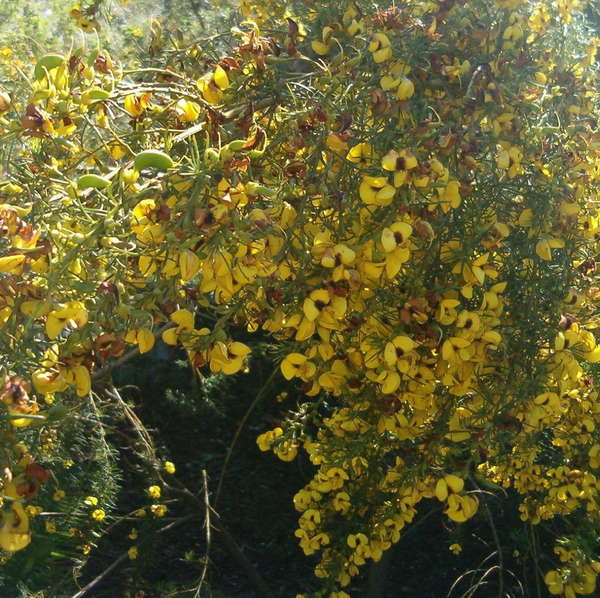 A blooming
Cyclopia
plant, the plant used to make honeybush. Photo ©
BotBin, Wikimedia Commons
,
CC BY-SA 3.0
.
Sustainability and Threats of Extinction
Honeybush harvesting has increased greatly in recent years, from 27 metric tons in 1997 to 180 metric tons in 2013. The South African Broadcasting Corp issued a warning that one species,
Cyclopia intermedia
, is under threat of extinction.
One major threat is unsustainable wild harvesting, but the plants are also threatened by invasive species, including Australia Wattles (
Acacia sp.
), and Monterey pine (
Pinus radiata
), which is ironically threatened in its native habitat.[1]
Medicinal Uses and Health Benefits
Research on honeybush is in its early stages, with no human studies and only a small amount of animal studies.[2] Early animal research suggests honeybush possesses potent antioxidant, immune-modulating and cancer-preventing activity.[2] The use of honeybush as an herbal tea has also been considered safe, with no adverse effects reported.[2]
One species of honeybush,
Cyclopia genistoides
, has been shown to have phytoestrogenic properties, meaning that it contains chemicals that have estrogen-like effects on the body.[3] There is evidence that these properties are attributable to chemicals found only in the
genistoides
species and not other species of honeybush.[3]
Phytoestrogens, including the ones present in honeybush and a variety of other plants, have been suggested as a way to protect post-menopausal women from a broad range of problems, including breast cancer, heart disease, osteoporosis, menopausal symptoms, and brain deterioration.[4]
References:
↑Recent Honeybush Reviews — RSS
86 / 100
Prep: 2 tsp, 16oz, 212F, 5min

The aroma of this dry tea is mind blowing. I honestly believe this could be a dehydrated banana nut muffin in a bag.

Aroma:after brewing, this still very much smells like a banana nut muffin. It's crazy how well it hits all those notes. 10/10

Taste: There is a bit of a honey...
Read Full Review
84 / 100

Pulling this bag out at random from the continuing multi-chapter saga that is the Numi variety pack, I recognized the name right away from having consumed Trader Joe's rooibos+honeybush tea. The teas I've tried from the variety pack so far have been either disappointingly lame or very good. This falls into the latter...
Read Full Review
60 / 100

This actually reminded me a lot of black tea, which was surprising. I actually tasted a little bitterness, though I'm not sure where that came from as there is no caffeine in this tea.

If a caffeine free latte sounds good to you, this tea is pretty solid. It wasn't quite what I was expecting, but it wasn't bad.
Read Full Review
77 / 100

The aroma of the dry leaves is woody, sweet, and a little bit sour. It reminds me a bit of sour cherries and melons with a touch of dried bamboo wood and hay

The taste is woody and caramel sweet at first, this fades to a nice dried fruit sourness, again the idea of sour cherries pops to my mind. Honeybush is very mu...
Read Full Review
47 / 100

If it weren't for the honey I used to sweeten this tea, it would taste like hot leaves. Literally all you are buying is mildly-honey-flavored leaves.
Read Full Review
↑Top Reviewers
Review 2 teas to get on this list!
Advertisement
↑Most-Rated Honeybush

77
5 Ratings

2 Ratings

1 Rating

1 Rating

1 Rating
↑Top-Rated Honeybush

77
5 Ratings