Huangya
Wikipedia: Huoshan_Huangya_tea
Last Updated: Aug. 23, 2017
↑About Huangya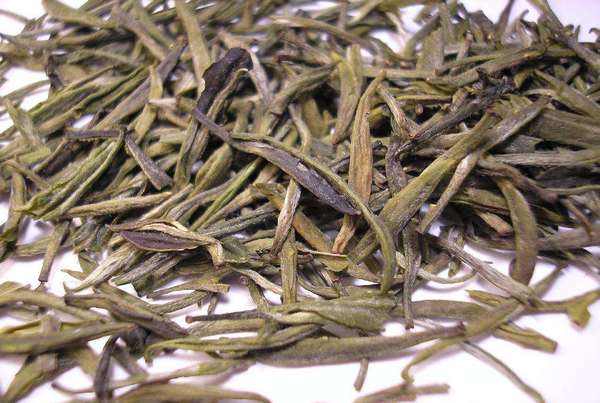 Huoshan Huangya, Loose-Leaf Yellow Tea Leaves, © Iateasquirrel (Wikipedia),
CC BY-SA 3.0
.
Huangya
(黃牙), meaning
yellow buds
, is a type of yellow tea made out of exclusively or mostly buds, making it a
tippy tea
. Huangya is typically considered a rare tea, and tends to be pricey as it is produced only in small batches. However, this tea is grown in a number of different regions of China. The two most well-known types of this tea are
Huoshan huangya
(癨山黃牙) and
Meng Ding huang ya
(蒙頂黃芽).
Huo shan is sometimes written
Hu Shan
; this variety is grown near mount Huo in
Anhui, China
. This variety is somewhat similar to
Huang Shan mao feng
, a mao feng green tea grown in the same region. This tea is frequently described as having a light, peppery quality. Meng Ding huang ya is produced in the region near mount Meng in
Sichuan province
.
Some huangya is grown on Mo Gan Mountain, in
Zhejiang Province
, near Huzhou City. This tea is called
Mogan huangya
(莫干黃芽). Huangya is also produced in
Hunan province
.
↑Recent Huangya Reviews — RSS
80 / 100

I could taste the quality in this tea. It had an even, rounded, smooth flavor. It was sweet and consistent with notes of sweet corn and sweet peas. It had a richness to it as well. I tasted no bitterness and I don't recall much of any astringency, even after brewing it several times. I enjoyed it, but these flavors are...
Read Full Review
90 / 100

The aroma of the dry leaves is quite sweet, there are notes of lightly roasted sweet corn, gently roasted sesame seeds, bamboo leaves, and a tiny hint of tomato leaves. At the finish of the sniff there is a hint of smoke. It is odd, every yellow tea I have had has had that tiny hint of smoke at the finish, I find that ...
Read Full Review
63 / 100

This is the first yellow tea I've sampled and in many respects it resembles a green tea.

The aroma is fairly rich; there are some of the grassy tones that characterize many green teas, but these are weak and in the background. A bit peppery like Upton describes, and also a bit perfumey. Subtle, but with a lot of d...
Read Full Review
↑Top Reviewers
Review 2 teas to get on this list!
Advertisement
↑Most-Rated Huangya

1 Rating
↑Top-Rated Huangya
We need at least 3 ratings for a tea to calculate a percentile ranking. You can help us out by rating more teas of this style.