Lemon Myrtle
Wikipedia: Backhousia_citriodora
Last Updated: May. 13, 2014
↑About Lemon Myrtle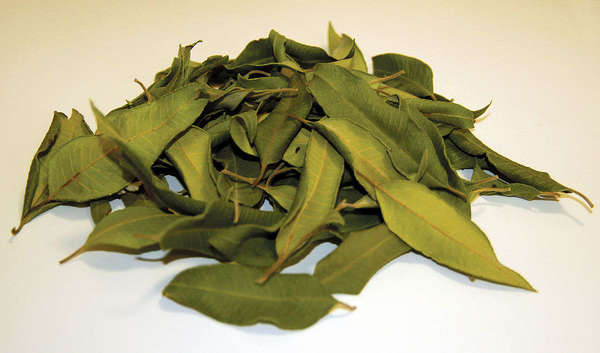 Whole-leaf Dried Lemon Myrtle (Backhousia citriodora), Photo © CSIRO (Australia),
CC BY 3.0
.
Lemon myrtle
, scientific name
Backhousia citriodora
, is an evergreen tree native to Queensland,
Australia
. Lemon myrtle has an intensely lemony aroma, and for this reason, it is used both as a tea on its own and in herbal blends with other herbs and/or true teas.
The aroma of lemon myrtle is similar to other naturally lemon-scented herbs, including
lemongrass
,
lemon balm
, and
lemon verbena
. Although not closely related, these plants all share many chemical components in common. Among these herbs, lemon myrtle contains the highest concentration of citral, a mixture of chemicals responsible for the lemony aroma.
When consumed on its own as an herbal tea, lemon myrtle has an intense lemon fragrance, and a strongly
astringent
mouthfeel, but like the other lemon-scented herbs, it does not impart the acidity of lemon juice. It can be blended with other, less astringent herbs, to result in a smoother mouthfeel, or blended with full-bodied black teas so that its astringency is less evident.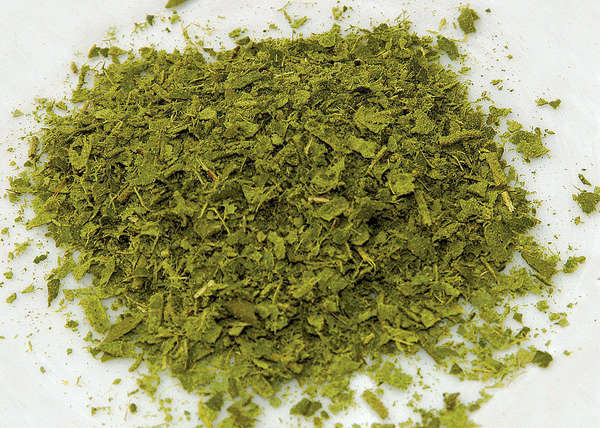 Dried and Crushed Lemon Myrtle (Backhousia citriodora) Leaves, Photo © CSIRO (Australia),
CC BY 3.0
.
Lemon myrtle has a long history of use in food and medicine of the indigenous people of Australia. It has also been used to impart a lemon aroma to sweets and baked goods without adding the acidity of lemon.
Health benefits and medicinal uses
The health effects of lemon myrtle are likely similar to those of lemongrass, as it shares the largest active component, citral, which has been studied on its own as an active ingredient. Citral has been shown to induce apoptosis (cell death) in cancer cells in as low a concentration of 44.5 μM, comparable to a cup of tea prepared from 1g of lemongrass.[1] Lemon myrtle tea is likely to have a higher concentration of citral than the infusions prepared from other herbs with lower citral concentrations.
The essential oil of lemon myrtle was also found to have significant anti-microbial effects, which were found to be stronger than that of citral alone, and were also found to be more powerful than that of
Melaleuca alternifolia
, the plant used to make tea tree oil.[2]
↑Recent Lemon Myrtle Reviews — RSS
87 / 100

The aroma of both the tea and the dried leaf are intensely lemony, much more so than the other lemon herbs I've tried, including lemongrass, lemon balm, and lemon verbena. More like lemongrass than the others, and least like lemon balm. The lemon quality is so overpowering that it's hard to notice other aspects of th...
Read Full Review
↑Top Reviewers
Review 2 teas to get on this list!
Advertisement
↑Most-Rated Lemon Myrtle

1 Rating
↑Top-Rated Lemon Myrtle
We need at least 3 ratings for a tea to calculate a percentile ranking. You can help us out by rating more teas of this style.