Taiping Hou Kui
Wikipedia: Hou_Kui_tea
Updated: Jul. 19, 2017
About Taiping Hou Kui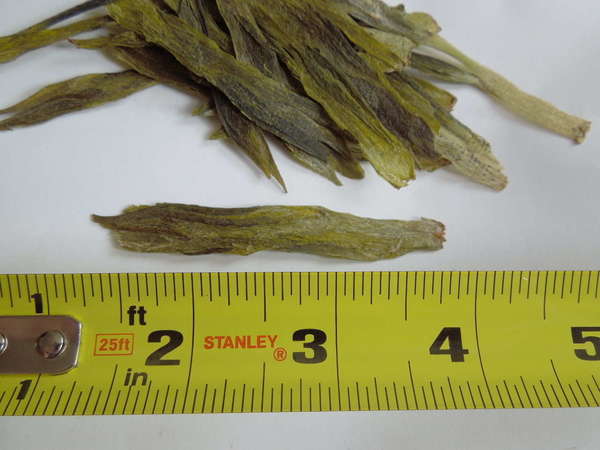 The leaves of this tea are among the longest of any loose-leaf teas, 2-3 inches in length.
Taiping hou kui
(太平猴魁), sometimes referred to just as
hou kui
or as
hou kui tea
, is a type of Chinese green tea originating in Taiping county of
Anhui province
, consisting of enormous, long, flat leaves. The leaves often reach several inches in length. The name is sometimes translated
peaceful monkey king
or
peaceful monkey leader
, but there is a bit more in the name of this tea.
The leaves of this tea can be too long to brew in many traditional vessels for brewing tea, both Western (like a tea ball or basket infuser) or Chinese (like a gaiwan). To brew this tea, the leaf can be broken into pieces, or it can be steeped loose in a tall mug.
Although Taiping (太平) can be translated as peace and security, it also is the name of the county in which this tea originates. Interestingly, the first character alone, tai(太), means big, or extreme, a possible coincidence describing the unusually large leaves of this tea. The third character, hou(猴), meaning monkey, also is the first character of Hougang(猴岗/猴崗) and Houkeng(猴坑), two villages in the area that grows this tea.
The cultivar used to produce Taiping hou kui is called
shi da cha
(柿大茶), meaning
big persimmon tea
.
Best Taiping Hou Kui
The notion of the "best" Taiping Hou Kui is subjective, because different people have different tastes. We present the most often-rated and highest-rated teas in this category, and allow you to draw your own conclusions.
Top-Rated Teas
Examples of Taiping Hou Kui
The following are examples of the 11 selections of Taiping Hou Kui in our database.