Taiping Hou Kui
Wikipedia: Hou_Kui_tea
Last Updated: Jul. 19, 2017
↑About Taiping Hou Kui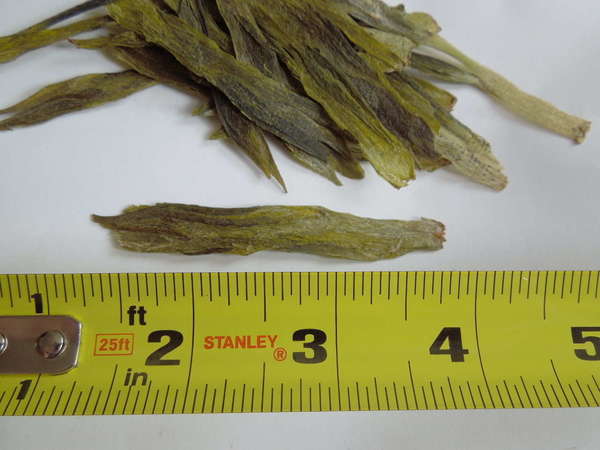 The leaves of this tea are among the longest of any loose-leaf teas, 2-3 inches in length.
Taiping hou kui
(太平猴魁), sometimes referred to just as
hou kui
or as
hou kui tea
, is a type of Chinese green tea originating in Taiping county of
Anhui province
, consisting of enormous, long, flat leaves. The leaves often reach several inches in length. The name is sometimes translated
peaceful monkey king
or
peaceful monkey leader
, but there is a bit more in the name of this tea.
The leaves of this tea can be too long to brew in many traditional vessels for brewing tea, both Western (like a tea ball or basket infuser) or Chinese (like a gaiwan). To brew this tea, the leaf can be broken into pieces, or it can be steeped loose in a tall mug.
Although Taiping (太平) can be translated as peace and security, it also is the name of the county in which this tea originates. Interestingly, the first character alone, tai(太), means big, or extreme, a possible coincidence describing the unusually large leaves of this tea. The third character, hou(猴), meaning monkey, also is the first character of Hougang(猴岗/猴崗) and Houkeng(猴坑), two villages in the area that grows this tea.
The cultivar used to produce Taiping hou kui is called
shi da cha
(柿大茶), meaning
big persimmon tea
.
↑Recent Taiping Hou Kui Reviews — RSS
80 / 100

I thoroughly enjoyed this tea, all the way from the beautiful tea leaves to the aftertaste. I wanted to try Tai Ping Hou Kui due to its intriguing leaf shape. It is definitely something different, unique, and extremely interesting. I fully enjoyed watching the leaves steep as the softened into long leaves.

The arom...
Read Full Review
90 / 100

This tea is beautiful in appearance so it is not surprising that the aroma is also beautiful. It is very vegetal and slightly sweet. Once the leaves are brewed it is still very vegetal but also has a slight nuttiness.

The taste is smooth and the mouthfeel is buttery. it is vegetal and sweet with notes of sweetness ...
Read Full Review
47 / 100

This is the first example of Tai Ping Hou Kui that I've sampled, so I didn't really know what to expect. I was disappointed.

This tea was slow to infuse. I wish I had had more of the sample to experiment with; I only had enough for two western-style brewings, both of which I steeped twice, using Upton's 3-minute r...
Read Full Review
87 / 100

This is a quality green tea! The leaves are made with just two leaves, no bud, and so the bitterness is kept to a minimum. The tea can be as light or as heavy as one would want it depending on brewing style, and either way it is delicious. The flavor could be a bit stronger (for my tastes) but I think lovers of good gr...
Read Full Review
↑Top Reviewers
Review 2 teas to get on this list!
Advertisement
↑Most-Rated Taiping Hou Kui
↑Top-Rated Taiping Hou Kui
We need at least 3 ratings for a tea to calculate a percentile ranking. You can help us out by rating more teas of this style.