Most Reviewed By:

Matale, Sri Lanka (Dimbula)
Wikipedia: Matale_District
Updated: Apr. 21, 2015
About Matale, Sri Lanka (Dimbula)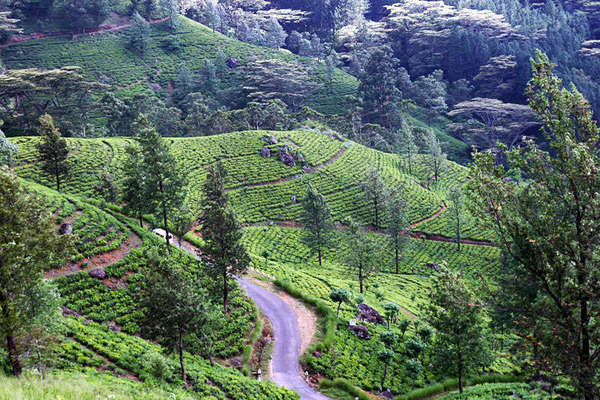 Rows of Tea on a Hillside, Matale, Sri Lanka, © Amila Tennakoon,
CC BY 2.0
.
Matale District
is a district in Sri Lanka, one of the three districts in the Central Province, north of
Kandy
.
Matale is home to the Dimbula region of tea production. Although this town is more often spelled Dambulla, and sometimes Dimbulla, in the tea world it is tends to be spelled Dimbula.
This region is located to the west of the central mountains, and, along with
Nuwara Eliya
and
Uva
, is one of the three most well-known tea-growing regions of the country. Dimbula was originally covered by a dense jungle of tropical forests which were adapted to the area's strongly seasonal rainfall patterns.
The elevation of tea gardens in this area ranges from 3,300 to 5,600 feet (1,000 to 1,700 meters), spanning both "mid-grown" and "high-grown" teas. The most desirable teas from Dimbula are picked during the dry season before the monsoon rains start, from January to March.[2] Teas from Dimbula are often described as having qualities typical or characteristic of Ceylon teas.
Twinings
and
Taylors of Harrogate
use Dimbula teas exclusively in their Ceylon tea.
Tea gardens in Dimbula include Bogahawatte, a certified fair trade tea plantation[1], Bogawantalawa, and Kirkoswald.
References:
1. Bogahawatte Estate, Sri Lanka, TransFair USA, Retrieved Feb. 1, 2010.
2. Kevin Gascoyne, Francois Marchand, Jasmin Desharnais, and Hugo Americi, Tea: History, Terroirs, Varieties, Camellia Sinensis Tea House, Firefly Books, 2011.
Styles of Tea Produced in Matale, Sri Lanka (Dimbula)
This is a selection, not an exhaustive listing, of the styles of tea most commonly produced in Matale, Sri Lanka (Dimbula).
Best Matale Teas
The notion of the "best" Matale teas is subjective, because different people have different tastes. We present the most often-rated and highest-rated teas produced in Matale, Sri Lanka (Dimbula), and allow you to draw your own conclusions.
Most Often-Rated Teas
Top-Rated Matale Teas

8
3 Ratings