Fruit Rooibos
Last Updated: Dec. 9, 2011
↑About Fruit Rooibos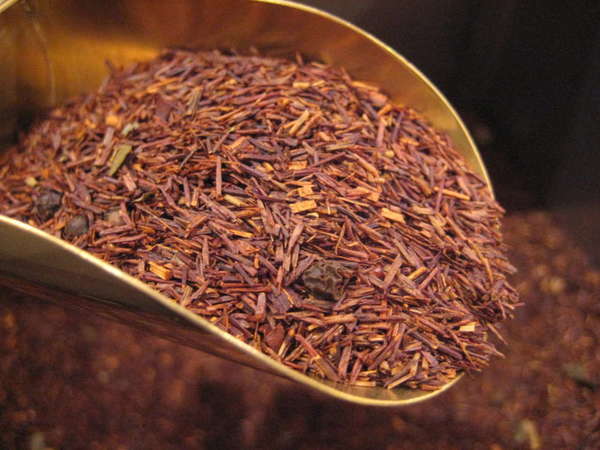 Strawberry is one of the most common fruits blended with rooibos, as the flavors blend naturally. Photo ©
Selena N. B. H. (Flickr)
,
CC BY 2.0
.
Rooibos
, a caffeine-free herbal tea originating in
South Africa
, is commonly flavored with
fruit
. The flavoring can be in the form of dried fruit mixed in with the rooibos or essential oils used to flavor the rooibos.
We classify herbal teas in this category if they contain rooibos and fruit as the main flavoring, but do not contain any tea or any substantial amount of non-fruit-flavored herbs or flavorings. Fruit-flavored rooibos often has more tea-like characteristics relative to other
fruit herbal teas
.
↑Recent Fruit Rooibos Reviews — RSS
82 / 100
Half-litre pot at home, made from very fine rooibos leaves, added small pieces of dried peach and linden flower. Pours clear dark orangeish amber with no sediment. Clear and intense aroma of peach and rooibos, with mild floral hints. Mild, refreshing flavour of peach and rooibos - clean and simple. Mild palate with a r...
Read Full Review
90 / 100

I really enjoyed this tea, it had a nice fruity taste and smelled like berries.
Read Full Review
85 / 100

This tea had a wonderful aroma and even more exquisite flavor. Definitely adding this to tea that I'll regularly drink!
Read Full Review
80 / 100

It was really good!, it's smell and flavor were a bit light for my tastes personally, but what was there I really enjoyed.
Read Full Review
100 / 100

This fruit tea's aroma is the first thing you'll notice about it, it's sweet, light, and looks so refreshing. The flavor is sweet and flavorful though not over whelming. This tea is an appreciation for the summer time and its abundance of life which is delivered with every sip due to it's pieces of fruit mixed into the...
Read Full Review
↑Top Reviewers
Review 2 teas to get on this list!
Advertisement
↑Most-Rated Fruit Rooibos

99
5 Ratings

83
4 Ratings

2 Ratings

2 Ratings

1 Rating
↑Top-Rated Fruit Rooibos

99
5 Ratings

83
4 Ratings