Fruit (Herbal) Tea
Last Updated: Mar. 13, 2014
↑About Fruit (Herbal) Tea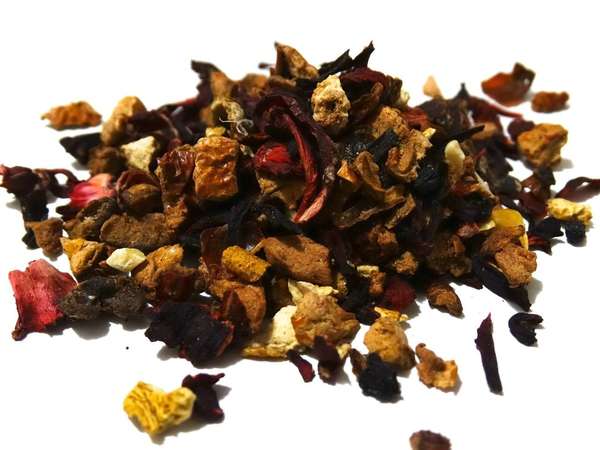 Loose-leaf herbal tea made of whole pieces of dried fruit. Photo by 422737-422737 (Pixabay), Public Domain.
Fruit tea
refers to
herbal tea
made mostly out of fruit or with an aroma primarily of fruit. The fragrance of fruit can come from dried fruit, fruit peel, or essential oils used to flavor other herbs.
Such teas are very diverse, and the border between fruit teas and other herbal teas can be a bit blurry. Certain herbs, such as lemon balm or
lemongrass
, having fruit-like aromas, are often blended into teas to impart a fruity aroma. Also, blossoms from fruit trees are often included, or less commonly, leaf or bark of fruiting plants.
Hibiscus
is also a frequent ingredient in these blends, as it imparts a rich red color and sour flavor that is somewhat reminiscent of fruit or berries. We include many blends in this category even if they contain hibiscus, because the overall character of these blends is still more fruity than floral.
Fruit tea containing the tea plant
Sometimes the term "fruit tea" is used to refer to black, green, or white teas flavored with fruit; RateTea classifies these teas under flavored teas; we consider "fruit teas" to be herbal teas whose primary aroma is that of fruit. For flavored teas combining fruit with the tea plant, see the categories
fruit black tea
,
fruit green tea
, and
fruit white tea
. A few fruit teas can also be found in with
flavored oolongs
; these teas are not broken into their own category because they are so uncommon.
↑Recent Fruit Tea Reviews — RSS
70 / 100

This tea's flavor is more complex than the other raspberry-flavored teas that I've been trying lately. No one ingredient overpowers the flavor. It's quite tart, but it doesn't have the astringency that other hibiscus and rosehip blends do. The raspberry is noticeable when smelling the cup, but fades into the background...
Read Full Review
55 / 100

The dry tea bag smells like dry raspberry Kool-Aid. Adding the water just intensifies the raspberry aroma.

The flavor is similar to Bigelow's Red Raspberry, but with a different balance. The raspberry flavor is much more pronounced, and the hibiscus is less tart. I feel it on the tongue more than taste it, but it se...
Read Full Review
70 / 100

The dry, standard tea bag smells like "blue raspberry" candy. Nice, but no complexity. Adding the water brings out the aroma of the hibiscus. The brewing tea is even deeper red than hibiscus, so the elderberries must be for color.

The flavor is hibiscus and rose hips with a little raspberry in the finish. The tartne...
Read Full Review
98 / 100

This is a really great fruit tea. It's a great balance of tartness and sweetness, whether served hot or cold. The tea initially diffuses more slowly than I expected, but it does ultimately add plenty of flavor.
Read Full Review
70 / 100

When I opened the foil pack, it smelled incredible. The hibiscus flavor kind of overpowers the rest of it. Its not bad, but I don't really think pomegranate when I drink it. It kind of reminds me of a weaker, gentler ,and sweeter version of hibiscus tea.

I got it from a Bigelow sampler pack, and would be willing to...
Read Full Review
↑Top Reviewers
Review 9 teas to get on this list!
Advertisement
↑Most-Rated Fruit Tea

69
14 Ratings

63
13 Ratings

80
13 Ratings

49
12 Ratings

40
11 Ratings
↑Top-Rated Fruit Tea

95
3 Ratings

80
13 Ratings

77
7 Ratings

69
14 Ratings

68
5 Ratings