Fruit (Herbal) Tea
Last Updated: Mar. 13, 2014
↑About Fruit (Herbal) Tea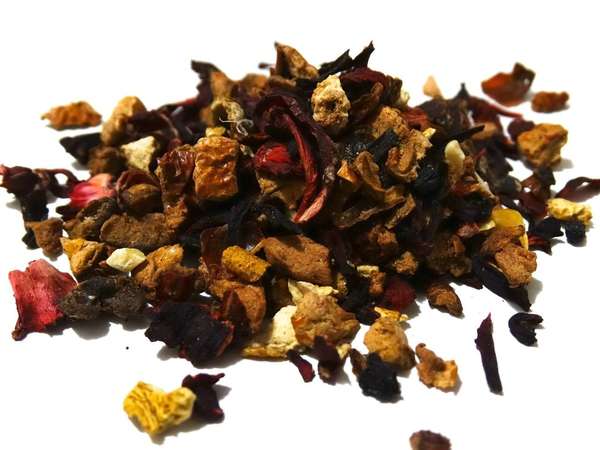 Loose-leaf herbal tea made of whole pieces of dried fruit. Photo by 422737-422737 (Pixabay), Public Domain.
Fruit tea
refers to
herbal tea
made mostly out of fruit or with an aroma primarily of fruit. The fragrance of fruit can come from dried fruit, fruit peel, or essential oils used to flavor other herbs.
Such teas are very diverse, and the border between fruit teas and other herbal teas can be a bit blurry. Certain herbs, such as lemon balm or
lemongrass
, having fruit-like aromas, are often blended into teas to impart a fruity aroma. Also, blossoms from fruit trees are often included, or less commonly, leaf or bark of fruiting plants.
Hibiscus
is also a frequent ingredient in these blends, as it imparts a rich red color and sour flavor that is somewhat reminiscent of fruit or berries. We include many blends in this category even if they contain hibiscus, because the overall character of these blends is still more fruity than floral.
Fruit tea containing the tea plant
Sometimes the term "fruit tea" is used to refer to black, green, or white teas flavored with fruit; RateTea classifies these teas under flavored teas; we consider "fruit teas" to be herbal teas whose primary aroma is that of fruit. For flavored teas combining fruit with the tea plant, see the categories
fruit black tea
,
fruit green tea
, and
fruit white tea
. A few fruit teas can also be found in with
flavored oolongs
; these teas are not broken into their own category because they are so uncommon.
↑Recent Fruit Tea Reviews — RSS
58 / 100

In many ways, the behavior of this concoction from bag to cup to esophagus reminded me uncannily of the berry-flavored members of Celestial Seasonings' "Zinger" line:
* Fruity, hibiscus-heavy dry-bag and in-cup aromas,
* Initial cherry-red color turning a deep, opaque purple-gray with time,
* Strongly fruity,...
Read Full Review
56 / 100

This tea smells pretty good and fruity, it doesn't smell artificial like some fruit teas do. Unfortunately the taste just isn't doing it for me though. I wouldn't say it's terrible, it's just a bit too sour for my taste and it also leaves a weird sensation in my throat after drinking it (sort of an astringent...
Read Full Review
85 / 100

The first thing I notice about this tea is how fruity it smells! It smells like cherrys in specific, true to its name. I enjoy the aroma and wasn't expecting it to smell that strong! This tea is also extremely flavorful and a bit sour because of the cherry, I really like that. It is also really smooth and not astring...
Read Full Review
60 / 100

Finally! A fruit tea from Stash that I can actually get behind! The aroma is just what you'd expect, and the flavor is undeniably acai berry. It's not overly sweet, and not overly tart. Definitely adding to my collection!
Read Full Review
50 / 100

This tea shines in its aroma, but takes a veritable nosedive in its flavor. The aroma is a clear raspberry, and you would expect the flavor to match, but the raspberry flavor is drowned out by the other ingredients. Additionally, it's more tart than I would have liked. It tasted like drinking a SweetTart, having even m...
Read Full Review
↑Top Reviewers
Review 9 teas to get on this list!
Advertisement
↑Most-Rated Fruit Tea

75
15 Ratings

93
14 Ratings

36
13 Ratings

25
13 Ratings

14
11 Ratings
↑Top-Rated Fruit Tea

99
4 Ratings

93
14 Ratings

75
15 Ratings

50
6 Ratings

47
7 Ratings