Fruit (Herbal) Tea
Last Updated: Mar. 13, 2014
↑About Fruit (Herbal) Tea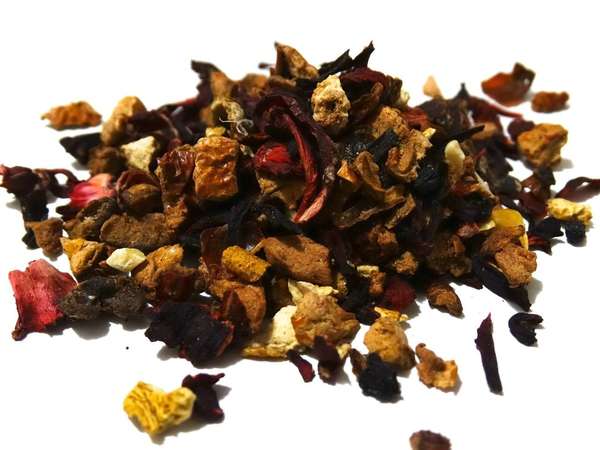 Loose-leaf herbal tea made of whole pieces of dried fruit. Photo by 422737-422737 (Pixabay), Public Domain.
Fruit tea
refers to
herbal tea
made mostly out of fruit or with an aroma primarily of fruit. The fragrance of fruit can come from dried fruit, fruit peel, or essential oils used to flavor other herbs.
Such teas are very diverse, and the border between fruit teas and other herbal teas can be a bit blurry. Certain herbs, such as lemon balm or
lemongrass
, having fruit-like aromas, are often blended into teas to impart a fruity aroma. Also, blossoms from fruit trees are often included, or less commonly, leaf or bark of fruiting plants.
Hibiscus
is also a frequent ingredient in these blends, as it imparts a rich red color and sour flavor that is somewhat reminiscent of fruit or berries. We include many blends in this category even if they contain hibiscus, because the overall character of these blends is still more fruity than floral.
Fruit tea containing the tea plant
Sometimes the term "fruit tea" is used to refer to black, green, or white teas flavored with fruit; RateTea classifies these teas under flavored teas; we consider "fruit teas" to be herbal teas whose primary aroma is that of fruit. For flavored teas combining fruit with the tea plant, see the categories
fruit black tea
,
fruit green tea
, and
fruit white tea
. A few fruit teas can also be found in with
flavored oolongs
; these teas are not broken into their own category because they are so uncommon.
↑Recent Fruit Tea Reviews — RSS
63 / 100

With this, I will have reviewed a tea named Mango Maui (Hawaiian Islands Tea Company) and Maui Mango (Tiesta). They're radically different, however. The former is a very good, flavored black tea, while this one is mostly dried fruit by volume (pineapple, orange slices, mango, and strawberry) with flowers sprinkled in...
Read Full Review
75 / 100
One litre bottle at home, made from 800 ml cold water and 200 ml extract brewed from a mixture of hibiscus blossom, pieces of apple, rose hip, orange peel and lemon peel, all sprinkled with flavour. Pours clear strawberry red (against transparent glass) with no sediment. Clear aroma of apples and hibiscus, with touches...
Read Full Review
66 / 100

This is Twinings' take on the standard rosehip/hibiscus blend with added flavors. It's fruity, leaning heavily toward strawberry. The hibiscus lends a bit of tartness, but as far as I can tell, the other ingredients are just carriers for the host of added "natural flavors."

The main difference in this one is the pre...
Read Full Review
62 / 100

Teekanne markets numerous assorted fruit infusions on multiple nation-domain websites. Curiously, I can't find this product (by this name anyway, or by another with the same ingredients) anywhere on Teekanne's main dot-com English-language website, nor German, nor their Austrian site .at, which is in English. Yet it'...
Read Full Review
67 / 100
One-litre pot at home, made from a mixture of dried apples and pieces of lemon and yoghurt and some few fine leaves of lemongrass - not a single leaf of tea. Pours clear pale peach yellow (against white china) with negligible sediment. Clear aroma of apples and cinnamon, with mild touches of lemon. Mild sweetish flavou...
Read Full Review
↑Top Reviewers
Review 13 teas to get on this list!
Advertisement
↑Most-Rated Fruit Tea

26
16 Ratings

70
15 Ratings

72
14 Ratings

23
13 Ratings

30
11 Ratings
↑Top-Rated Fruit Tea

91
5 Ratings

75
6 Ratings

72
14 Ratings

70
15 Ratings

60
8 Ratings