Fruit (Herbal) Tea
Last Updated: Mar. 13, 2014
↑About Fruit (Herbal) Tea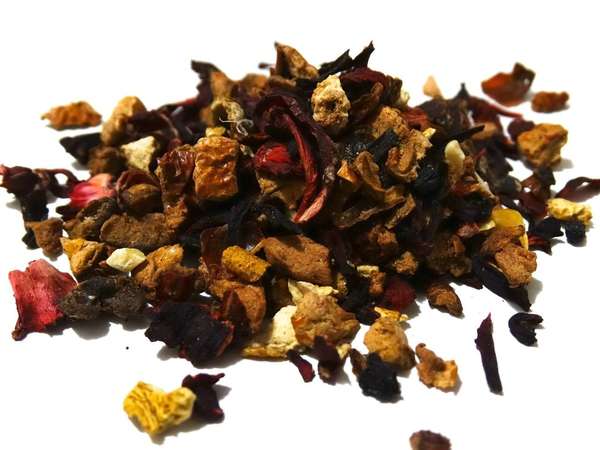 Loose-leaf herbal tea made of whole pieces of dried fruit. Photo by 422737-422737 (Pixabay), Public Domain.
Fruit tea
refers to
herbal tea
made mostly out of fruit or with an aroma primarily of fruit. The fragrance of fruit can come from dried fruit, fruit peel, or essential oils used to flavor other herbs.
Such teas are very diverse, and the border between fruit teas and other herbal teas can be a bit blurry. Certain herbs, such as lemon balm or
lemongrass
, having fruit-like aromas, are often blended into teas to impart a fruity aroma. Also, blossoms from fruit trees are often included, or less commonly, leaf or bark of fruiting plants.
Hibiscus
is also a frequent ingredient in these blends, as it imparts a rich red color and sour flavor that is somewhat reminiscent of fruit or berries. We include many blends in this category even if they contain hibiscus, because the overall character of these blends is still more fruity than floral.
Fruit tea containing the tea plant
Sometimes the term "fruit tea" is used to refer to black, green, or white teas flavored with fruit; RateTea classifies these teas under flavored teas; we consider "fruit teas" to be herbal teas whose primary aroma is that of fruit. For flavored teas combining fruit with the tea plant, see the categories
fruit black tea
,
fruit green tea
, and
fruit white tea
. A few fruit teas can also be found in with
flavored oolongs
; these teas are not broken into their own category because they are so uncommon.
↑Recent Fruit Tea Reviews — RSS
76 / 100

Celestial Seasonings has made a mint off selling assorted fruit flavors added to the same basic "Zinger" foundation (hibiscus, rose hips, hawthorn, blackberry leaves, orange peel). This tea has been around a couple of generations, probably preceding the Zingers, and doesn't bear that name, so maybe they're inspired by...
Read Full Review
71 / 100

I don't love lemon. Regardless, if you do, this seems to be as reasonable of a presentation of the natural flavor as you'll find in a hot beverage, short of cooking lemonade. Perusing the ingredients, this should be expected with three different plant sources of the lemon ester: lemongrass, lemon verbena and lemon (...
Read Full Review
85 / 100

Citrus Sunrise easily can be called Orange Tangerine Zinger, if it weren't for a similarly named blend they already have. That's because it starts out with the same common-denominator ingredients as the CS Zinger line (rose hips, orange peel, hibiscus, hawthorn, blackberry leaves), and just boosts the orange part with...
Read Full Review
69 / 100

After running out of my favorite blueberry-flavored tea faster than expected, I got this in a moment of desperation, made easier to rationalize by a temporarily low sale price at Sprouts.

True Blueberry is one of the few herbal teas I've tried whose primary advertised flavor smells substantially stronger in the dry ...
Read Full Review
75 / 100
Fairly typical example of the style. Organic hibiscus, rosehips, elderberry flowers, apple, and orange peels, plus some natural flavoring. Not outstanding but certainly pleasant. This has a strong strawberry note, which I guess comes from the flavoring.
Read Full Review
↑Top Reviewers
Review 9 teas to get on this list!
Advertisement
↑Most-Rated Fruit Tea

70
15 Ratings

40
14 Ratings

72
14 Ratings

70
13 Ratings

30
11 Ratings
↑Top-Rated Fruit Tea

79
4 Ratings

75
6 Ratings

72
14 Ratings

70
13 Ratings

70
15 Ratings