Fruit (Herbal) Tea
Last Updated: Mar. 13, 2014
↑About Fruit (Herbal) Tea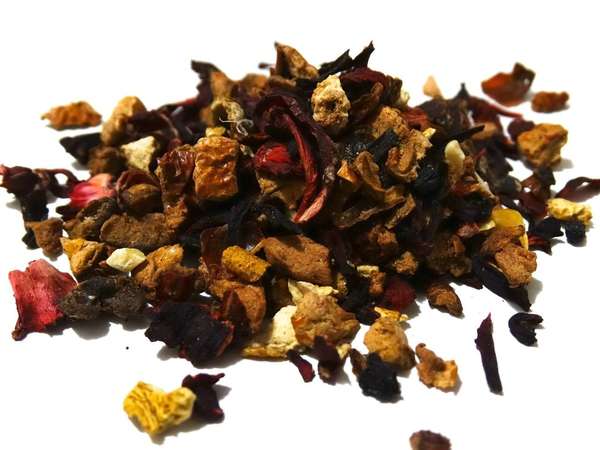 Loose-leaf herbal tea made of whole pieces of dried fruit. Photo by 422737-422737 (Pixabay), Public Domain.
Fruit tea
refers to
herbal tea
made mostly out of fruit or with an aroma primarily of fruit. The fragrance of fruit can come from dried fruit, fruit peel, or essential oils used to flavor other herbs.
Such teas are very diverse, and the border between fruit teas and other herbal teas can be a bit blurry. Certain herbs, such as lemon balm or
lemongrass
, having fruit-like aromas, are often blended into teas to impart a fruity aroma. Also, blossoms from fruit trees are often included, or less commonly, leaf or bark of fruiting plants.
Hibiscus
is also a frequent ingredient in these blends, as it imparts a rich red color and sour flavor that is somewhat reminiscent of fruit or berries. We include many blends in this category even if they contain hibiscus, because the overall character of these blends is still more fruity than floral.
Fruit tea containing the tea plant
Sometimes the term "fruit tea" is used to refer to black, green, or white teas flavored with fruit; RateTea classifies these teas under flavored teas; we consider "fruit teas" to be herbal teas whose primary aroma is that of fruit. For flavored teas combining fruit with the tea plant, see the categories
fruit black tea
,
fruit green tea
, and
fruit white tea
. A few fruit teas can also be found in with
flavored oolongs
; these teas are not broken into their own category because they are so uncommon.
↑Recent Fruit Tea Reviews — RSS
80 / 100
One-litre pot at home, made from a mixture of dried acreola cherries, apples and figs, lemongrass, hibiscus, and pieces of pumpkin and carrot as well as blackberry leaves, peony blossom, and cloves - a truly fascinating tea-free blend emitting a gorgeous scent. Pours slightly hazy greenish brown (against white china) w...
Read Full Review
80 / 100
Half-litre pot at home, made from an enchanting variety of dried (and, in part, caramelised) fruits: banana, pineapple, mango, peach, apricot, cranberry, and God knows what else (there is no description of the blend on the tea company's website yet). Pours clear light straw (against white china) with no sediment. Inten...
Read Full Review
30 / 100

My, oh my. This tea got a grape flavor. This for sure ain't got some blueberries in it, I'll tell ya'. It's grape. "True Grape" would better suit this tea. It's grape... Why'd it have to be grape... Anywho. I would recommend this tea only to my enemies. If you mistakenly bought it this week, throw it in the trash can w...
Read Full Review
78 / 100

Steeped for a little over 5 minutes, with near boiling water, in a 10oz tea for one pot yielding two cups.

I personally liked this. Compared with something like Bigelow Pomegranate Green Tea it's apparent that the flavor is not true pomegranate but more like a fruit tea that happens to be geared towards the tart f...
Read Full Review
90 / 100

This is probably my favorite Celestial Seasonings tea to make as an iced tea. We had a bout of hot weather for a few days and I whipped up some iced tea with this Watermelon Lime Zinger and it was so refreshing and delicious. It does a great job of cooling me down and it's a delicious flavor combination. I never feel t...
Read Full Review
↑Top Reviewers
Review 9 teas to get on this list!
Advertisement
↑Most-Rated Fruit Tea

26
16 Ratings

70
15 Ratings

72
14 Ratings

23
13 Ratings

30
11 Ratings
↑Top-Rated Fruit Tea

91
5 Ratings

75
6 Ratings

72
14 Ratings

70
15 Ratings

60
8 Ratings