Junshan Yinzhen
Wikipedia: Junshan_Yinzhen_tea
Last Updated: Feb. 28, 2012
↑About Junshan Yinzhen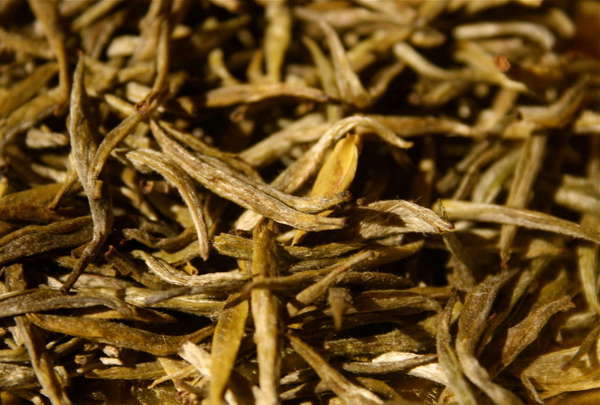 Loose-leaf Junshan Yinzhen Yellow Tea, Photo ©
Akuppa John Wigham
,
CC BY 2.0
.
Junshan yinzhen
(君山银针), meaning
Junshan silver needles
is a
yellow tea
that is sometimes classified as white tea or green tea. We classify it as a yellow tea because its production process is characteristic of yellow teas.
Junshan Yinzhen is made only out of tips/buds, which are allowed to yellow for an hour before being roasted.[1] It is grown on Junshan island in Dongting lake, the largest freshwater lake in China, located in
Hunan province
.
This tea is similar in many respects to
bai hao yinzhen
, a white tea also called "silver needle". Usually when a tea is called "silver needle" alone, the term refers to the white tea.
↑Recent Junshan Yinzhen Reviews — RSS
70 / 100

I really wanted to like this tea. "Camellia Sinensis" has a very good reputation and I'm a huge fan of Jun Shan Yin Zhen. Unfortuantely, while this particular tea is GOOD and has a near-excellent value, it isn't GREAT. I steeped 2.5g at 190F for 3 minutes.This tea is known for being mild in flavour yet even with this s...
Read Full Review
↑Top Reviewers
Review 2 teas to get on this list!
Advertisement
↑Most-Rated Junshan Yinzhen
↑Top-Rated Junshan Yinzhen
We need at least 3 ratings for a tea to calculate a percentile ranking. You can help us out by rating more teas of this style.