Junshan Yinzhen
Wikipedia: Junshan_Yinzhen_tea
Updated: Feb. 28, 2012
About Junshan Yinzhen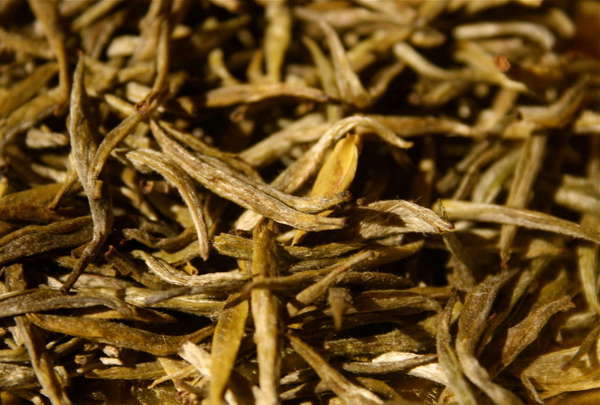 Loose-leaf Junshan Yinzhen Yellow Tea, Photo ©
Akuppa John Wigham
,
CC BY 2.0
.
Junshan yinzhen
(君山银针), meaning
Junshan silver needles
is a
yellow tea
that is sometimes classified as white tea or green tea. We classify it as a yellow tea because its production process is characteristic of yellow teas.
Junshan Yinzhen is made only out of tips/buds, which are allowed to yellow for an hour before being roasted.[1] It is grown on Junshan island in Dongting lake, the largest freshwater lake in China, located in
Hunan province
.
This tea is similar in many respects to
bai hao yinzhen
, a white tea also called "silver needle". Usually when a tea is called "silver needle" alone, the term refers to the white tea.
Best Junshan Yinzhen
The notion of the "best" Junshan Yinzhen is subjective, because different people have different tastes. We present the most often-rated and highest-rated teas in this category, and allow you to draw your own conclusions.
Most Often-Rated Teas
Top-Rated Teas
We need at least 3 ratings for a tea to calculate a percentile ranking. You can help us out by rating more teas of this style.
Examples of Junshan Yinzhen
The following are examples of the 6 selections of Junshan Yinzhen in our database.