Junshan Yinzhen
Wikipedia: Junshan_Yinzhen_tea
Last Updated: Feb. 28, 2012
↑About Junshan Yinzhen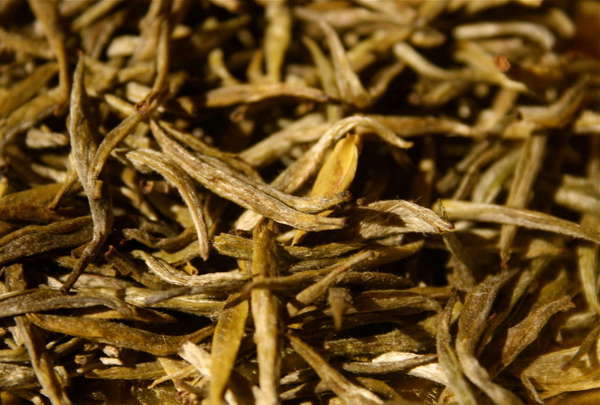 Loose-leaf Junshan Yinzhen Yellow Tea, Photo ©
Akuppa John Wigham
,
CC BY 2.0
.
Junshan yinzhen
(君山银针), meaning
Junshan silver needles
is a
yellow tea
that is sometimes classified as white tea or green tea. We classify it as a yellow tea because its production process is characteristic of yellow teas.
Junshan Yinzhen is made only out of tips/buds, which are allowed to yellow for an hour before being roasted.[1] It is grown on Junshan island in Dongting lake, the largest freshwater lake in China, located in
Hunan province
.
This tea is similar in many respects to
bai hao yinzhen
, a white tea also called "silver needle". Usually when a tea is called "silver needle" alone, the term refers to the white tea.
↑Recent Junshan Yinzhen Reviews — RSS
72 / 100

Half-litre pot at home, made from inch-long thin handrolled leaves - they look like tiny sticks. Pours clear light straw (against white china) with no sediment. Clear aroma of tea (yellow, to be sure, but the scent is not very different from that of green or white), with a faint touch of peach. Delicate bitter flavour ...
Read Full Review
70 / 100

I really wanted to like this tea. "Camellia Sinensis" has a very good reputation and I'm a huge fan of Jun Shan Yin Zhen. Unfortuantely, while this particular tea is GOOD and has a near-excellent value, it isn't GREAT. I steeped 2.5g at 190F for 3 minutes.This tea is known for being mild in flavour yet even with this s...
Read Full Review
↑Top Reviewers
Review 2 teas to get on this list!
Advertisement
↑Most-Rated Junshan Yinzhen

1 Rating
↑Top-Rated Junshan Yinzhen
We need at least 3 ratings for a tea to calculate a percentile ranking. You can help us out by rating more teas of this style.